« July 2008 | Main | September 2008 »
August 25, 2008
Southern British Columbia - Summer 2008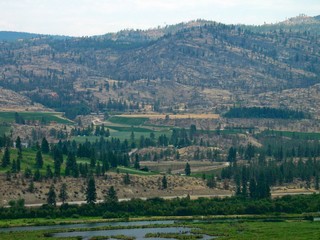 Oliver lists itself as the "Wine Capital of Canada" and with 10% of Canada's wineries and the majority of BC's vineyards nearby, it is well named. It actually is the northern tip of the American Great Basin Desert, which extends to Mexico. Irrigation, started in the 1920's, has converted the desert-like valley floor and hillsides into orchards and vineyards.
Every flat piece of land right from the river back to the hills is planted.

We stayed at a great small campground with huge willow trees, across the lake from the town of Oliver. We had hoped to visit the Citation RV manufacturing plant located there, but they were on an extended summer shutdown and speculation was that they might not reopen. We had also hoped to visit the Okanagan RV factory in Penticton, but they have closed down indefinitely, with only staff to handle warranty work and maintenance to look after the building. We knew that the price of fuel and the high Canadian dollar, was hurting the RV industry – but these closings really brought it home to us.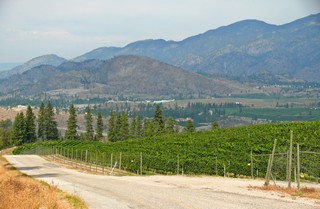 We drove back north to Penticton to see the city and then travelled back by some side roads so we could see the areas away from the river valley.
There were orchards and vineyards in every pocket of fertile land. Many of the vineyards had double high fences. We wondered if it was to protect the harvest from poachers – found out it was to protect the harvest from deer.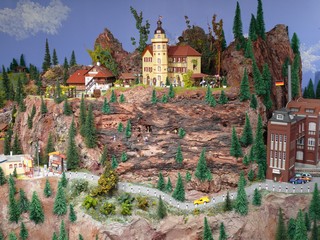 Continuing our travels, the morning of Aug. 18th, we passed through Osoyoos, where we visited the Osoyoos Desert Model Railroad. It's listed as "The Biggest Little European Railway in Canada". I bet it is. It's 3,500 sq. ft. with more than 9,000 hand painted little people, 1,200 buildings and at least twenty computer-controlled trains, running through the layout. There are towns and farms and mountains and forests and rivers with bridges and winter scenes with ski lifts (that work) and summer scenes. It's amazing and it's all done by one family. They aren't even finished yet.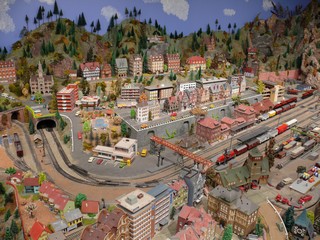 I guess what amazed us most was that the hand-painted little people – around 9,500 – are all done by Ulla Pedersen. She is confined to a wheelchair because of rheumatic arthritis and also has extensive arthritis in her hands. Just amazing!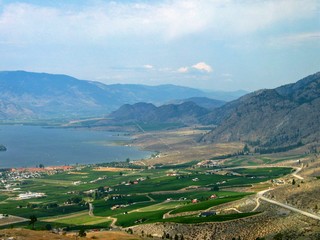 Our final look at the southern Okanagan valley was from a viewpoint part way up the loooooong pull out of the valley – an 8% climb for 15 km.
Our route was the Crowsnest Highway which runs east along the southern border of British Columbia. In the times we have been in BC we have never travelled BC's Hwy 3, so this was new country.
We stopped in Grand Forks overnight and had dinner with friends then visited the farmers market in the morning before continuing.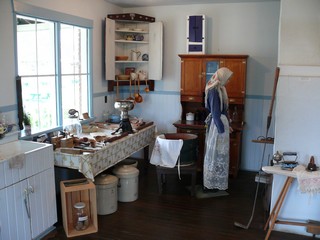 We reached Castlegar, which is situated on the Columbia River, that afternoon and after touring the town and getting an oil change for the truck, we visited the Doukhobor Discovery Centre. It's a replica of a communal settlement of the pacifist group of about 5,000 Russian immigrants, who settled in the area around 1908–13. It was an interesting visit and we learned many things about this community of people who still reside in southern BC.
Next destination was Creston, around 150 km (90 miles) to meet up with Tony & Heather, our English RV friends. They were heading west and we were heading east and we hadn't seen them since we spent time together last January in New Mexico.
Leaving Castlegar we travelled straight south to Trail, BC where we had made reservations to take a tour of one of the largest lead-zinc smelters in the world – Teck Cominco. No pictures, as cameras were not allowed inside. From its start in 1896, the smelter has outlived all of the mines in the area (the Sullivan mine closed in 2001 after producing for 92 years) But, since it has its own hydroelectric dam and transmission systems as well as one of the world's largest fully integrated zinc and lead smelting and refining complexes, it survives. In fact, high quality concentrate is shipped from the Red Dog Mine, in Northwest Alaska, for further refining.
The refinery is a major force in the community, employing about 1,500 staff. One of the most interesting facts about the processes, is that 100% of the products and byproducts are used. They reuse, recycle and have found markets for everything.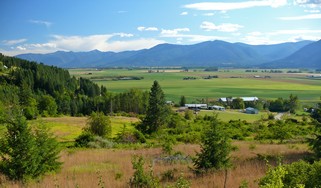 This south-east corner of British Columbia is known as the Kootenay Rockies and is defined by an array of mountain ranges repeating westward from the Continental Divide. We experienced these ranges as we came over a number of passes, the final one being Kootenay Pass. It was another looong and steep pull to get over it.
Creston sits along side the broad, very fertile valley of the Kootenay River, south of Kootenay Lake. In the 30's about 20,000 acres of land were reclaimed from the Kootenay Delta.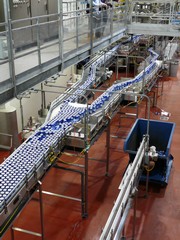 The following day, the four of us took a tour of Columbia Brewing Co., makers of Kokanee Beer which apparently is B.C.'s most popular beer. Everything is totally automated and we followed the whole process right from the mash to the cases on the shipping dock.
After that visit, we drove across town and toured a candle making operation, where everything is still hand done.
In the afternoon, we hiked some of the trails in the Wildlife Management area. It's a 17,300 acre managed waterfowl habitat located in the Kootenay Delta. There weren't many birds around but we did get to see a great horned owl perched in one of the trees – and it was a beautiful day!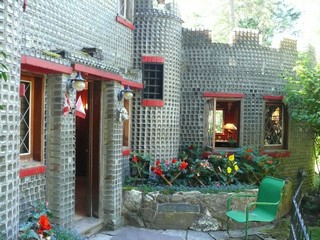 The next day we drove north along the east side of Kootenay Lake to see the Glass House.
It was built from over half a million discarded square-shaped embalming fluid bottles. Interestingly, they apparently weren't washed as you can still see remnants of the fluid inside some of then.
A Mr. Brown, in 1952, retired from the funeral business, decided that he would find a practical use for the bottles which he collected from around Western Canada.
The house is 48' by 24' and with the upstairs room is 1,200 sq. ft. of floor space. It is still lived in by the family and they give tours (for a fee of course).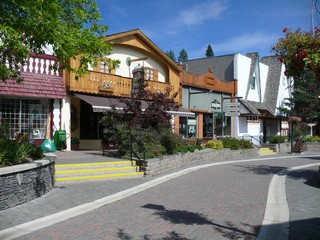 We said goodbye to Tony & Heather and continued east to Cranbrook, the largest city in the Kootenay Rockies. It's only a little over 100 km so we arrived at our RV park early in the afternoon and decided to visit the town of Kimberly about 30 km away. From there the view of the Rocky Mountains to the east is impressive. The town is based on an alpine theme and the whole downtown core is pedestrian only.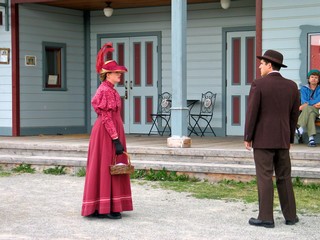 Just north west of Cranbrook, is the living museum of Fort Steele. It is a completely reconstructed frontier town with costumed townspeople continuously acting their parts. The original settlement dates back to the 1860s, and was a ferry crossing. It's named after the Northwest Mounted Police Superintendent, Sam Steele. We spent a whole day there and didn't see it all, so came back the next morning with the trailer, on our way to the Crowsnest Pass and Alberta.

The Crowsnest Pass, in the Canadian Rockies, was opened in 1897 when the Canadian Pacific Railway built a line through it to develop coal deposits in the Elk river valley and to help assert Canadian sovereignty in an area that U.S. railroads were beginning to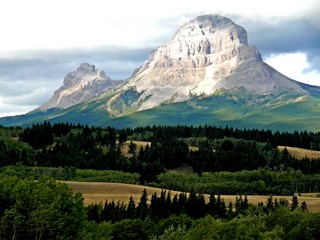 build into. It is the lowest elevation mountain pass in Canada south of the Yellowhead Pass just west of Jasper. After the passes that we had just come over in the past few days, it was very tame.
This is Crow's Nest Mountain, as seen from the Alberta Visitor Centre, just after we topped the pass and crossed the Continental Divide. The mountain was named by the Cree Indians because of the many ravens nesting around it.
Our stop for the next few days was Blairmore, in the community of Crowsnest Pass – but more of that in the next journal.
Bernie & Ross
Posted by Bernice at 05:12 PM | Comments (2)
August 20, 2008
Jasper to the Okanagan Valley - Summer 2008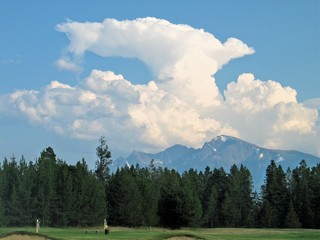 We spent two nights, Aug 6th & 7th in Vailmount, camping at the local golf course.
We were fortunate that the weather was great and we had a good round of golf.
The scores weren't that wonderful but we had fun and a long walk – and of course we again had impressive clouds over the Rockies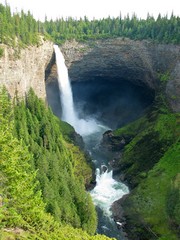 Clearwater, our next stop, is at the entrance to Wells Gray Provincial Park, a 5000 sq. km. wilderness park. We spent the next day travelling into the park and back. There are some beautiful waterfalls there. Helmcken Falls which is 75 ft. wide and drops 465 feet (141 meters) is said to be the fourth highest in Canada.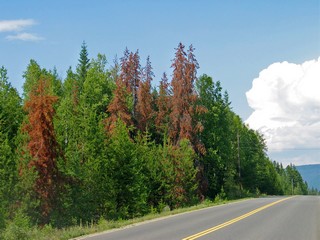 All through BC we have seen devastating pine tree kill-off by the Mountain Pine Beetle. It attacks mature lodgepole pines and thrives on warm weather. Several consecutive mild winters and drought-like summers have allowed the beetles to increase to epidemic levels. In 2007 the area of provincial Crown forests affected to some degree was 13.5 million hectares (32.1 million acres). The BC government has increased allowable annual cuts to permit salvaging or recovering the greatest value from the beetle-attacked timber. The timber can retain its commercial value anywhere from five to 18 years after attack.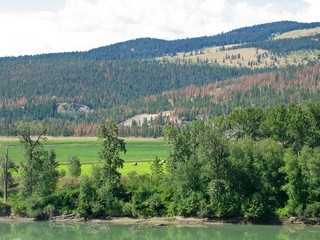 We continued south on Hwy 5, following the North Thompson River Valley, to Kamloops. We have moved from mountains to agriculture and large rolling hills.
Note the red shade on the hills – it's the Mountain Pine Beetle damage – dead pine trees.

One day was spent sightseeing in the city, as well as Bernie at the Art Gallery and Ross at the Kamloops Heritage Railway.
Our campground was 17 km to the east of downtown Kamloops and is part of the British Columbia Wildlife Park. The park is 120 acres and houses, in natural habitats, 65 species of local and endangered wildlife. All animals have come to the park having been abandoned or injured. They also have a section, which we could not visit, where work is undertaken to reintroduce animals to the wild.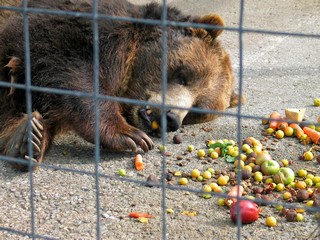 We made a point of being there for the feeding of the Grizzly Bears. A brother and sister, they were orphaned about 23 years ago and have lived at the park ever since. About 3 pm, keepers brought in a 5 gallon pail of food for each bear –salmon, vegetables, apples, lichees, plums and other fruit. They attacked the food ravenously. We came back to see them at about 5 pm. Both bears were laying down, totally satiated, and would plop a paw out to grab another piece of food, drag it close to their mouth and then capture it with their tongue.

When we left the Kamloops area we travelled down Hwy 97 to Kelowna. We had travelled Hwy 97 back in the spring when we went from Dawson Creek to Watson Lake. This highway travels the whole length of British Columbia.
Kelowna is considered the gateway to the Okanagan. The valley was shaped by glaciers. Mountains, some as high as 9,800 ft., flank both sides of Okanagan Lake. Fertile soil and sunny weather coupled with irrigation transforms the scenic hills along the lake into an agricultural wonderland. Peaches, cherries, apricots, plums, apples and grapes abound and we were there right at harvest time. I don't think we have ever eaten so many huge black cherries!
Our campground, in fact, was located in the middle of an orchard and we were welcome to pick peaches and plums for our own use.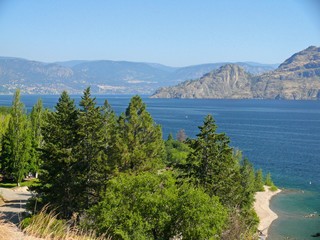 Our stop in Kelowna was mainly to visit with friends, Jim and Jackie. We had been through there in 2005 and had seen most of the tourist sights then, so other than a drive up into the hills to see the orchards we basically took it easy.
The road south from Kelowna runs right along the west shore of Okanagan Lake. Everywhere there is a pocket of fertile soil, there is an orchard, a vineyard or a lawn. The first orchards in the region were planted in 1860 by the Oblates at the Okanagan Mission.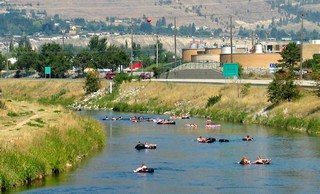 We reached Penticton around noon on Sat. Aug 16th. and discovered a whole new recreational activity. Rafting – giant rubber tube rafting on the 8 km channel between Okanagan Lake and Skaha Lake. Hundreds of inner tubes and inflatable rafts lazily carrying families, teenagers and every possible age and style of person. There was even a raft rental company that sends you off close to Okanagan Lake and picks you (and the raft) up further down the channel.

Our next destination - Oliver - is just a piece down the road.
Bernie & Ross
Posted by Bernice at 01:21 PM | Comments (2)
August 10, 2008
Jasper and the Icefields Parkway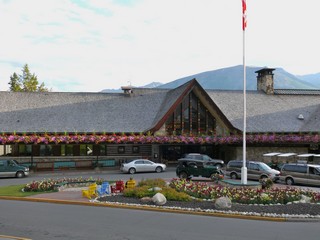 Going to Jasper, Alberta was a sentimental journey for me (Bernie). I know that I am giving away my age – but what the heck. I worked at Jasper Park Lodge for 2 summers in the early 60s and it was one of the best times of my life. When we visited the Lodge for Sunday night dinner with our friends Deborah and George, we took a walk around the staff quarters and the old part of the main lodge. I must admit that it was rather emotional, standing in the former dining room at my old station. Many memories. The room is now only used for banquets and big functions. It has been usurped by newer and shinier rooms – but somehow, I don't think they are an improvement. Nothing like the original elegance.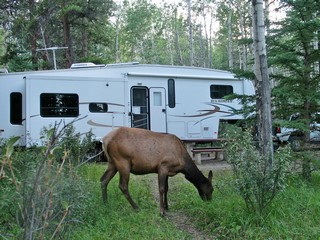 We dry camped at a campground just south of the town of Jasper, in Jasper National Park, which was established in 1907. Because hunting is illegal, many of the animals have lost their fear of humans. This was obvious when a herd of elk decided that the grass around our trailer was to their liking.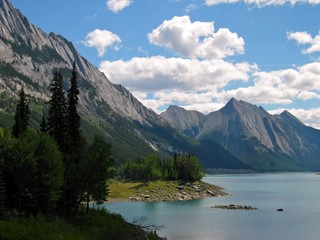 Aug. 4th, Monday morning, the four of us headed out toward Maligne Lake, one of the most photographed lakes in the entire Rockies.
However, we had to pass Medicine Lake and found it to be very picturesque as well.
Medicine Lake is a temporary lake – filling with the spring snow melt and gradually lowering as the summer goes along until it is a frozen meandering river in the winter. But there is no visible outlet to this "lake". In fact the Maligne River flows in to it from the south and the lake drains through "sink holes" in the bottom and resurfaces in the area of Maligne Canyon, some 16 km downstream.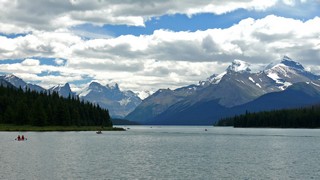 Maligne Lake is very beautiful and winds 14 miles beneath towering mountains.

The Maligne River drops from the higher Maligne Valley to the Athabasca Valley below. In doing so it has eroded a narrow canyon. In some cases the canyon is only a few feet wide, but as much as 200 ft. deep. The beautiful turquoise colour of the river adds to the drama of the eroded rocks.
There was major restoration work being done on the paths when we visited Maligne Canyon, so unfortunately we were not able to go all the way along the canyon rim.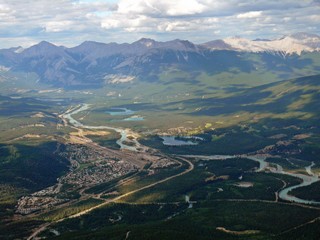 Late in the afternoon, Deborah and I travelled by tram to the top of Whistler's Mountain overlooking Jasper. The tram rises from the Lower Station at 4,279 ft. above sea level to the Upper station at 7,472 ft above sea level.
Another memory. While working at the lodge in the early 60s, a friend and I had climbed to the top of Whistler's. The tram wasn't completed until 2 years later. The view was just as spectacular this time. The mountains don't change, although the town of Jasper has grown somewhat. That's the Athabasca River in the valley below. I remember being so impressed when I first arrived in Jasper, to actually be seeing a river that I had only heard about in history and geography classes.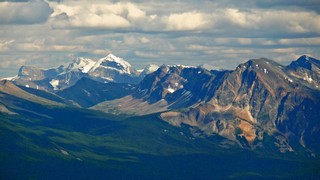 Another view from the top.
Monday, was a holiday – in Ontario it's called Civic Holiday – I'm not sure what it's called in Alberta but it's a holiday. Deb & George had headed home after dinner so the next morning we headed south on our own, down the Icefields Parkway.
In 1931, the Canadian Government put hundreds of unemployed men to work building this trail through the Canadian Rockies. It runs 230 km between Jasper and Lake Louise and is entirely within two national parks (Banff is the other one). It's a scenic drive – large trucks are banned.
Pictures tell the drive best: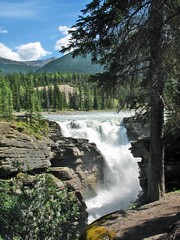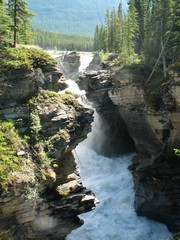 Athabasca Falls:
23 metres high (80 ft) and 60 ft. wide. It is known for the power of the falling water as the Athabasca River thunders through a narrow gorge.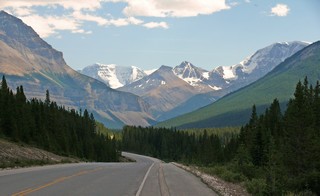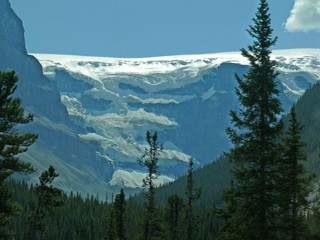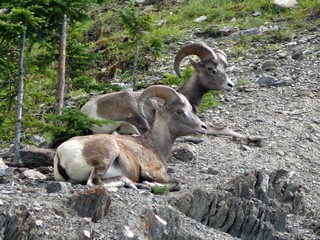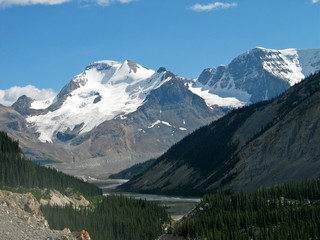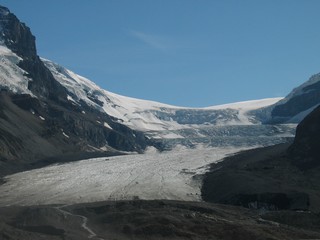 The Columbia Icefield is astride the Continental Divide and feeds eight major glaciers. This is the Athabasca Glacier which is located close to the Icefields Parkway. It is the most visited glacier in North America but has receded over 1.5 km in the past 125 years – and lost half its volume.
We walked to the edge of it.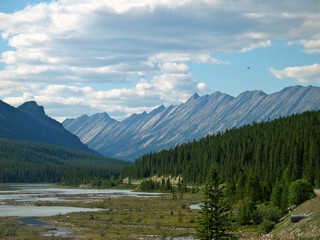 Looking back north from the glacier parking lot.
We only had time to travel as far as the Athabasca Glacier and even then we took all day as we stopped so many times.
We enjoyed our time in Jasper. It's a lovely town and still not as commercial as Banff. We did spend time walking around, checking out an art show and the shops. Unfortunately for the vendors, we don't buy a lot of "stuff". We sold most of our "stuff" when we started this adventure and we don't need to restock. We have a rule – if we buy something new, we have to get rid of something old. Keeps us from getting overloaded.
Wednesday, Aug. 6th, we headed back along the Yellowhead, past Mt. Robson to the junction at Tete Jaune Cache, then south on Highway 5 in British Columbia.
Next journal from Southern British Columbia.
Bernie & Ross
Posted by Bernice at 09:49 AM | Comments (6)
August 04, 2008
Northern British Columbia
What a terrible introduction to Northern British Columbia! Highway 37, also known as the Cassiar Highway, runs south from the Alaska Highway in Yukon and meets Highway 16 about 100km northeast of Terrace, B.C. The first 30km was under construction – big time. Took us more than an hour with delays, etc. and then for the next 250km the road was better, but we knew why they were working on it. The southern half of the Cassiar was very good.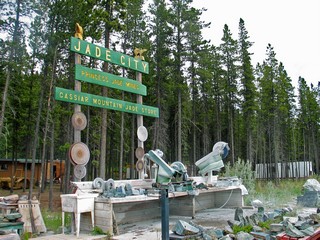 About 125km into the day, we arrived at Jade City – not a city – one big enterprise called Jade City, selling BC jade. All sizes of jade from huge boulders to tiny charms are cut, polished and sold. We knew that there was jade in British Columbia, but were surprised to learn that BC has 75% of the world's jade (nephrite) supplies. The Jade City company sells over 100 tons each year to China,
.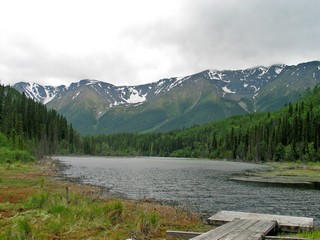 We stopped for the night at a beautiful, well groomed park just north of Iskut, BC. There was a walk down to a private lake that nestled at the base of the mountains.
A problem – when we went to close the road side slide-out the next morning as we got ready to leave the park, it wouldn't retract. The pin on the gear had broken. Fortunately, Bev and Ron were with us and between our 6 ton bottle jack to lift the slide and Ron & Ross pushing while Bernie operated the slide mechanism, we were able to close and secure it in about 1/2 hour. Although it was somewhat awkward living with the slide in, it can be done. A RV repair shop was in our future.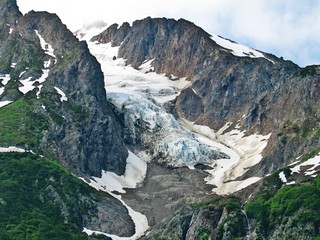 We continued to the border towns of Stewart/Hyder. Stewart (Canada's most northerly ice-free port) is in BC and Hyder is in Alaska (in the pan handle that runs down the Pacific Coast). To get to these towns you travel over Bear Pass which crosses the coastal mountains. There are some 20 glaciers visible – a number quite close to the road.
We had come to see the bears – both Grizzly and Black – but as with most things this year, the salmon run was about 3 weeks late. No salmon – no bears. Hyder has constructed a viewing area on Fish Creek, 11km from Stewart. It's interesting, there is no US Customs, since there are no roads that go anywhere from Hyder. There is however, Canadian Customs as you cross back into Canada.
We stayed 3 nights and went out to the viewing area each evening. The first night, there had only been 2 salmon spotted in the river, on night 2 there were probably half a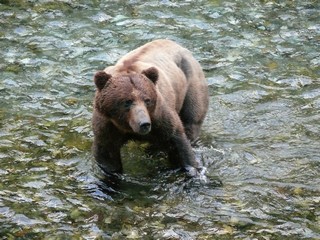 dozen and the 3rd evening an estimate of 30 or so. They were just barely starting to return to their spawning area. At the height of the return, there can be thousands of salmon coming up the creek. The salmon hatch in the fresh water, live all their life in salt water but return to their home stream to spawn and then die.
On the third evening, the bears showed up. There was a mother and 2 cubs, a junior and this fellow. This grizzly stayed in the stream for probably 15 minutes, so we had good views from the safety of the wooden viewing platform.

Bev & Ron left to head home while we were in Stewart, . They had appointments that couldn't be changed so we bid them a sad farewell. After two months of travelling together we sure miss them – we had a wonderful time together. We expect to visit them on our way through Las Vegas later this fall.
Terrace, British Columbia was our next destination. There was an excellent RV dealer there – Nor-Burd – and they worked us in the next morning, to get our slide fixed . They also found a problem with the suspension which they corrected. I guess the shaking and rattling of the northern roads did take some toll on the trailer.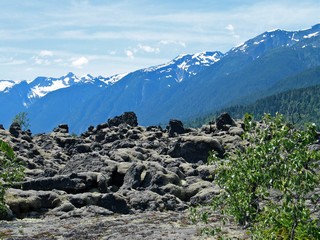 While in Terrace, we took a 50 mile day trip north to the Nisga'a Nation territory, to the site of a volcanic eruption some 250 years ago. It destroyed 2 tribal villages, causing 2,000 deaths. There was a lake where the lava beds are now and later a new lake formed back of the mountains. We hiked on trails through the lava beds and even after all this time it looks surreal.
Away from the center of devastation, the forests have returned and we found some beautiful waterfalls.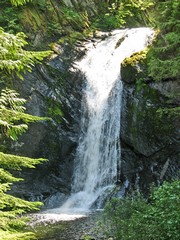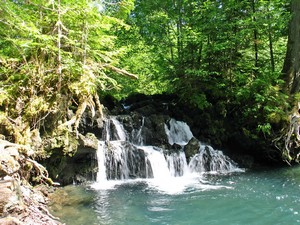 Another day we drove to Prince Rupert, which is the western terminus of the Canadian National Railway and also the Yellowhead Highway. This town was founded around 1906, specifically as a port to rival Vancouver, because it is closer to the Far East. It is now one of Canada's major seaports.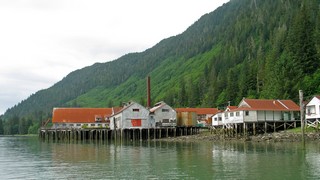 Fishing was very important and we walked around the North Pacific Cannery (this historic site had closed early that day, due to staff shortage). Built in 1889 in the community of Port Edward (near Prince Rupert), it is the most complete cannery that remains, of close to a thousand salmon canneries that dotted remote villages on the West Coast.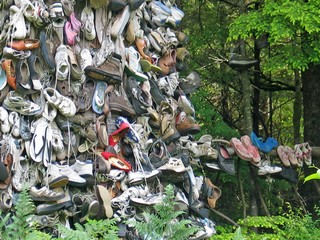 There was an interesting tree on the highway just outside Prince Rupert – it had hundreds of shoes, boots, sandles, etc attached to it.
No explanation as to why.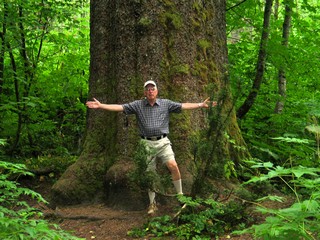 We also visited Kitimat, a planned city built as a company town by Alcan Smelters in the early 1950's. We had hoped to take a tour of the Alcan smelter, but it is under major renovation, so no go. The plant is huge and the reason for the town. It is the only aluminium smelter west of the BC Rockies and produces about 250,000 tons of aluminium a year.
In Radley Park is the Giant Sitka spruce. It was registered in 1983 as B.C.'s largest living spruce tree. Over 500 years old, it is now protected by environmental law. This picture is of a smaller spruce in the grove and as you can see, even it is very large. The big one was chained off to protect it from vandalism,so we couldn't get close to it.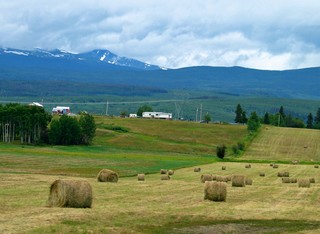 We left Terrace on July 28th and headed east to Vanderhoof, BC with an overnight stop in Smithers. From Smithers the land became much more agricultural and the Coast Mountains gave way to rolling hills – but some mountains are always on the horizon.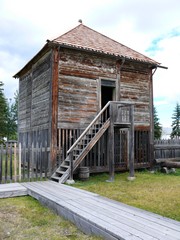 From Vanderhoof, we took just the truck and went north 53 km to visit Fort St. James national Historic Site. Established in 1806 it contains one of the largest groups of original wooden buildings from the fur trade era. There was an excellent tour and we were able to see a First Nation elder actually tanning a moose hide.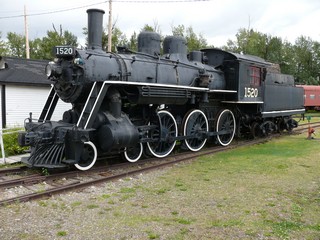 We spent two nights in Prince George. It's a good sized city of about 75,000 and the site was first visited by Alexander Mackenzie in 1793. It is a major transportation and trade centre and is home to the Prince George Railway museum.
Ross spent the afternoon there getting his "train fix" while I visited the Art Gallery and a local casino.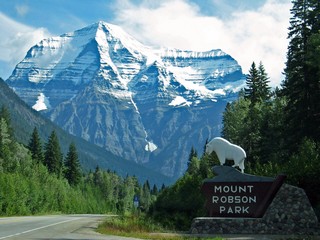 Travelling east, still on the Yellowhead Highway, toward Jasper, AB where we were meeting friends from Edmonton for the August long weekend, we again headed into the Rocky Mountains.
And there, as we came over the brow of a long hill, was Mount Robson. 12,972 feet – in bright sunshine – right in our face.
Now that's a big piece of rock. Actually, it's the highest mountain in the Canadian Rockies and is very typical with it's very steep slopes and snow cap.
Our next destination and journal – Jasper – is just under 100 kilometers east, over the Yellowhead Pass.
Ross & Bernie
Posted by Bernice at 12:21 PM | Comments (3)