« February 2007 | Main | April 2007 »
March 25, 2007
Grand Canyon
We left the opulence of Las Vegas the morning of Friday March 16th and headed back through Laughlin to Kingman and finally to Williams, AZ. Mandi & Quincy had rented a car and they travelled the road over Hoover Dam and from there to Williams. We didn't take the trailer that way, as we were advised that there were severe restrictions, since 911, on vehicles crossing the dam. Apparently, every truck and RV is inspected and could be turned back. Part of the restrictions are also because of the construction taking place for a new bridge being built over the gorge.
The five of us spent the day of the 17th at the canyon. It is only about an hour drive from Williams to the south rim of the canyon. I think the best way to express the overpowering grandure is through pictures, which in no way can give the true sense of size and power.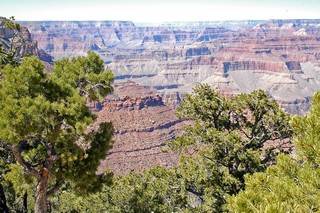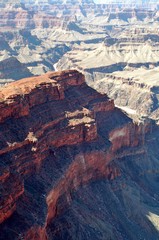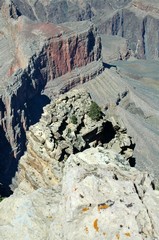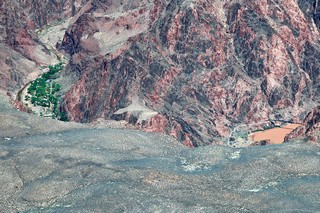 The use of a long telephoto lens allowed us to capture some of the greenery along the river at the bottom of the canyon. If you look carefully at the right you can discern a foot bridge spanning the river. While standing here, we also saw bright coloured rafts running the river.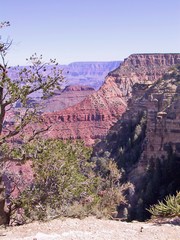 A few facts about the Grand Canyon:
– about 277 miles (446 km) along the river
– an average of 10 miles (16 )km wide
– 7000 ft elevation at the South Rim and 8,000 ft at the north rim.
– the rims are about 5,000 ft above the water.
– rocks in the canyon are hundreds of millions of years old but the canyon itself has an estimated age of six million years or less.

On our return to Williams, once again we were treated to a wonderful sunset.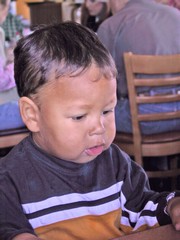 One more picture – since I have given updates on our Ricardo since he was born almost 18 months ago.
He really has grown and is talking up a storm. He is constant motion and gives the most wonderful hugs. We miss him.
We said goodbye to Mandi, Quincy & Ricky the morning of March 18th. They headed south to Tucson for a visit with Aunt Joan before flying back to the Bahamas on the 21st.

We started our journey home and will be back in Canada by March 31st with a stop at the Hitchhiker factory in Chanute, Kansas.
We'll send you our final journal for this winter in a couple of days.
Bernie & Ross
Posted by Bernice at 05:50 PM | Comments (4)
March 20, 2007
From Tucson to Las Vegas
We left the casino, south of Tucson, on Saturday morning March 10th. We met my sister Joan on our way through Tucson, as we had left a couple of bags of Texas grapefruit at her place before we went into Mexico. You can't bring citrus into the U.S. even if it is U.S. citrus that you are returning with. The Texas grapefruit is so good we didn't want to take a chance that we would lose it. We then stopped in Phoenix overnight before continuing on to Laughlin, Nevada.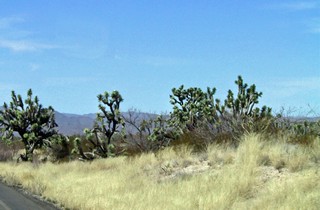 We followed US 60 then 93 that runs on an angle from Phoenix to Kingman. It is a desolate road after you pass Wickenberg. The land is again dry and there are huge hills with long quite steep grades and deep river valleys. At one point we drove through a very extensive Joshua Tree forest.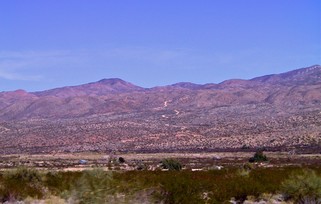 There were also long valleys as we neared Kingman, AZ.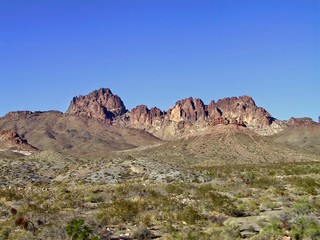 From Kingman we went straight west to Laughlin which is on the Colorado River. The road as you go down to the river is a 14 mile hill with a steady 6% grade. Going out the other side to Las Vegas is about a 17 mile uphill pull with about the same grade but at least it does have a few flatter sections. It's a good thing there is gambling in Laughlin – there sure isn't any obvious other value to the land in the area.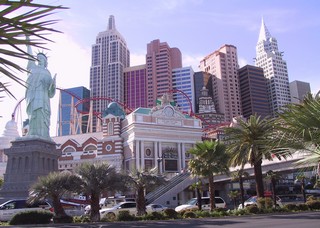 We arrived in Las Vegas on March 13th and set up at the Circus Circus RV Park, on the north end of the strip. We picked up Mandi, Quincy and Ricardo at the airport that evening. Barn & Shell, as well as Barn's mom and grandmother, were already in Vegas, . The next couple of days we spent being overpowered by the opulence and extravagance of the buildings, decor and facilities. One example is this picture of the hotel complex New York New York! All the buildings are 12 guest towers – just one hotel. The Statue of Liberty is a faithful copy which rises from a pool of water with a tub-boat and gushing fountains. If you look carefully, you'll see the red roller coaster track through the middle of the resort.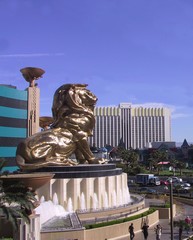 The MGM Lion, weighing some 100,000 lbs, stands 40 to 45 feet high in front of the MGM Grand Hotel. This hotel complex covers over 114 acres, with 5,000 rooms and a 170,000 sq. ft. casino (the size of 4 football fields)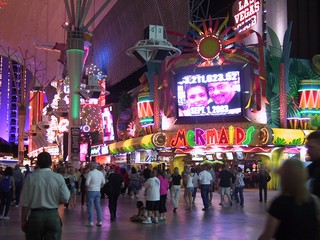 The old downtown Las Vegas has been revitalised with "The Freemont Street Experience, which is a show of 2 million lights on the canopy covering 4 blocks of the street.
The Casinos in the downtown are much smaller, older and less impressive than on the strip, but they still retain the feel of the old Las Vegas.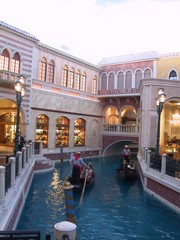 These singing Gondoliers are inside the Venetian Hotel & Casino. The canal winds throughout the hotel and is probably 750 to 1000 feet in length. It isn't even at ground level.
Barn's grandmother (she is from England and it was her first visit) wondered how she was going to make her friends at home believe that she had had a gondola ride on a Venetian canal, built on the second floor, inside a hotel which itself is built in the desert.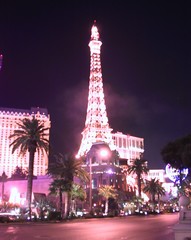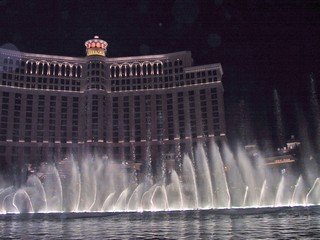 Las Vegas at night is lights! The Eiffel Tower at the Paris Casino is 50 stories high and the dancing waters in Bellagio's 11 acre lake are mesmerizing. Everyone should go to Vegas at least once in their life. You don't need to gamble a nickel to enjoy this spectacle in the desert.
We left Las Vegas on Friday March 16th having said goodbye to Barn and Shell and family at a great dinner the night before at the Cheesecake Factory at the Forum Shops at Caesar's Palace. Mandi and her men are coming with us as we head back toward the east with a destination of the Grand Canyon.
The next journal is about that.
Bernie & Ross
Posted by Bernice at 02:10 PM | Comments (3)
March 15, 2007
Mexico - Part II
We left San Carlos on Sunday morning, March 4th, and retraced our step back north to Hermosillo. It is a large city of about 1 million people. As we needed to pick up a few items before heading west to the coast, we stopped at a WalMart on the west side of the city.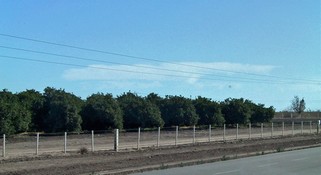 The road to Bahia Kino ( pronounced Bah-HEE-ah KEY-no) is flat and generally straight with possibly 4 or 5 gentle curves. It goes through some excellent agricultural land as well as groves of oranges and large pecan orchards. The road itself is obviously new and therefore has very wide shoulders that you pull onto, to allow other vehicles to pass.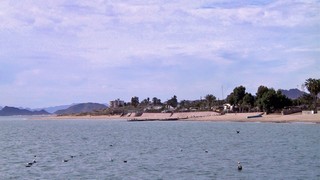 There are two distinct parts to Kino Bay, the old town and Bahia Nuevo, the new area. The new area is mainly non-Mexican with quite modern houses lining the beach. The residents in that area come into the old town to do their shopping. There are a couple of RV parks out there but we decided that we would rather be in the old part of town and stayed at a small park. This picture is taken from the wharf looking back at the beach in front of the park.
We have seldom been greeted so warmly as we were at Islandia Park, and that is saying something since this lifestyle is so friendly. We were immediately invited to join in happy hour and a couple of nights later were included with everyone when they went to a local restaurant for dinner. We went to "the potato man" – a restaurant that serves the biggest baked potatoes we have ever seen. We were advised that we would probably not be able to eat it all. They had to be 6–7 inches long and 2 inches in diameter and were stuffed with butter, cheese and pulled beef. We ordered one between us and 2 tacos and that was all that we needed. The bill was 440 pesos – $4.40 U.S.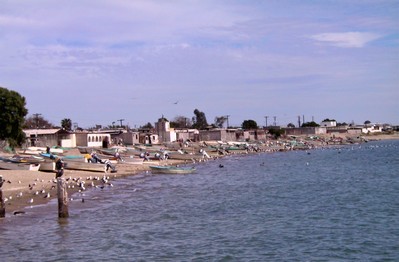 Bahia Kino is a working fishing village and in the evening we counted at least 100 boats, returned for the night, on the beach. They don't pull them up, they just run the engines full out and aim at the beach, tilting the motors just before they run into the sand. The boats skid up on the beach far enough to be out of the water.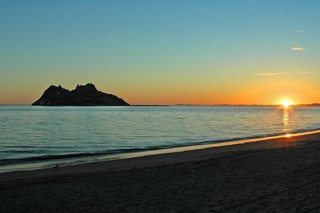 We walked the beach at sundown and were treated to some beautiful sunsets.
We felt in Bahia Kino that we were actually more in the real Mexico than we have been before.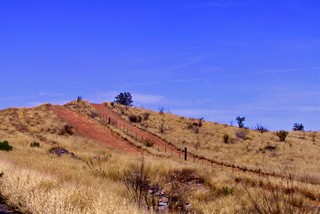 We left Kino Bay on Friday March 9th and once again headed back through Hermosillo on our way to the border at Nogales. The road travels through large areas of grassland and evidence of fire, particularly beside the the road, was common. For miles and miles, there are bulldozed fire break roads on each side of the fence. In a number of areas, the telephone poles beside the road are wrapped in metal up 6 to 8 feet and we can only guess that was to protect them from the fire.
The northbound side of Mex 15 is a much better road than the southbound. It has much wider shoulders and seems to be newer. Our guess is that southbound was the original 2 lane road. Anyway, the drive didn't seem nearly as long coming back north.
We arrived back in the U.S. with little problem and decided to stop for the night at the Diamond Desert Casino south of Tucson. We did some shopping as we had reduced our food supplies, because of US Customs regulations, to cross the border.
The next segment of the journey was to Las Vegas where we had a family reunion with our girls and their men.
Till then
Bernie & Ross
Posted by Bernice at 09:06 AM | Comments (1)
March 10, 2007
Mexico - Part I
Sunday, Feb 25th we headed south from Tucson to cross the border at Nogales. First of course we had to stop and purchase automobile insurance. Your U.S. or Canadian insurance does not cover you in Mexico. It is reasonably expensive. It cost us $286.35 U.S. for 14 days of liability coverage on the truck and trailer and collision on the truck. The agent told us that once you reach 35 days it is cheaper to purchase an annual policy.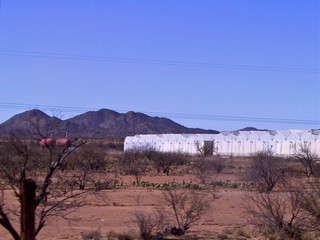 Once again, there was no personal inspection or stop going into Mexico, although 21 km down the road we needed to stop to obtain a visitors visa which costs about $24 U.S. each..
The landscape here is very similar to southern Arizona, with desert shrubs and huge piles of rock erupting from the earth. We passed some very large greenhouse complexes that appeared to be hydroponic agriculture. They were set right in the middle of barren desert and certainly would get all the sun that they need.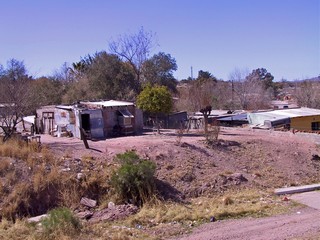 We stopped in Santa Ana for an excellent lunch at a roadside stand. This was our first chance to see up close (and while not moving) some of the houses that had been visible as we drove along. We were amazed at the housing in so much of the area that we visited. Shelter is made of anything; plywood, canvas, tin sheets,corrugated metal, cardboard – anything available. However, no matter how rudimentary the house, there was most often a line of clean wash hanging out. Even in such a basic shelter as the one in this picture, there is occasionally an air conditioner. You can see it through the wall on the right hand side. It gets very, very hot in the summer.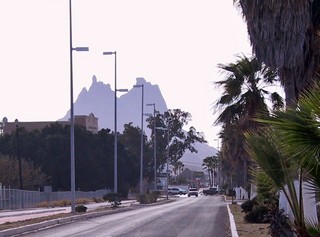 We arrived in San Carlos late in the afternoon, after a very long drive which took us along the edge of Hermosillo and then about 90 miles further south to just north west of Guaymas – a total of 330 miles from the campground in Tucson. The highway is 4 lane all the way, however as you go through the villages and towns speed is reduced. Not just reduced, almost stopped. They control the speed by "topes" (speed bumps) and they are so severe that you need to drop to a crawl not to damage your vehicle. On the open highway there are no "topes" but there is also no shoulder to the road and the drop off from the pavement can be anywhere from 2 inches to 2 feet. There are signs warning of the sharp edge but as would be expected, they are in Spanish. Our Spanish/English dictionary got a good workout figuring out the traffic signs.
The road is in good repair and very busy. It is the main highway down the west side of Mexico and is well travelled by 18 wheelers and intercity buses. There are pull offs quite often, however again the pavement drops down 4 to 10 inches at them, so we didn't even attempt to take a break there with the trailer behind us. We were glad to arrive.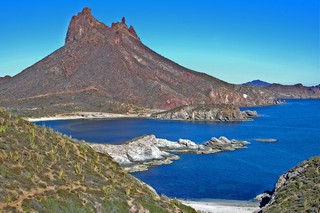 San Carlos is located on a bay in the Sea of Cortez and we stayed at a park quite close to the older area of town. We walked in to the grocery store and to the fruit & vegetable stand. One day we drove to the end of the road and the viewpoint out over the Sea of Cortez. Looking back from the viewpoint you could see the mountain that overlooks the town and was so obvious as we arrived. These are big hills – that is a dirt road at the bottom left, on the closest hill in the picture.

We went in to Guaymas on Thursday. It is a city of more than 125,000 and is an old port, now a fishing centre. It also is a departure point for one of the ferries across the Sea of Cortez to the Baja. There is a central square and a central market. We ended up at Ley's, which is a large Mexican supermarket chain and has excellent selection. In driving through parts of the city, we saw extreme poverty and also quite lavish homes. This seems to be an area of great contrasts.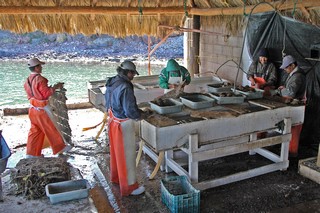 On Friday we visited a Pearl Farm operation. This is the only pearl farm in the Sea of Cortez. The oysters that are used are only found in this one area of the world. The farm was started by 3 University students as an experiment for their Master's degree thesis. It turned out to be successful and they now operate it commercially. They produce beautifully coloured pearls – blues, greens, grays, pinks and also half pearls in the same colours. It was a great free tour and one I would recommend to everyone.

That afternoon we went golfing at the course in San Carlos. Didn't have great scores but did enjoy ourselves. In the evening we went for dinner with some new acquaintances, Bob and Joann. The restaurant is a teaching facility and when we ordered Caesar Salad, we were treated to approximately a 15 minute preparation done step by step right at our table. Did you know that Caesar Salad was invented in Mexico? We didn't know that either.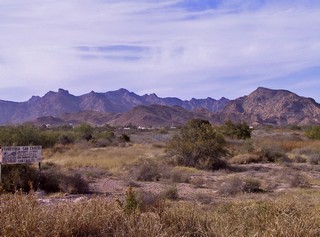 We enjoyed our time in San Carlos and would certainly go back there again. The weather was wonderful – about 80 to 85 F during the day with only about 15% humidity and at night you really did need a sweater or light jacket.
There were good restaurants, the golf course and Guaymas only 20 Km away.
But, it still really isn't the Mexico that we thought we might find this far south of the U.S. border. I guess the west coast of Mexico on the Sea of Cortez has had so much tourism that it is bound to feel Americanised.
On Sunday, March 4th, we headed north and then west again to Bahia de Keno, also on the Sea of Cortez.
We'll let you know what we found there in the next journal.
Till then
Bernie & Ross
Posted by Bernice at 11:31 AM | Comments (1)