« October 2006 | Main | February 2007 »
January 23, 2007
Into the Winter of 2006/07
Well everyone, we are back on the road. Actually, we left southern Ontario on the 2nd of December and are now in Texas – at a campground in Mission in the Rio Grande Valley.
We had a good two months at home visiting with friends and family but November wasn't the nicest month so we were happy to be on the road to warmer weather. Now, from what we hear, December really wasn't winter at home. Oh well!
We crossed at Buffalo and were pulled over by U.S. Customs to check what food we were bringing in. We didn't have a problem as we had carefully read the U.S. restrictions and had none of the prohibited items – i.e. beef products, certain fruits or vegetables, etc. We got as far as State College, PA that night and stayed in a WalMart parking lot as few campgrounds are open that far north, at that time of year.
The following day we travelled just over 200 km to Gettysburg, PA arriving there before noon. We immediately headed to the Visitors Center and museum for the Civil War's Gettysburg Battlefield – the most visited, most written about and the most intensely studied battle ever recorded. Of the 165,000 who fought there July 1 to 3, 1863, there were around 50,000 casualties.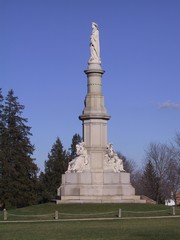 We walked through the National Cemetery, and stood on the site where Lincoln gave his famous Gettysburg address at the dedication of the site to the fallen Union soldiers.
There are over 1,400 monuments and cannon along 40 miles of roads in Gettysburg National Monument . These monuments have been erected by the states, towns, and particularly by the various branches of the armies that fought and/or sent soldiers there. We drove the Auto Route through the battlefield, stopping at many of the monuments, where at most of them, makers describe significant action during those three days.
The following morning, we visited President Eisenhower's farm where, after leaving the White House, he lived with his wife, Mamie.

Our next stop was in Wilson, NC. We stayed there while visiting a cousin in Greenville. We left the trailer in the campground there for 13 days, as we figured we were far enough south that it wouldn't freeze.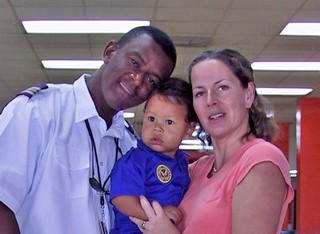 We flew to Nassau in the Bahamas and then on to the island of San Salvador where Mandi lives. This is the first time that Ross has been to San Sal, so it was great for him to meet and re-meet Quincy's family (some of them came to Canada for the wedding). The island has wonderful sand beaches, great diving, inland lakes and the weather was wonderfully warm. Best of all we spent time with our family. Ricky has changed so much since they were home at Thanksgiving – he's starting to be a little boy not a baby any more.

Here are a few pictures from the island – the 64 square mile island that was Christopher Columbus's first land fall on his first trip to the new world.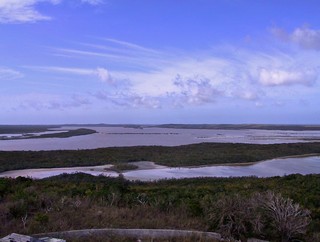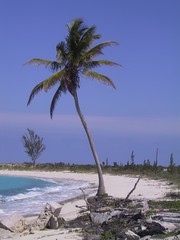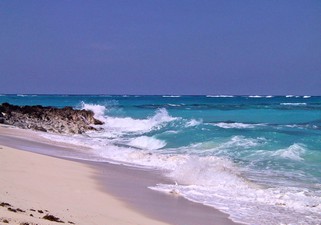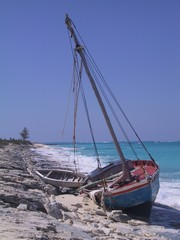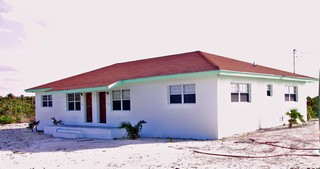 Mandi & Quincy have built a double house and furnished the second side (which is where we stayed) so that they can rent it to island visitors. They have already had a number of guests stay there – anywhere from 5 days to two months. This is a laid back island with tourism as its main industry – but you are hard pressed to find touristy spots. Other than the Club Med there are no big resorts and the dining out is either there or at local restaurants (which we enjoyed totally). The island is small – about 14 miles long by 7 miles wide and the centre is all lakes so the road goes all the way around. As Mandi is the bank manager on the island and Quincy has lived there all his life, we were immediately welcomed by everyone. A very friendly place.
If anyone is interested in visiting San Salvador, Mandi would be delighted to have them stay at their guest house – her email address is [email protected] . You can learn more about San Sal by going on to www.Bahamas.com then click on "Islands" and then "San Salvador". Mandi says that she would love to have visitors and will give preference to anyone receiving this journal.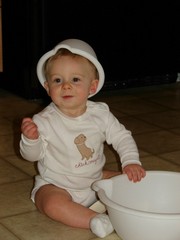 We flew back to Raleigh, NC on the 20th and made a bee line to Birmingham, AL to get to my nephew Paul's by lunch on Dec 22. We have a grand nephew, Jack, that we had not seen, who was born in May . Another great addition to the family and he is just as cute as this picture shows. Paul and Jill seem to have a keeper!
After lunch we headed west on our way to Dallas, TX.
Two days later, we pulled into Trader's Village campground and settled in for the Christmas break.

I'll be back again in a couple of days to complete the trip to Mission, TX
'Til then
Bernie & Ross
Posted by Bernice at 09:30 PM | Comments (4)