« August 2005 | Main | December 2005 »
September 10, 2005
Nothern Prairies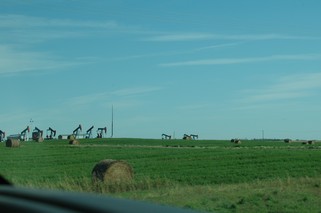 It's amazing how we have gotten into a routine. It doesn't seem to matter where we are or what our plans are for the day – we don't get away from our overnight camp until around 10 AM. Sure, sometimes it's a half hour earlier or later, but in general it's 10. That is unless we stay at a WalMart and then we do seem to get on the road earlier. This picture was taken at 9:20 after we had been on the road for awhile.
This is northern Saskatchewan and we were very suprised at the amount of oil that we saw. In the east we think of Alberta oil and I'm sure it is there, but we saw more working pumps in Saskatchewan.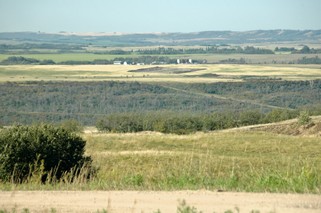 After all the twisting roads of the mountains it was soothing to drive relatively straight for awhile. The land is quite rolling but as you can see there are some wonderful vistas. The biggest land elevation changes are not "up", but "down" into the river valleys. These are wonderful with trees and grazing areas along the rivers. We crossed the North Saskatchewan River shortly after we under way and came to it again at our destination today, Prince Albert. We went into town late in the afternoon but were in time to visit the home of former Prime Minister, the late John Diefenbaker. It was interesting – he lived quite a simple life before Ottawa.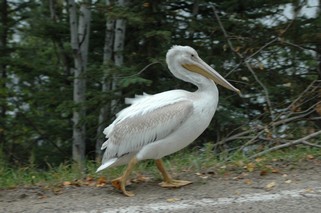 A pelican?? A white pelican calmly walking down the side of the road! We thought that we were seeing things, but no, apparently there is a large colony of this endangered bird, in Prince Albert National Park which is located about 100 KM north of the city. We spent the whole day at the park and had hoped to hike some of the 100 km of trails. Unfortunately, today, after 2 1/2 months of good weather, it decided to rain. We only did short hikes into the 1,496 sq. mi. of wilderness. And they have kept it wilderness, as the road only goes through a small area at the south east corner.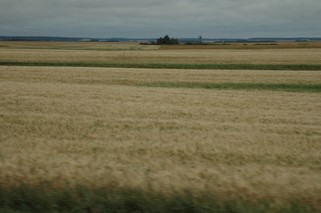 The next day, Aug 31, we headed east along Hwy 3. The land here is prairie. I hadn't realized that the huge fields and wide expanses of grain extended this far north. And we are quite north. This picture was taken about 53Elatitude – compare that to 45Eat Gravenhurst, Ontario and 51.3Eat Mosanee, Ontario. We continued east in rain, torrential rain and wind. We have not driven in this kind of weather on the trip. We had considered going further north to Flin Flon and The Pas but with the weather, just kept going into Manitoba and turned south to Swan River for the night. We parked in the campground on a small island of relative dry, surrounded by water.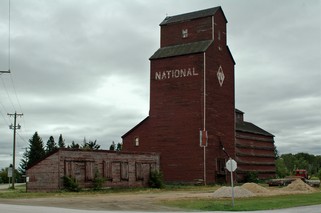 Cloudy and overcast with some rain, but nothing like the day before, we continued across Manitoba. Our first stop was at Winnipegosis on Lake Winnipegosis where we discovered this wonderful old grain elevator. Most of these are now being abandoned in favour or the new steel and high tech complexes. This one, although gradually deteriorating, was still in reasonable state. Bernie took a number of pictures that she can use as references in future paintings.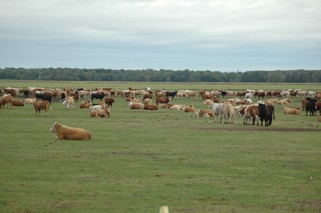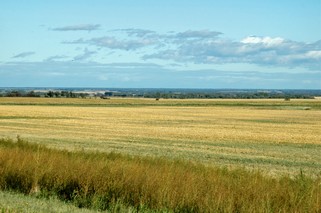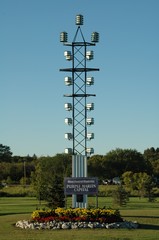 That evening we camped at the Lion's Park in Neepawa, north west of Portage La Prairie. I think we have all heard about the mosquito problem in Manitoba. This Martin house complex in the campground must work as we didn't see one mosquito that evening. It had been interesting when we arrived – we went to the campground office and ask for a space, saying we didn't need any services, just a place to park. The manager sent us across the road to the park and told us to park anywhere that was convenient. When I offered to pay her, she said, " If you don't need any services, I don't need any money. Enjoy your evening". Pretty nice, eh?
The next morning, after an oil change, we headed east again, bypassing Winnipeg and continuing on to east of Kenora before we stopped for the night. Tomorrow, Sept 3, we are headed to Fort Francis, ON an area we have never been too.
Talk to you from there
Ross & Bernie
Posted by Ross at 07:42 PM | Comments (0)