« Nothern California | Main | Nothern Oregon »
July 20, 2005
Southern Oregon
As we headed to southern Oregon on July 1st, we passed huge herds of cattle – mostly black angus. The grass is very lush and irrigation of the grazing land is common. From the flat valleys we started up again into the hills following I-5 over Siskiyou Pass, through Ashland and Medford to Rogue River, a popular summer destination.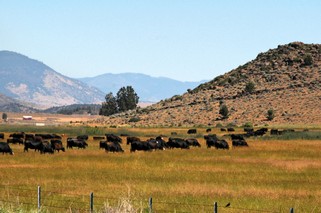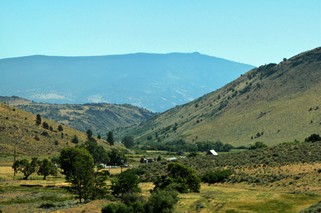 Since this was the 4th of July weekend, we had made reservations at a campground to be sure we had a spot. The campground was right on the Rogue River and had tables and chairs on the dock. A very nice setup. There were only 25 sites and they were an extremely friendly group, coming over and introducing themselves when we had set out our chairs.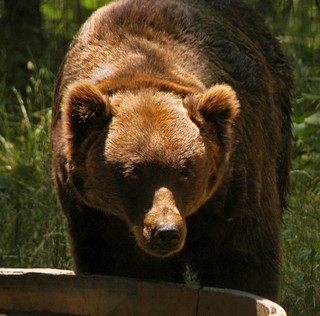 On Saturday, having been fortified with fudge and raspberries at the Grant's Pass farmer's market, we drove out further into the countryside and stopped at Wilderness Images. It is a conservation organization that rehabilitates wild animals that have been injured or abandoned and reintroduces them back into the wild. A 1 1/2 hour tour with a guide explained what they do and showed some of the animals that they have. The ones you see can not be reintroduced into the wild due to a number of reasons. They may have an injury or they may have become imprinted by humans and would not survive. We saw 2 grizzilies (finally) (brother and sister), mountain lions, black bears, wolves, otters and up close, a bald eagle, a golden eagle, a turkey buzzard and a great horned owl. The animals that are going to be reintroduced have minimal human contact and are nowhere near the public areas. This is a private facility and survives on donations and private sponsors.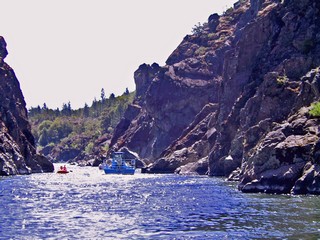 Monday, July 4th was not only the U.S. Independence day, it was also our 41st wedding anniversary. We celebrated by going on a Rogue River Hellsgate Canyon Jetboat trip. We went 18 miles up the river into this beautiful lava canyon, had a wonderful lunch and returned to the campground to celebrate the 4th with a potluck supper on the river. All we seemed to do that day was eat! The neighbours on the river have a competition each year to see who puts on the best fireworks show, so we had front row seats.
We are gradually heading to Redmond to the RV Rally that is being held there. We'll be checking in next Sunday, July 10th . On the way we stayed at Collier State Park which is on the east side of the Cascade Mountains – so – back over another mountain pass.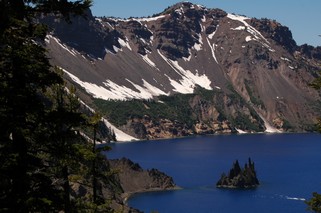 With our base at the park, north of Klamath Falls, we toured Crater Lake. The lake was formed when ancient Mount Mazama erupted and collapsed into itself 7,700 years ago. It is 1,943 feet deep (deepest in United States) and is filled with rain and melted snow and there is no inlet or outlet. The colour is the most startling blue and the lake, about five miles wide, is ringed with 2,000 foot cliffs. One of the Islands (it's there in the picture) is called Phantom Ship and was formed by subsequent eruptions that have now eroded into a ship shape.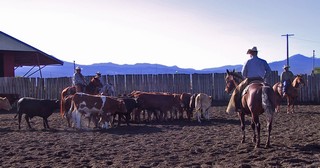 As we came back from Crater Lake we saw a field full of horse trailers so went to investigate. Turned out to be the Fort Klamath Cutting Championships. We spent a couple of hours watching the most amazing horses and riders as they separated (cut)specific calves from the herd.
Now, we're on our way to Redmond to the RV Rally.
Ross & Bernie
Posted by Ross at July 20, 2005 02:51 PM
Comments