« Idaho | Main | Nothern California »
June 28, 2005
Nevada
On Monday morning June 13th we headed straight south from Jerome on US 93 to Wells Nevada where we turned west on I-80. The land we have come through has gotten progressively drier and from the flat plains of the Snake River we are into much hillier terrain. There is still snow on some of the mountain tops but they are not rugged like the ones north of Arco ID.
We had heard that travellers were welcome to stay overnight in WalMart parking lots so we decided to stop at the store in Winnemucca NV. It's not where we will stay most of the time but it sure is nice to know that it is available – and it's free.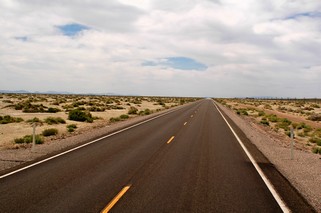 On the way to Carson City, the capital of Nevada, there are many "lakes" but they had no water in them. Only when it rains do they fill up for a short while. We turned off the Interstate and went south through the Carson Sink which is the most desolate, dry and parched area we have ever seen. The road ran dead straight with no elevation changes for close to 30 miles. I wouldn't want to be lost out there as there doesn't appear to be any landmark to help you.
As we had only driven about 170 miles (and we were on the road early since we were in WalMart's parking lot and their PA system started about 6:30) we got into Carson City and set up by shortly after noon. On local advice, we decided to take the Kingsbury Grade road over the mountains to South Lake Tahoe. Let me tell you, it's one steep "grade" with many 25 MPH curves and we were very glad that we were not towing the trailer.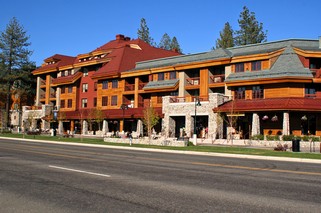 South Lake Tahoe is quite commercial and access to the beach is not very easy. The town itself if really pretty with the structures all made of materials to suit the environment. This picture is of the Marriott Grand Mansion Hotel and is typical of the buildings. The homes are quite beautiful and certainly are not what one thinks of as a cottage or cabin. The temperature at the lake was about 10 degrees F lower than in the valley.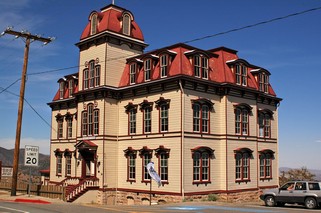 Even as easterners we had heard of the Comstock Lode, so since we were close by, we visited Virginia City where gold was found in 1870 and silver shortly after. The hills surrounding the town poured an estimated $400,000,000 into the economy, some of which was used to build San Francisco and also to help finance the Union Army during the Civil War. At one point it had a population of 30,000 with 100 saloons, many churches, banks and theatres – and the only elevator between Chicago and San Francisco. Today the population is about 900. We followed another mountain road back.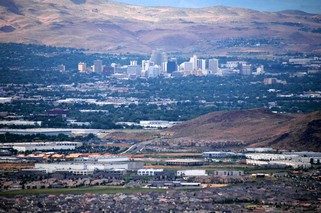 The view to Reno in the valley was great.
With dire prediction about a storm and high winds approaching from the Pacific we decided to stay put in Carson City for an extra day. The road in the valley to Reno is closed when there are high winds. The storm never materialized on the east side of the mountains, although there were banks of clouds over the peaks all day.

Did I say we did a little gambling? It's a strong person who could go to Nevada and not put a quarter or two into the slots. Sorry, we didn't win.
In Reno we stayed quite close into town so could walk to a couple of the bigger casinos. Went downtown and walked around but it really is just a smaller Las Vegas.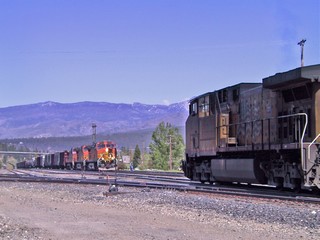 On Sunday we did go up to Truckee, then on to the north side of Lake Tahoe. Truckee is a wonderfully restored historic town but of most importance – IT'S a TRAIN TOWN. We were there when an eastbound Union Pacific and a westbound BNSF (Burlington Northern Santa Fe) met followed shortly by Amtrak's California Zephyr. Ross had his train fix for the day (week?).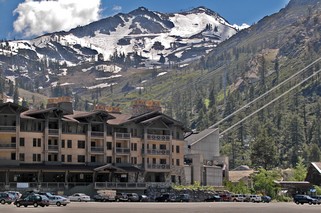 Just south of Truckee is Squaw Valley, site of the 1960 winter Olympics. It seems to suddenly appear out of the thousands of pines hugging the road. Of course, since it is summer, there is very little going on. We then followed the road to Tahoe City and on around the north side of Lake Tahoe.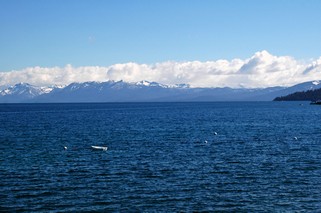 From the north road we could see the lake much better and it is very large – 22 miles long and 12 miles wide. At its deepest it is 1,645 feet and is at an elevation of 6,229 feet. The lake is a very beautiful blue and is rimmed by mountains.

Tomorrow, Tuesday June 21st, we're heading to California.
Posted by Bernice at June 28, 2005 10:54 PM
Comments