« Bryce Canyon and the Grand Staircase-Escalente | Main | One Final Journey »
December 23, 2008
Christmas Greetings
Merry Christmas & Happy New Year
from Mexico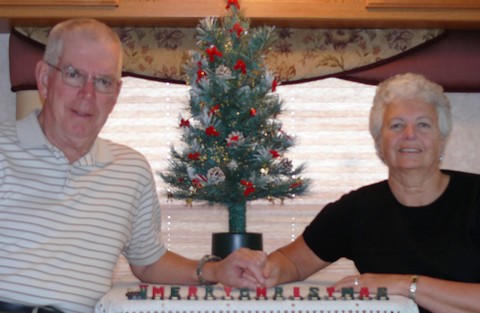 Here on the Sea of Cortez, we have to put up
with sunshine, sand and margaritas,
while you at home have all the fun in the snow.
We hope 2008 has brought you health and happiness,
that you have a wonderful Christmas
with family and friends
and that 2009 will be the best year of your life.
Our best wishes to all
Ross & Bernie White
Posted by Bernice at December 23, 2008 01:15 PM
Comments
Merry Christmas from the frigid Sandhills of Nebraska. It is cold here(below zero wind chill) and we will have a white Christmas.
Stay safe in your travels and God Bless,
Keith and Jennie Wysocki
2004 NUWA Champagne
Posted by: Keith & Jennie Wysocki at December 23, 2008 04:18 PM
Thanks for the wishes. Good health and happiness to you both. Look forward to receiving more travel news.
Rick & Gill
Posted by: Rick Russell at December 23, 2008 04:27 PM
Lucky you, enjoying the warmth while we freeze.
Thank you for your good wishes and the journals which have kept us interested throughout the year. To you we send Christmas greetings and hopes that your journeys will continue to be as exciting and successful as they were in 2008.
Helen & Ray Lennon.
Posted by: Helen Lennon at December 23, 2008 10:16 PM
Merry Christmas and Happy New Year folks. Looking good. Don't ya just hate all that sunshine, and margaritas? Don't ya just really miss all this snow and cold, and ice and freezing weather. Yeah Right. Oh well I love it. Take care Love Sharon
Posted by: Sharon Smith at December 23, 2008 10:46 PM
Hi Ross and Bernice,
Thanks for the Xmas wishes and all your trip updates. I really enjoy receiving them. I wish you a Merry Christmas and Happy New Year too! You sound like you are having a great time. I like snow but it can get tiresome after awhile.
Take care
Jacquie
Posted by: Jacquie at December 24, 2008 10:20 AM
We certainly have snow here. Looking across to number 5 the snow banks are at least 4 feet high. I thought of you as I delivered my cookies around the neighbourhood before flying off to Thunder Bay. We love traveling with you.
Anne and Garth
Posted by: anne barron at December 24, 2008 02:48 PM
Thank you for your kind thoughts.
I too wish you all the very best for your next ventures, whereever they may be.
I could use a Margarita about now.
My husband and I will be off to Mayan Riviera at the end of January, only for a week, sadly.
Take care friends.
Weezie

Posted by: Louise Fell at December 24, 2008 04:53 PM
You folks added to the good qualities of 2008. We're happy that your travels/adventures have been fulfilling--and safe. Merry Christmas and Happy New Year back to you. Larry and Phyllis
Posted by: Harwoods at December 27, 2008 01:01 PM
Hi guys,
Sorry I'm late, but I'm Greek & go by the orthodox calendar! (just kidding). I'm busy tanning people so they can go where you are without burning. This has kept me very busy.
Love getting your travellogs-feels like I'm with you except for the frost bite, but tom. we are getting fresh east coast lobster so we won't be so CRABBY. What is your E-Mail - I'll send you our Christmas letter minus the pics. Happy NY M+P
Posted by: Mike & Patti Kyrzakos at December 29, 2008 11:30 PM
Miss you already Hows the BRIDE Keep in touch Be careful Keep BOTH EYES on BERNIE R & V
Posted by: Roger & Vicki at January 6, 2009 09:12 AM