« Capitol Reef National Park | Main | Christmas Greetings »
November 11, 2008
Bryce Canyon and the Grand Staircase-Escalente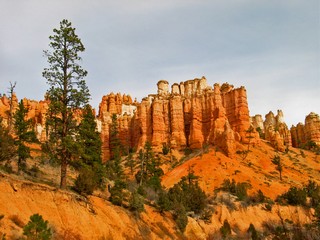 Bryce (named after a Mormon cattle rancher who settled in the area around 1875), is very special because it is the only national park with its type of hoodoo rock formations in the United States. Bryce, established in 1928, is one of the smallest (only 36,000 acres) parks we visited but it is absolutely a one-of-a-kind experience.
The featured vista from the rim is called the Amphitheater, a bowl containing thousands of pinnacles of multi-coloured rock, each a different size and shape.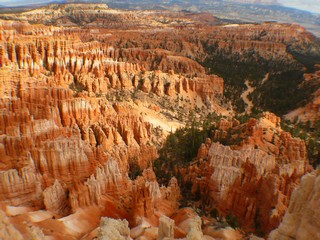 Our first day we did the walk from Sunrise Point to Sunset Point and up to a towering lookout over the Amphitheater. It is surprising how long it takes to walk only a couple of miles, because of the number of times you stop to photograph the changing vistas and say "Ah -Wow-Look at that-spectacular" etc, etc.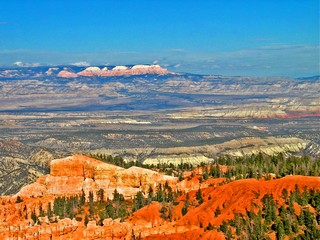 From this rim you can see about 90 to 125 miles, including the Aquarius Plateau, at an elevation over 10,000 feet, the highest plateau in the U.S.


Our second day we decided to hike down into the canyon and selected the Queen's Garden Trail because it has the fewest sharp edges and drop-offs which as you have heard, are my (Ross's) least favourite type of landscape. As I'm sure you've already guessed, going down was much easier than coming back up but well worth the effort. Even with the attached pictures it is hard to describe the beauty of the pink, orange, chocolate and white layered spires at Bryce.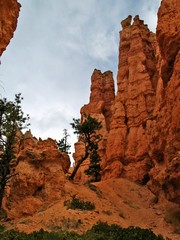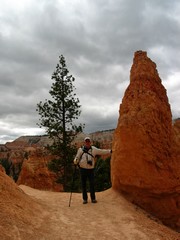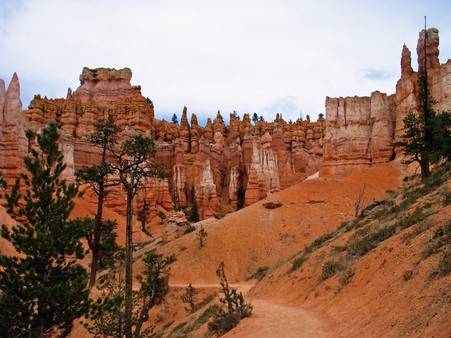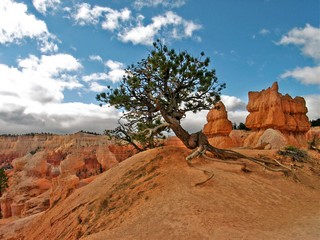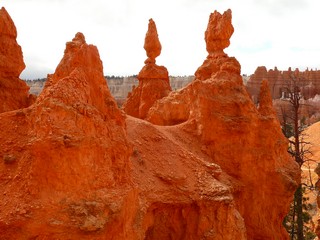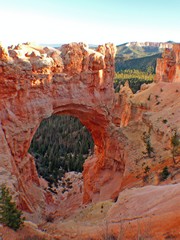 On day 3 we completed the drive to Rainbow Point and return – called the Rim Road as it curls along the very rim of the canyon. There are numerous pull-outs to view the seemingly endless array of outstanding rock formations. Although only 17 miles, it took more than 4 hours to get back to the Visitor Centre.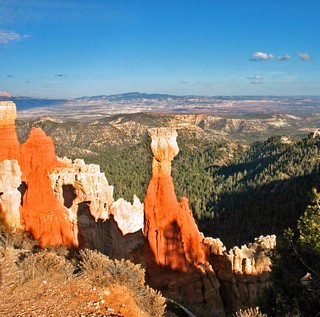 When we were at Bryce a number of years ago, Bernie had done a painting of "The Hunter" – the hoodoo pictured here. Unfortunately, progress, in the guise of a better parking area has taken the artistic viewpoint away. Bill and Barb, enjoy the painting. It is now definitely a one of a kind.
Bryce Canyon draws about one and a half million visitors a year and the fall is an ideal time to be there – cooler temperatures and less crowded. During our first visit (in summer) we arrived for sunrise (just under 40F degrees), hiked into the canyon and returned for lunch (just over 100F degrees). In these dessert landscapes, you can freeze and boil in half a day.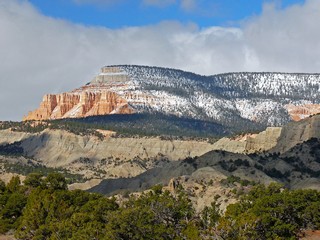 Our last day in this area we drove to Boulder (Utah not Colorado) through Grand Staircase/Escalante, some of the most remote, un-populated and very rugged miles we have travelled. The Grand Staircase is a series of giant geological steps from the south rim of the Grand Canyon to the Aquarius Plateau, already mentioned. Each 'step' or layer is a different colour.
It had snowed in the higher plateaus the night before, so there was a different perspective.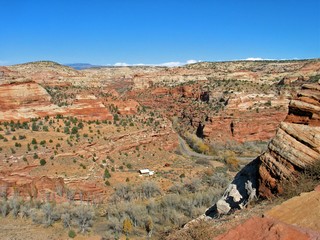 Depending on the elevation of the road, we were in either, grey, red or black rock.
In the picture to the left, we were up high. Notice the road on the right hand side and the white in the middle is actually a working ranch.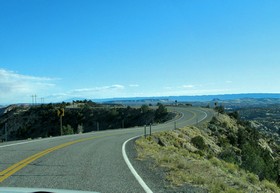 Sometimes we travelled the absolute razor back of the ridges.
After a very enjoyable lunch in Boulder, we drive back to the KOA at Cannonville for domestic duties like laundry.
This, our second visit to Bryce Canyon, we both agreed had been as good as our memory of the first visit. It's satisfying to revisit and again be impressed.
In travel mode again tomorrow, November 6th.
We've heard from Jim & Carolyn and it looks like we'll meet them again at the campground in Zion.
Posted by Bernice at November 11, 2008 05:05 PM
Comments
We have some identical pictures of Bryces from our visit with the kids 15 years ago. It sure was special to see it again. Our experience on the razor back was during a windy rain storm in a 28ft RV. I am glad that we couldn't see then what you just showed me now.
Rick
Posted by: Rick Russell at January 4, 2009 08:04 PM
Any chance of getting a larger copy of one of those pictures? IMG_8628_edited_small1.jpg is absolutely spectacular and I'd love to have it as my desktop background.
Hope you have a great 2009 and travel safe!
Posted by: Rob Brown at January 5, 2009 07:39 PM
Bryce is wonderful--I have been there 3 times--first with my parents many,many years ago and did some hiking at the time. Hard to believe the variety of color you see there--the autumn colors on the trees are also incredible and not at all an area I would think of for autumn foliage. Anyway, your pictures, are as usual outstanding. Bette
Posted by: Bette Andrew at January 10, 2009 04:22 PM
Hard to find adequate adjectives to live up to your photos. A reminder of what a marvelous planet we inhabit. Thx again for sharing. L&P
Posted by: Larry and Phyllis at January 12, 2009 04:35 AM
Dear Bernice and Ross
Such a delight to look at this web-site of yours: I can almost smell Nature in your journal! Have you considered publishing this journal? Europeans and Japanese, in particular, would be very interested in seeing (and learning about) N. American History and Geography as you've presented it here. You indeed have shared so many beautiful memories together. God bless!
Cathy Poole, RN (St. Joe's)
Posted by: Cathy Poole at February 3, 2009 06:06 PM