« Idaho & Home - Fall 2008 | Main | Capitol Reef National Park »
October 31, 2008
Utah 2008 - Salt Lake City & the South East
We arrived back in Salt Lake City about 8:30 pm on Tuesday, Oct.14th and as had been arranged before we left, we stayed at the Baymont Hotel. In the morning we headed down to State Trailer and picked up our home. We figured that we had been rushing for the last two weeks, so decided to slow down and we booked for a whole week at the KOA where we had been before we left to go home.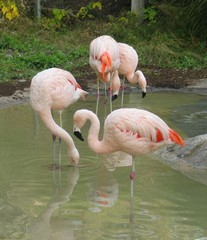 We took it easy, exploring the city and one day we went to the Tracy Aviary. It's a large bird park located on eight acres of land in the heart of Salt Lake City. It has about 400 birds representing 135 species.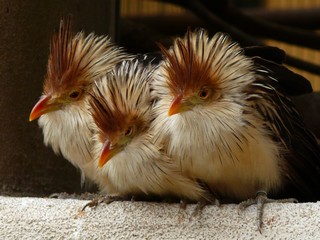 Another day we drove up to Park City which is in the mountains and was the location of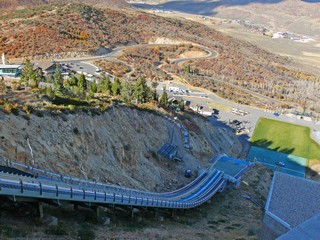 the 2002 Winter Olympics. We took the tour of Olympic Park, getting an up-close look at the ski jumps and the bobsled/luge runs. There are six ski jumps ranging from 10 to 120 meters. Plastic runways on the jumps and landing zones (the green patch) allow for summer jumping
Why anyone would voluntarily go down those ski jumps is beyond us.
They told us that they receive around 500 inches of snow up there. That's over 40 feet of snow. There is a large vibrant community and because it is only about 45 minutes from Salt Lake City, is a very popular spot.
Back in Salt Lake City, as we we drove along North Temple (yes, it's the street that runs along the north side of the LDS-Latter Day Saints-temple) we saw a line-up outside a Mexican restaurant. In fact, every time we went past the restaurant there was a big line up – lunch time, late afternoon or 10 o'clock at night. Turns out the restaurant – The Red Iguana – is famous throughout the city. Of course we had to try it. We went on a Tuesday about 2 in the afternoon and only had to wait for 2 other tables to be seated before us, so not bad. The food was excellent and plentiful and we would sure go back.
On the Sunday, 4 days after we collected the trailer from the repair shop, we saw water dripping under it, right where the kitchen tank is located. This was the tank that was replaced so, as you can imagine, we were not impressed. We phoned them on Monday and made arrangements to return with it to the shop early Wed. morning, as we would be on our way out of the city that morning. Turns out, the custom made tank had not been properly welded at the seams and when it filled with water, the pressure caused it to leak. It took the shop all day to fix it, as they had to again remove the tank, re-weld and reinstall. We also had a bit of welding on the frame done and a couple of other minor items. When we finally went to leave, they waved goodbye to us with no charge for the tank (which we expected) nor for any of the other work they did that day. At least, they treated us properly.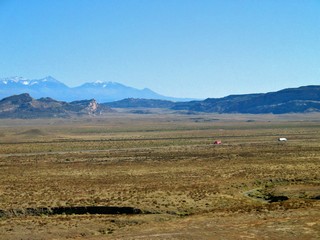 As it was late afternoon, we stayed in Provo and the next morning, October 23rd, headed toward Moab via Hwy 6, which runs on an angle to the southeast. We passed over Soldier Summit and were never out of sight of mountains, although as we got closer to Moab the land was flat with the mountains in the distance.

We decided to make our base just south of Moab, and from there were able to visit two National Parks, one State Park and one scenic drive along the Colorado River. This country is so spectacular that I am going to let the pictures tell most of the story.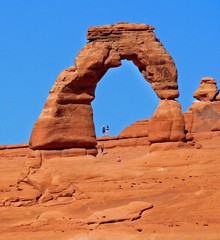 Arches National Park preserves over 2,000 natural sandstone arches, the greatest density of natural arches in the world, as well as other unusual rock formations. With elevations varying from 4,085 to 5,653 ft above sea level it is located in a "high desert" – hot summers, cold winters and very little rainfall ( 10 inches average in a year). Since 1970, 43 arches have collapsed because of erosion.
The arches result from erosion of sandstone fins that were formed when an underlying salt bed shifted and repositioned itself. Sections of the earths layers turned almost on edge, faults occurred and erosion then stripped away younger rock. Water seeped into cracks, froze, expanding and breaking off pieces of rock. Wind & water cleaned out these particles and a series of free standing fins remained. Additional erosion then gradually formed an arch in some fins.
Above - Delicate Arch, one of the most photographed, has an opening of about 35 ft. In 2002 the Olympic Torch relay passed through Delicate Arch.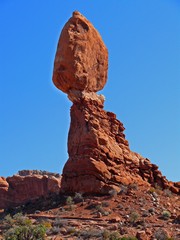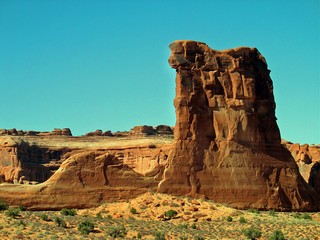 Balanced Rock and Sheep Rock – you can see a sheep's head at the top left.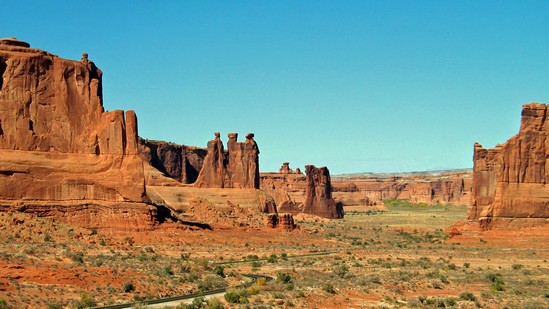 The Three Gossips – and typical rock formations around them.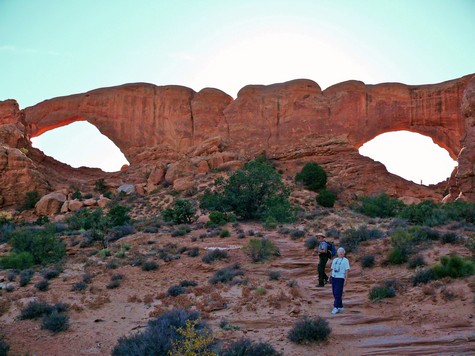 The Windows – North & South. We were on a nature walk with a Park Ranger.
Landscape Arch – one of the longest natural stone arches in the world with a span of 306 feet and a height of 105 feet. Since 1991, three large slabs of sandstone have fallen from the thinnest section and the trail that once passed beneath it is now closed. It was late afternoon when we visited here.

We spent two days, hiking the trails and visiting the many viewpoints.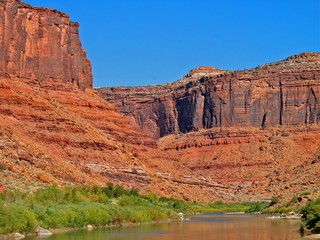 Another day was spent following the Colorado River north-east as far a Fischer Towers. We saw the Colorado here as a reasonably placid river but the size and depth of the canyon tells us that this obviously was not always the case.
The gravel road into the Towers was TERRIBLE – washboard, pot-holes and big rocks.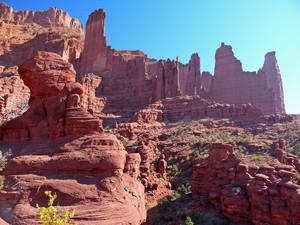 The jumble of towers, spires and unusual shapes is set against the background of a solid cliff – quite different than the free standing fins of Arches National Park.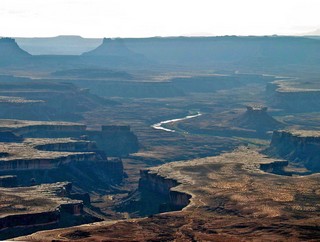 Canyonland National Park is large, 337,570 acres (527 square miles) and lies to the west of Arches and Moab. It consists of 3 distinct areas although only 2 are accessible by ordinary vehicles. We spent one day visiting the one area called "Island in the Sky". This is a huge level mesa, part of the Colorado plateau, wedged between the Colorado and Green Rivers. White Rim is an almost continuous sandstone bench 1,200 feet below the island and the rivers are 1,000 feet beneath White Rim.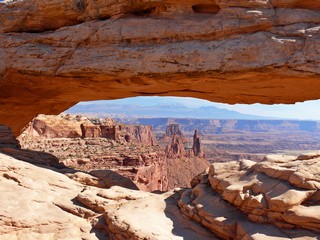 A short hike from the road is Mesa Arch (yes, there are many arches located outside Arches NP). It is exceptional in that it sits on top of, and at the very edge of a 1,000 ft cliff.
The view through the arch was spectacular.
Of note – there are no railings so a miss-step could be deadly.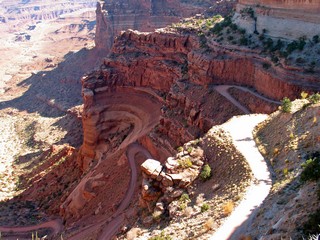 There are a number of trails for 4 wheel drive vehicles that descend into and then traverse the canyons. This is one of the roads as it descends the first 1,000 feet.

Dead Horse Point State Park adjoins Island in the Sky and from it we had more views of the extensive canyon system.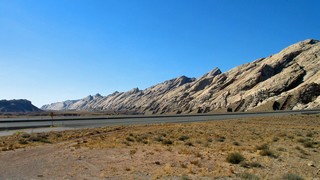 We left the area on Tuesday, October 29th. and followed Interstate 70 west to Richfield where we were meeting our English friends, Heather and Tony.
Interstate 70 cuts through the San Rafael Reef. The rock here is at an extremely steep angle and there is about a one mile 8% pull to the top of the San Rafael Swell. The Swell was formed by a geological uplift and erosion has created deep canyons and towering buttes. The rock there is gray/beige, not the red of Arches.
We spent the next day with Heather & Tony, getting caught up on happenings since we had met them in Creston, B.C. the latter part of August. They are on their way east and we had just come from there.
We decided to stay in Richfield for a couple more days and visit Capitol Reef National Park as a day trip with the truck only.
But that's the next journal.
Bernie & Ross
Posted by Bernice at October 31, 2008 12:40 PM
Comments
Once again awed by the marvels you've experienced. Agree with the comment about "why anyone would launch down such a steep ski slope." Enjoyed sharing time in California with Paul, Jill and little Jack.
Best regards, Larry and Phyllis
Posted by: Larry and Phyllis at December 8, 2008 07:03 PM
Utah has some of the most spectacular red rock scenery you will ever see. Have been to Arches when it was a national monument--not Canyonlands but Bryce and Zion. Think Zion was my favorite. Your pictures are as usual, fantastic! Got your note and know you are on your way to Mexico but looking forward to your next journal about Capitol Reef. Sincerely, Bette
Posted by: Bette Andrew at December 8, 2008 10:14 PM
Wow,
I can just see the paintings happening!!
Sorry about the water tank. I guess there have to be a few glitches with all that wear & tear.
We have a blizzard today on the beautiful St. Lawrence River!!
Shirley
Posted by: shirley blain at December 9, 2008 08:24 AM
These pix keep getting better and better. Some of these areas look like they were used for those old John Ford westerns. Wonderful pictures of the birds. Noticed the ski jump. I ski-jumped once. Emphasis on Once.
We're off Thursday, weather permitting. Happy trails.
Best regards,
J & A
Posted by: Jill & Alan at December 9, 2008 09:52 AM