« Montana - 2008 | Main | Utah 2008 - Salt Lake City & the South East »
October 18, 2008
Idaho & Home - Fall 2008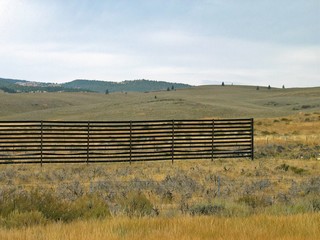 We crossed into Idaho, Sept 25th, on Interstate 15, just south of the hamlet of Monida (a combination of Montana & Idaho). We travelled over Monida Pass and were obviously in an area where a lot of wind and blowing snow must occur. For a number of miles we passed permanently installed snow fences, some double and even triple, and were pleased that we were too early for any storms.

An interesting stop in the afternoon was at the Idaho Potato Museum in Blackfoot ( Idaho, of course). This is the heart of Idaho's potato industry and the museum had a great variety of exhibits relating to the potato, as well as numerous antique implements, tools and other related items. I wouldn't make a long trip to see it, but it's certainly worth a stop when passing by.
Our campground for the night was at the Fort Hall Casino. It was an excellent full service park and only $20 a day. We stayed two nights, going in to Pocatello to see the city and to get an oil change on the truck. That is one thing that Ross is very particular about – we get it serviced every 5,000 km.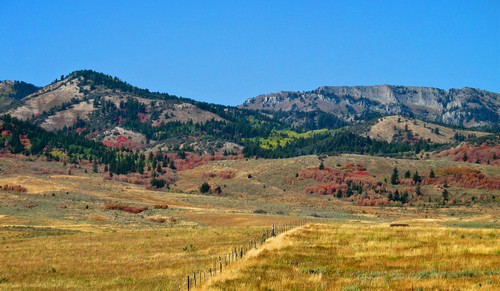 We arrived in Utah around noon on Saturday, Sept. 27th and found colour. The hills were beautiful. We had no idea that there was so much variety out here.
We had decided to stay at the KOA in Salt Lake City as it was quite convenient to the downtown area as well as the airport. We were flying home on Tue. the 29th to Toronto and then after picking up a rental car, on to Cambridge for 2 weeks to visit with our family.
We had made an appointment for Monday with State Trailer, to leave the 5th wheel while we were away. We needed some work done - our kitchen holding tank was leaking and we needed to have a front jack replaced.
Now, what to do with the truck. Our flight out was at 8 AM and we wouldn't arrive back until the 14th at about 8:30 PM. The only reasonable course was to stay in a hotel both of those night. So, on to the Internet and then out to see them. We found a hotel, about 10 minutes from the airport, with a free shuttle to the airport, a continental breakfast and happy to have us leave the truck in their lot for the 2 weeks. That problem taken care of.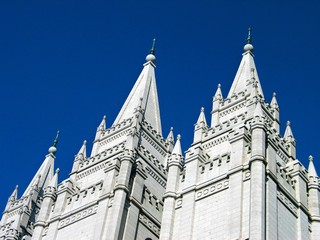 We spent the Sunday familiarizing ourselves with the city. One stop we made was to visit the grounds and the tabernacle of the Church of Jesus Christ of Latter Day Saints – know commonly as the Morman Church.
This is the temple, but non Mormans are banned from entering. The tabernacle – home to the Mormon Tabernacle Choir – is open to everyone and we had a demonstration of the fantastic acoustics. A young lady stood at the dias at one end of the 6,000 seat auditorium and dropped a straight pin. We could hear it clearly, at the back of the room, as it landed and then bounced twice more.
It's very easy to get around Salt Lake City, once you understand the street name system. There are two main streets, Centre and Main and streets are then named from that intersection. The first street east is East 100 the second is East 200, etc. Going south, the first street is South 100 the 2th is South 200 and so on. So, if you want to find 345 West 400 South, you know the location is on West 400 south of Centre Street and between South 300 and South 400. Now that I have everyone totally confused I'll tell you why this is important. Every community in Utah uses this same street numbering system. Of course, there are a few exception but not enough to really matter.

Our flight was uneventful and we arrived at Michelle's late Tuesday afternoon, Sept 29th. Mandi and the two boys arrived from the Bahamas on Thursday, Oct 2nd. (Quincy didn't come up this time).
What a joy our grandsons are.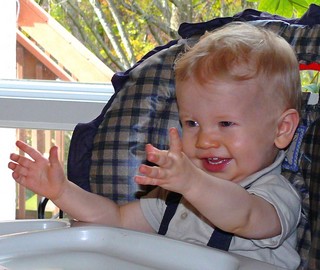 Timothy – Michelle's son – is now 1 year old. We last saw him in April before we started out and he sure has grown. He had his birthday on Oct 13th while we were home. He is such a happy little boy with big smiles and he gives the most wonderful sloppy kisses!

Aiden, Mandi's younger, we last saw mid January when he was only 2 weeks old. He's a very hefty little guy that crawls all over the house. He reached 9 months on Oct 3rd. They grow so fast! I felt tired just watching Mandi carry him around all the time. I know she hopes he walks early.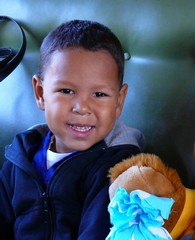 Ricardo, Mandi's elder, again last seen in mid January,who just turned 3 on Sep. 29th. Such a mature young man. He attends pre-school part days and talks a mile a minute with a vocabulary that amazed us. So much bigger and older, but still the enthusiastic joyful grandson we have known.
We had a wonderful time at home but it was busy with every one staying at Shell and Barn's house. I'm sure they breathed a sigh of relief immediately after we all left – and then were lonely for us all.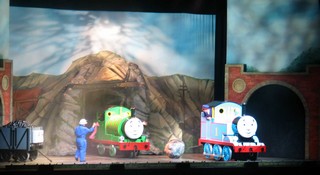 The first Saturday home, Mandi, Shell and I, along with the little boys went to the "Thomas the Train" show at the Ricoh Centre in Toronto. Thomas and his friends are favourites of Ricky. Pretty good show.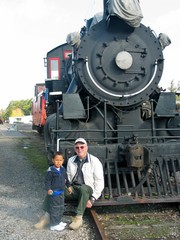 One day we went on the excursion train from Waterloo to St. Jacobs, then returned to the Farmer's Market for a couple of hours before catching another train back to our starting point. At first Ricky was very timid around the big engine, but with Grandpa's assurance he really enjoyed himself.
Actually, a pretty good ride, with narration all the way to St. Jacobs. At one place we could only go 5 mph as we were travelling on 100 year old track.
We travelled right through the University of Waterloo grounds and beside the many buildings of Research in Motion (RIM) – makers of the popular Blackberry.

Our family celebrated our Canadian Thanksgiving on Saturday the11th rather than on Monday the 13th, as that was when the White Clan could get together. We welcomed Jane (she was with us in Alaska for a couple of weeks) and her family, especially another great nephew - Andrew, 2 months old. We also were delighted to see our nephew Michael, who had spent about nine months in the southern Sudan, working with the humanitarian organization, Doctors without Borders. What amazing stories he has to tell.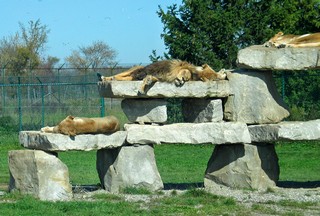 We spent a day at the African Lion Safari – an excellent nature park where the visitors are caged and the animals roam quite free. Actually, what happens is you drive your car or take a mini-bus through the park – and you can't get out. The signs say "Trespassers May be Eaten".
We took the mini-bus and had a great time seeing so many animals up close.
>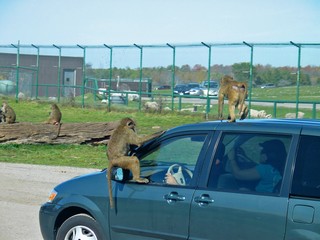 Another reason we didn't drive is the baboons. They climb all over the cars and vans and they don't care if they scratch. Our van driver stopped near all of the animals and also narrated our tour. We were probably stopped from close to 10 – 15 minutes in the baboon area as they as so interesting. However, at the exit gate, there is a park staff with a large stick. Apparently, the baboons sometimes try to hitch a ride to other parts of the park.

We had dentist and doctor appointments, had lunches with friends and spent wonderful time with family. We also were able to cast our advance vote in the Federal Election. After listening for almost 2 years to the U.S. political election run up, it was refreshing to know that our election was called and over in 40 days.
The two weeks went by very quickly. Mandi and the boys left on Monday the 13th, and we returned to Salt Lake City on the 14th.
We missed them, but we were glad to be going back to our own home. Yes, it may be only a 5th wheel – but it is home. We'll tell you more of our homecoming in the next journal.
Bernie & Ross
Posted by Bernice at October 18, 2008 05:56 PM
Comments
Well, Bernie and Ross, Ricky has certainly grown since the Painting you made of him. He's a handsome little man and almost the same age as our grandson, Kaeden with a younger sibling,too, Saren just one last July.
It sounds a little complicated but simple at the same time to see so many family members all squeezed into the same time frame. but must feel wonderful to see them after not for so long.
We have just had our son, Simon and his wife Sandra for dinner as a bribe in return for Simon taking his books out of OUR bookshelves. Not quite successful as they are stacked somewhere still in our house. Mark needs the space for his books as he retired at the end of October and books are a very large part of his/our life.His office was very full and now they come home to roost.
We both started a computer course for beginners, four mornings a week for ten weeks to keep him busy and for the knowledge so he can use the computer. I'm filling in valuable gaps and hope to be able to put pitures on discs and other things that I have equipment for but not the knowhow. It's fun. It's 11:30 and time for bed.
Goodnight and drive safely.
Janice
Posted by: Janice McDermott at November 23, 2008 11:39 PM
hugs and good wishes from GreenAcre park in Waterloo, we are all well and of course missed Ross during leaf season this year.
take care happy holidays, we head south JAN 1- MAR 1
glenda & bill
Posted by: glenda at November 24, 2008 06:04 AM
Another masterpiece of written and pictorial descriptions of your experiences. Great photos. If ever in SLC again, try to eat at the Red Iguana--known for best Mexican food in the city.
Best regards, Larry and Phyllis
Posted by: Larry Harwood at November 24, 2008 07:02 AM
What lovely grandchildren!
We are enjoying all of your journals but were disappointed not to be able to read the one from Montana. Some strange "Daddy " thing came up that we couldn't understand, probably something to do with our incompetence where technology is concerned.
When are you coming back to paint with us? You must have enough subject matter to last forever.
Helen.
Posted by: Helen Lennon at November 24, 2008 06:22 PM
Hi Ross and Bernice:
I've never taken the time to thank you for the marvelous travelogues. You make these places come alive and I almost feel as though I have been along with you.
I remember the very first day Ross had the brand new truck in the parking lot at Your Office/My Office. Now I'm wondering how many miles (Kms ?) are on the odometer. All the best - Mark Lewis
Posted by: Mark Lewis at November 25, 2008 08:53 AM
What great pictures of Timothy, Aiden and Ricardo. You must be so proud of them, not to mention the daughters and sons-in-law. Aren't grandchildren the best? (Who's the tall goofy guy in the sunglasses, sitting on the cowcatcher?)
Yesterday Maci sang Happy Birthday to me. And it was on key! Almost. (I was 39 today.)
I'm glad you enjoyed African Lion Safari. I took Lori there when she was about 10. An ostrich tried to break into the car via the windshield with its beak. Or maybe it was an emu. It was obnoxious, whatever it was. And the lions were all asleep. I would have preferred animated lions and passive emus.
We're off to Naples FLA on December 11th if all goes according to plan. Don't know yet whether we'll go via Buffalo/Erie,PA or whether we'll drive to Detroit and turn left (Hwy 75). Depends on the weather.
Great to hear from you guys. Drive safely.
Best regards as always,
Jill & Alan
Posted by: Jill & Alan at December 1, 2008 10:47 PM