« Waterton Glacier International Peace Park | Main | Idaho & Home - Fall 2008 »
September 29, 2008
Montana - 2008
From Glacier National Park our route was down the western side of Montana to Missoula. In 2005 we had visited the eastern part of the state so we decided to see the west and west-central areas this trip.
We were still in view of the mountains although they were more at a distance and the road travelled through cultivated flat areas for the most part.
We did stop for a quick visit to The Miracle of America Museum. It includes autos, motorcycles, bicycles, trains, tractors, dolls, musical instruments and sheet music as well as washing machines seen here. I could go on listing more, as I don't think there is anything made, that isn't collected – right down to potatoe mashers. Started by a couple in 1981 it now has over 100,000 items as well as a pioneer village and the Montana State Fiddlers Hall of Fame.
Our plan was to spend only a couple of nights in Missoula, but things happen sometimes to change plans.
The second morning, as we were getting ready to pack up, the power in the trailer went off. I went out to check the utility post and as I came back in, Ross told me to quickly go back and unplug the trailer as there was an electrical burning smell. When I opened the door to the basement (the under storage area) smoke billowed out.
Long story short, with assistance from another Hitchhiker owner (thanks so much Bob) it was determined that the utility post was sparodically registering 220 volts, rather than the 110 it should be, and the high voltage had "fried" our AC power management system. We then reported to the campground office what we felt had happened, but as it was now Friday afternoon, they couldn't get anyone out to check the problem until Monday. They said that they had had work done on the system in April – but this was Sept. We tried to find a new inverter in Missoula, but no luck– closest one was in Oregon and it was over $2,000. No other solution to our AC problem was available in Missoula.
Our solar system was still charging the batteries, so we did have 12 volt power and we had switched the refrigerator and the water heater to propane. As it was now late in the afternoon, we ended up staying another night.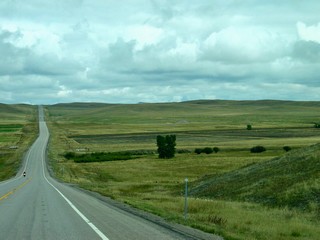 The next morning, Saturday, Sept. 13th, we hooked up and went east to Great Falls, MT. The land is big and rolling and we could see the "Big Sky" that is Montana's slogan.
We wondered if we would ever hear from the campground about our electrical problem now that we had moved on, but they had seemed to be concerned.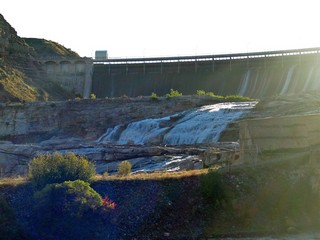 The Great Falls of the Missouri River was first seen by the Lewis & Clark expedition in 1805 when they had to portage 19 miles around a series of five waterfalls. Today the dam right above the Great Falls has reduced that one to a trickle. There are 5 dams producing electricity on the river and one of the falls has been flooded. I think we were a bit disappointed.
But we weren't disappointed with the Lewis & Clark Historic Trail Interpretive Center.
It deals with the 1804–06 expedition, particularly as it relates to Montana. It also highlights the Indian tribes who aided them on the journey. It's situated on the Missouri river and features walking trails and landscaped grounds. An excellent stop.
On Monday morning, after having done research on the internet, we ordered a replacement Xantrex inverter (for $1,400) which had to come from New Jersey by overnight express to arrive on Tuesday. We made arrangements with a mobile RV service to install it when it arrived.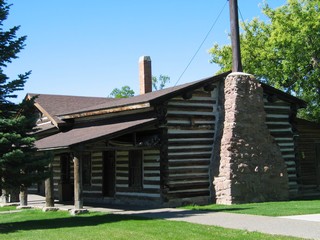 Meanwhile, that afternoon we visited the Charles M. Russell Museum, home and Log Studio. Russell, born in 1864, was an artist of the American West who created more than 2,000 painting of Indians, cowboys and landscapes. He also produced bronze sculptures, was a writer and a storyteller. As you can guess, no pictures of the paintings were allowed in the museum..
He actually was a ranch hand from the age of 16, so his work is wonderfully realistic. His largest (12–by-25–foot) painting "Lewis & Clark meeting Indians at Ross's Hole" was commissioned for the State Capitol in Helena. In order to create that painting, his studio including the fireplace, had to be raised about 6 logs.

Tuesday, Sept 16th, the Inverter from New Jersey, arrived early afternoon and the technician installed it. Unfortunately, although we now had AC power when plugged in, we found that a very specialized fuse was also blown and we could not invert – that is, produce AC power- when unplugged. Couldn't find one anywhere in Montana and had to have it overnight expressed to us from Oregon. It arrived on Wed. morning and our service man came back, installed it and by about noon on Wed. the 17th, close to $2,000 later, we were finally back in business and on our way again.
But that isn't all the story. On Monday afternoon, we had received a call from the Missoula campground advising that the electrical contractor had been out and had determined that there was a manufacturer's fault in the power box at our site. We then contacted the contractor and were advised to get everything fixed, being sure there wasn't any other damage and send them the bills. We did that and within days the cheque was in the mail to us.
It would have been so easy on their part to deny liability as we had already moved on and weren't there to check what they found. Thank goodness, the campground and the electrical contractor were both honest and honourable.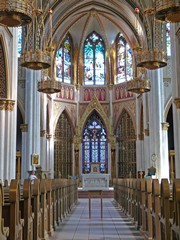 As we usually do, we stopped for a few days in the capital of the state - Helena. The pronunciation is HEL-e-na, as any other way was considered too feminine. The city was founded as a gold camp in 1864 and became the capital of the territory in 1875.
We visited the Cathedral of St. Helena which is modelled after a church in Vienna. An elegant building.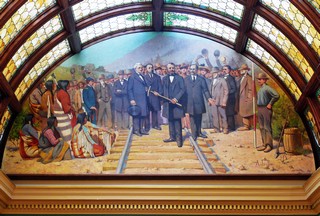 We did visit the Capitol which was completed in 1902, built of Montana granite topped by a dome of Montana copper. Here we saw the C.M. Russell painting spoken of earlier.
We had an excellent tour guide and one of the many facts stood out: Montana still has not reached a population of 1,000,000 but at any given time there are 2,500,000 to 3,000,000 cattle in the state.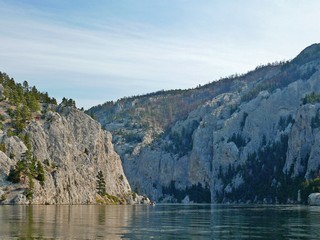 Our last full day in the Helena area, we went back north to The Gates of the Mountains Recreation Area, and took a narrated boat tour on the Missouri River, through the narrow canyon. The limestone walls tower 1,200 feet above the river as it cuts through the Big Belt Range. Lewis and Clark named the canyon in 1805 while on their Expedition.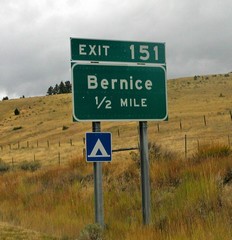 We next travelled south and slightly west on Interstate 15 to Butte, MT. On the way we passed an exit to the community of Bernice. Didn't know that one existed.

Butte is another community built on mineral wealth; first gold and silver but finally copper made the communitie's reputation as "the richest hill on Earth". In it's hey-day in the late 1910s and early 1920s it had a population of 100,000. Eleven (11) billion – yes, that's a "b" – pounds of the metal were produced.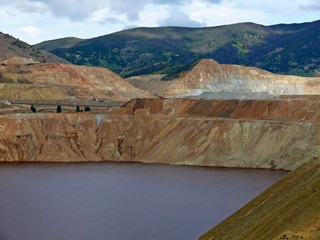 Then in 1955 the Berkeley Open Pit Mine was started and was one of the larger truck-operated mines in the world. It's 7,000' long, 5,600' wide and 1820' deep and now is filled with water about 1,000 ft deep. Unfortunately, the water is so acidic that it can not be reprocessed for any use.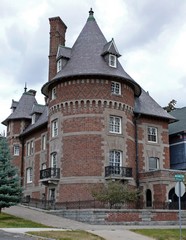 Butte is a city in the past. The historic district covers a very large area and has a huge concentration of around 4,000 late 19th-and early 20th-century residential and commercial buildings. The whole downtown has been named a National Historic Landmark. We did see a few that have been maintained and restored but relatively few are in good repair and many are abandoned. There are also mining relics, steel head-frames and other artifacts that speak to the 2,000 miles of tunnels under "the hill".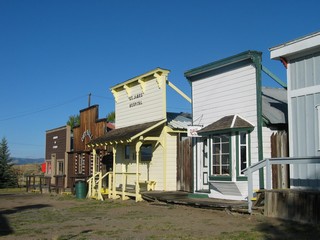 We visited "Hell Roaring Gulch and the World Museum of Mining". It's a 50 building, reconstructed 1890's mining town, on the grounds of Orphan Girl mine, which still contains the original head-frame, hoist and hose house.
Montana's casinos are interesting. They are everywhere, but they are small. The maximum number of machines is 20 and all are poker or keno – no slots. Only on a couple of Native Reservations are more machines and slots allowed and that was only a little over 100.

We did some shopping, I visited a casino and we were on our way again to Dillon, MT. about 65 miles south.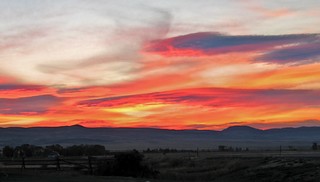 Our campground was south of Dillon and set in the wide open spaces of Montana. The nearest neighbours to the campground were herds of antelope and we had some beautiful sunsets.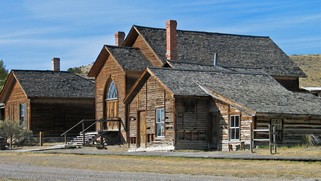 Bannack State Park was about 35 km west of the campground. It is one of the best ghost towns and is preserved and protected rather than restored. Another community founded on gold – in 1862 – and deserted when the gold ran out. It was the first territorial capital and had among other firsts in the state, the first jail, hotel, Masonic Lodge and commercial sawmill. A very realistic and interesting visit, as we could wander in and out of the over 50 buildings still there – all frozen in time.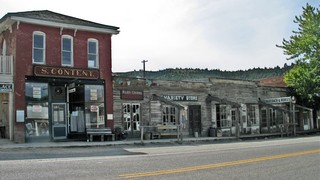 The following day, Wed. Sept. 24th, we travelled to Virginia City. Totally different than Bannack. This town is commercialized and although more than 130 early buildings have been preserved it doesn't have the same feel as Bannack. That may be because it still exists as a town even up to today, where Bannack was basically deserted after 2 years, when gold was found in Virginia City and the miners flocked there. Unfortunately, we were there too late as many of the businesses had closed for the season on Labour Day.

Montana had been eventful and interesting and we had spent about 3 weeks seeing the sights. We made arrangements to fly home, on Sept. 30th, from Salt Lake, Utah for a couple of weeks. As we had visited central Idaho when we were west in 2005, we didn't plan on much time in that state. However, time to move further south.
Posted by Bernice at September 29, 2008 11:51 PM
Comments
Once again so impressed by yourjournal and the careful planning behind your adventures/experiences. Great story about the inverter and happy ending (cheque). Thanks for sharing truly "The Trip of a Lifetime."
Posted by: Larry Harwood at November 20, 2008 07:42 AM
I have enjoyed hearing about your travels and your pictures are wonderful.
We have about 3 inches of snow this morning time to think about heading back to Texas.
Marg
Posted by: Marg. & Wayne Coker at November 20, 2008 09:02 AM
Hey folks,
Thanks for the CHARLIE RUSSEL UPDATE.
MANY YEARS AGO MOM & DAD GAVE US A PRINT WHICH I FINALLY FRAMED AND HAD HANGING IN OUR LOG HOUSE.
EVEN THOUGH BROCKVILLE REALLY ISN'T WILD WEST COUNTRY, I HUNG IT IN MY ART ROOM.
SORRY ABOUT THE ELECTRICAL MISHAP, BUT THANKFULLY YOU WERE NOT ASLEEP OR SOMWHERE AWAY TOURING.
HAVE YOU THOUGHT OF DESIGNING A PRESENTATION FOR SENIORS,CAA, COLLEGES ETC. WHEN YOU RETURN?
PAUL & I USED TO ATTEND TRAVEL LOGS IN LEASIDE AND WERE HAPPY TO PAY AN ENTRANCE FEE.
TALK SOON
SHIRLEY
Posted by: shirley blain at November 20, 2008 06:11 PM
Hi guys, sounds like you had a good but not uneventful trip after we parted. We got as far east as Helena & then headed back to BC. Keep up the great info, we can use it as a template for future trips.
Rgds, B & K
Posted by: Bob & Karen Ritchie at November 20, 2008 07:49 PM
Wow--lucky that did not happen when you were asleep--too many horror stories out there about RV's and fires. We've spent a lot of time in Great Falls--going to the C.M. Russell art show and auction. Fantastic museum there--also the Lewis & Clark interpretive center. Montana has some incredible artists. We were there once when one of Russell's paintings was up for auction--they quit at 1.5 million dollars. People of Montana bought it. Bette
Posted by: Bette Andrew at November 23, 2008 06:10 PM
Hi, Guys. That Cathedral of St. Helena is something to see.
I'm 'fused up (as Jill's son used to say when he was a tot). Weren't you going to Vegas at some point?
Best regards,
J & A
Posted by: Jill & Alan at November 28, 2008 09:44 AM