« Fairbanks back to the BC border | Main | Jasper and the Icefields Parkway »
August 04, 2008
Northern British Columbia
What a terrible introduction to Northern British Columbia! Highway 37, also known as the Cassiar Highway, runs south from the Alaska Highway in Yukon and meets Highway 16 about 100km northeast of Terrace, B.C. The first 30km was under construction – big time. Took us more than an hour with delays, etc. and then for the next 250km the road was better, but we knew why they were working on it. The southern half of the Cassiar was very good.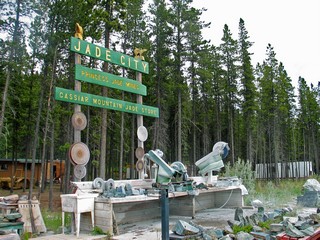 About 125km into the day, we arrived at Jade City – not a city – one big enterprise called Jade City, selling BC jade. All sizes of jade from huge boulders to tiny charms are cut, polished and sold. We knew that there was jade in British Columbia, but were surprised to learn that BC has 75% of the world's jade (nephrite) supplies. The Jade City company sells over 100 tons each year to China,
.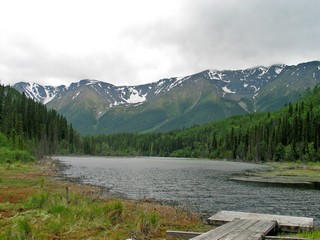 We stopped for the night at a beautiful, well groomed park just north of Iskut, BC. There was a walk down to a private lake that nestled at the base of the mountains.
A problem – when we went to close the road side slide-out the next morning as we got ready to leave the park, it wouldn't retract. The pin on the gear had broken. Fortunately, Bev and Ron were with us and between our 6 ton bottle jack to lift the slide and Ron & Ross pushing while Bernie operated the slide mechanism, we were able to close and secure it in about 1/2 hour. Although it was somewhat awkward living with the slide in, it can be done. A RV repair shop was in our future.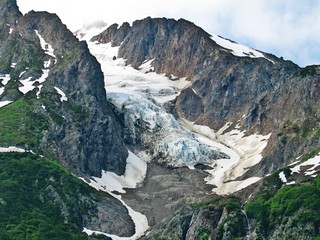 We continued to the border towns of Stewart/Hyder. Stewart (Canada's most northerly ice-free port) is in BC and Hyder is in Alaska (in the pan handle that runs down the Pacific Coast). To get to these towns you travel over Bear Pass which crosses the coastal mountains. There are some 20 glaciers visible – a number quite close to the road.
We had come to see the bears – both Grizzly and Black – but as with most things this year, the salmon run was about 3 weeks late. No salmon – no bears. Hyder has constructed a viewing area on Fish Creek, 11km from Stewart. It's interesting, there is no US Customs, since there are no roads that go anywhere from Hyder. There is however, Canadian Customs as you cross back into Canada.
We stayed 3 nights and went out to the viewing area each evening. The first night, there had only been 2 salmon spotted in the river, on night 2 there were probably half a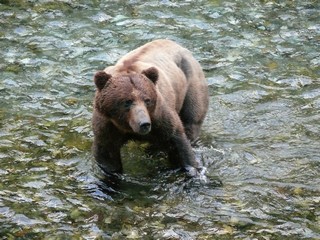 dozen and the 3rd evening an estimate of 30 or so. They were just barely starting to return to their spawning area. At the height of the return, there can be thousands of salmon coming up the creek. The salmon hatch in the fresh water, live all their life in salt water but return to their home stream to spawn and then die.
On the third evening, the bears showed up. There was a mother and 2 cubs, a junior and this fellow. This grizzly stayed in the stream for probably 15 minutes, so we had good views from the safety of the wooden viewing platform.

Bev & Ron left to head home while we were in Stewart, . They had appointments that couldn't be changed so we bid them a sad farewell. After two months of travelling together we sure miss them – we had a wonderful time together. We expect to visit them on our way through Las Vegas later this fall.
Terrace, British Columbia was our next destination. There was an excellent RV dealer there – Nor-Burd – and they worked us in the next morning, to get our slide fixed . They also found a problem with the suspension which they corrected. I guess the shaking and rattling of the northern roads did take some toll on the trailer.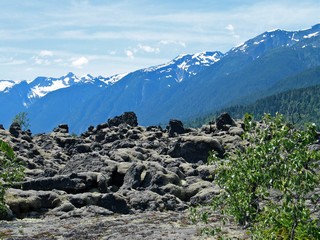 While in Terrace, we took a 50 mile day trip north to the Nisga'a Nation territory, to the site of a volcanic eruption some 250 years ago. It destroyed 2 tribal villages, causing 2,000 deaths. There was a lake where the lava beds are now and later a new lake formed back of the mountains. We hiked on trails through the lava beds and even after all this time it looks surreal.
Away from the center of devastation, the forests have returned and we found some beautiful waterfalls.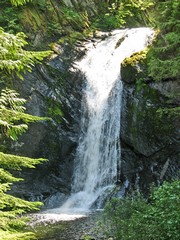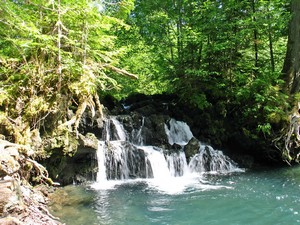 Another day we drove to Prince Rupert, which is the western terminus of the Canadian National Railway and also the Yellowhead Highway. This town was founded around 1906, specifically as a port to rival Vancouver, because it is closer to the Far East. It is now one of Canada's major seaports.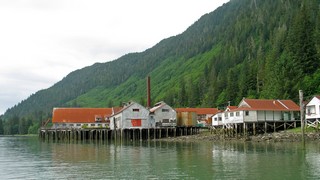 Fishing was very important and we walked around the North Pacific Cannery (this historic site had closed early that day, due to staff shortage). Built in 1889 in the community of Port Edward (near Prince Rupert), it is the most complete cannery that remains, of close to a thousand salmon canneries that dotted remote villages on the West Coast.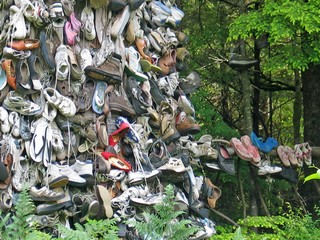 There was an interesting tree on the highway just outside Prince Rupert – it had hundreds of shoes, boots, sandles, etc attached to it.
No explanation as to why.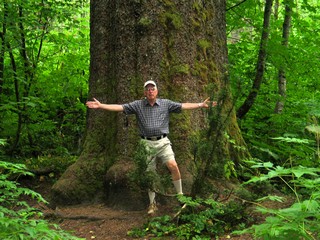 We also visited Kitimat, a planned city built as a company town by Alcan Smelters in the early 1950's. We had hoped to take a tour of the Alcan smelter, but it is under major renovation, so no go. The plant is huge and the reason for the town. It is the only aluminium smelter west of the BC Rockies and produces about 250,000 tons of aluminium a year.
In Radley Park is the Giant Sitka spruce. It was registered in 1983 as B.C.'s largest living spruce tree. Over 500 years old, it is now protected by environmental law. This picture is of a smaller spruce in the grove and as you can see, even it is very large. The big one was chained off to protect it from vandalism,so we couldn't get close to it.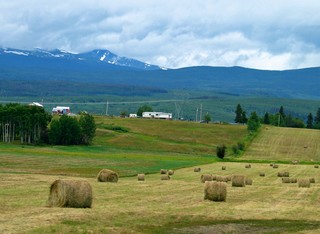 We left Terrace on July 28th and headed east to Vanderhoof, BC with an overnight stop in Smithers. From Smithers the land became much more agricultural and the Coast Mountains gave way to rolling hills – but some mountains are always on the horizon.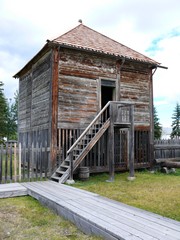 From Vanderhoof, we took just the truck and went north 53 km to visit Fort St. James national Historic Site. Established in 1806 it contains one of the largest groups of original wooden buildings from the fur trade era. There was an excellent tour and we were able to see a First Nation elder actually tanning a moose hide.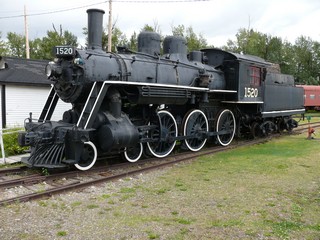 We spent two nights in Prince George. It's a good sized city of about 75,000 and the site was first visited by Alexander Mackenzie in 1793. It is a major transportation and trade centre and is home to the Prince George Railway museum.
Ross spent the afternoon there getting his "train fix" while I visited the Art Gallery and a local casino.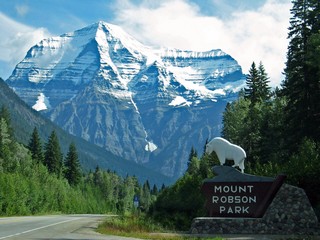 Travelling east, still on the Yellowhead Highway, toward Jasper, AB where we were meeting friends from Edmonton for the August long weekend, we again headed into the Rocky Mountains.
And there, as we came over the brow of a long hill, was Mount Robson. 12,972 feet – in bright sunshine – right in our face.
Now that's a big piece of rock. Actually, it's the highest mountain in the Canadian Rockies and is very typical with it's very steep slopes and snow cap.
Our next destination and journal – Jasper – is just under 100 kilometers east, over the Yellowhead Pass.
Ross & Bernie
Posted by Bernice at August 4, 2008 12:21 PM
Comments
Your journey brings back memories of our trip to BC about ten years ago. But your photo of Mount Robson is much clearer than ours. It was almost entirely covered in mist when we saw it.
Posted by: Helen Lennon at September 24, 2008 12:52 PM
What beautiful pictures of this beautiful country. I think you may have driven past my niece's, Sheila Stewart, small farm at Telkwa past Smithers. My sister-in-law has driven out there from Hamilton pulling a Boler trailer the last five years to see her daughter and four grandchildren. Diana stopped at the Boler gathering somewhere in Sask. I think, the past two years. She has offered it to me as an alternative to trying to roll out of bed on the ground.
Last night I viewed a hardshell camper which must be almost as well endowed as your fifth wheel. How wonderful it was with two popouts for children's beds.
I sympathize with your wayward pin. The one and only time we rented a camper was when I was pregnant with my second child. We had a wonderful week then couldn't collapse the camper. Mark is TOTALLY unmechanical(and of course too ambarrassed to ask for help) so we began driving out of the park with the tent still up. Fortunately the brotherhood of campers came to our rescue and quickly determined a cotter pin had been lost. Can you imagine driving on the highway from Huntsville to Oakville like that? We'd have destroyed the camper if not ourselves.
As of this moment I am going to Haliburton for five days of painting with five other women. Unfortunately this conflicts with a workshop Joan Hatten arranged with extensive finagling to get them here, with two Cuban artists who teach at the university down there. It promises to be quite original - some kind of hand printing with oil-based inks. Drat!!!
Well I hope your repairs are all small ones and you continue safely and happily. I'm enjoying your epistles very much and keep you in my prayers.
Janice
Posted by: Janice McDermott at September 24, 2008 02:58 PM
Have been to Mt. Robson and also to Jasper. That was not as commercialized as other areas when we were there but that certainly could have changed. Be sure to see Maligne (sp?) canyon in Jasper. Pretty amazing! Shoe trees seem to be popping up all over--there is one east of here in an area totally devoid of any population. Your pictures continue to be so wonderful as is your writing about the areas you see. Sincerely, Bette
Posted by: Bette Andrew at September 24, 2008 10:41 PM