« Jasper and the Icefields Parkway | Main | Southern British Columbia - Summer 2008 »
August 20, 2008
Jasper to the Okanagan Valley - Summer 2008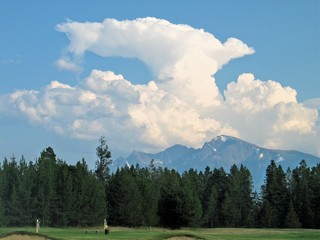 We spent two nights, Aug 6th & 7th in Vailmount, camping at the local golf course.
We were fortunate that the weather was great and we had a good round of golf.
The scores weren't that wonderful but we had fun and a long walk – and of course we again had impressive clouds over the Rockies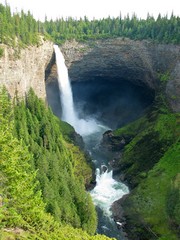 Clearwater, our next stop, is at the entrance to Wells Gray Provincial Park, a 5000 sq. km. wilderness park. We spent the next day travelling into the park and back. There are some beautiful waterfalls there. Helmcken Falls which is 75 ft. wide and drops 465 feet (141 meters) is said to be the fourth highest in Canada.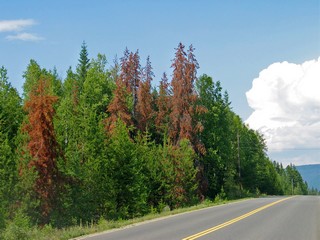 All through BC we have seen devastating pine tree kill-off by the Mountain Pine Beetle. It attacks mature lodgepole pines and thrives on warm weather. Several consecutive mild winters and drought-like summers have allowed the beetles to increase to epidemic levels. In 2007 the area of provincial Crown forests affected to some degree was 13.5 million hectares (32.1 million acres). The BC government has increased allowable annual cuts to permit salvaging or recovering the greatest value from the beetle-attacked timber. The timber can retain its commercial value anywhere from five to 18 years after attack.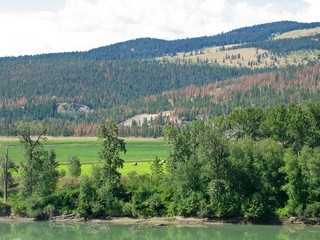 We continued south on Hwy 5, following the North Thompson River Valley, to Kamloops. We have moved from mountains to agriculture and large rolling hills.
Note the red shade on the hills – it's the Mountain Pine Beetle damage – dead pine trees.

One day was spent sightseeing in the city, as well as Bernie at the Art Gallery and Ross at the Kamloops Heritage Railway.
Our campground was 17 km to the east of downtown Kamloops and is part of the British Columbia Wildlife Park. The park is 120 acres and houses, in natural habitats, 65 species of local and endangered wildlife. All animals have come to the park having been abandoned or injured. They also have a section, which we could not visit, where work is undertaken to reintroduce animals to the wild.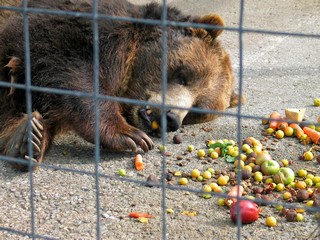 We made a point of being there for the feeding of the Grizzly Bears. A brother and sister, they were orphaned about 23 years ago and have lived at the park ever since. About 3 pm, keepers brought in a 5 gallon pail of food for each bear –salmon, vegetables, apples, lichees, plums and other fruit. They attacked the food ravenously. We came back to see them at about 5 pm. Both bears were laying down, totally satiated, and would plop a paw out to grab another piece of food, drag it close to their mouth and then capture it with their tongue.

When we left the Kamloops area we travelled down Hwy 97 to Kelowna. We had travelled Hwy 97 back in the spring when we went from Dawson Creek to Watson Lake. This highway travels the whole length of British Columbia.
Kelowna is considered the gateway to the Okanagan. The valley was shaped by glaciers. Mountains, some as high as 9,800 ft., flank both sides of Okanagan Lake. Fertile soil and sunny weather coupled with irrigation transforms the scenic hills along the lake into an agricultural wonderland. Peaches, cherries, apricots, plums, apples and grapes abound and we were there right at harvest time. I don't think we have ever eaten so many huge black cherries!
Our campground, in fact, was located in the middle of an orchard and we were welcome to pick peaches and plums for our own use.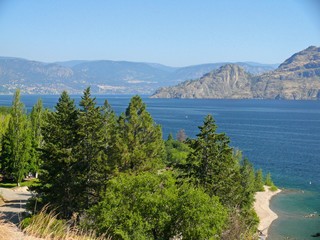 Our stop in Kelowna was mainly to visit with friends, Jim and Jackie. We had been through there in 2005 and had seen most of the tourist sights then, so other than a drive up into the hills to see the orchards we basically took it easy.
The road south from Kelowna runs right along the west shore of Okanagan Lake. Everywhere there is a pocket of fertile soil, there is an orchard, a vineyard or a lawn. The first orchards in the region were planted in 1860 by the Oblates at the Okanagan Mission.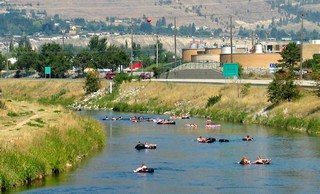 We reached Penticton around noon on Sat. Aug 16th. and discovered a whole new recreational activity. Rafting – giant rubber tube rafting on the 8 km channel between Okanagan Lake and Skaha Lake. Hundreds of inner tubes and inflatable rafts lazily carrying families, teenagers and every possible age and style of person. There was even a raft rental company that sends you off close to Okanagan Lake and picks you (and the raft) up further down the channel.

Our next destination - Oliver - is just a piece down the road.
Bernie & Ross
Posted by Bernice at August 20, 2008 01:21 PM
Comments
Gill and I did the float/drink/burn thing 30 years ago when we were visiting friends in Penticton. This shot brought it all back.
Rick
Posted by: rick russell at October 22, 2008 07:54 AM
Have been in that area 2 or 3 times. Beautiful farms. Did you do any of the wineries? Wasn't fond of their wine when we were there but had some another place that was great. Your pictures are so beautiful. You should do a book of your travels. Would look very nice on a coffee table. We've had an incredible fall--hope you are finding the same type of weather. Sincerely, Bette
Posted by: Bette Andrew at October 29, 2008 07:16 PM