« Northern British Columbia | Main | Jasper to the Okanagan Valley - Summer 2008 »
August 10, 2008
Jasper and the Icefields Parkway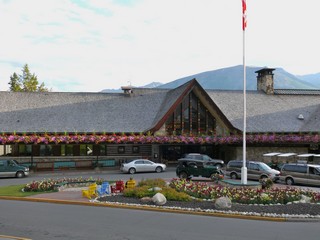 Going to Jasper, Alberta was a sentimental journey for me (Bernie). I know that I am giving away my age – but what the heck. I worked at Jasper Park Lodge for 2 summers in the early 60s and it was one of the best times of my life. When we visited the Lodge for Sunday night dinner with our friends Deborah and George, we took a walk around the staff quarters and the old part of the main lodge. I must admit that it was rather emotional, standing in the former dining room at my old station. Many memories. The room is now only used for banquets and big functions. It has been usurped by newer and shinier rooms – but somehow, I don't think they are an improvement. Nothing like the original elegance.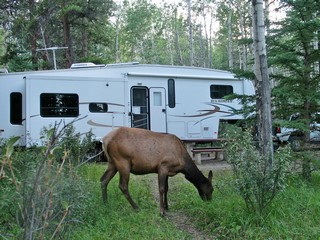 We dry camped at a campground just south of the town of Jasper, in Jasper National Park, which was established in 1907. Because hunting is illegal, many of the animals have lost their fear of humans. This was obvious when a herd of elk decided that the grass around our trailer was to their liking.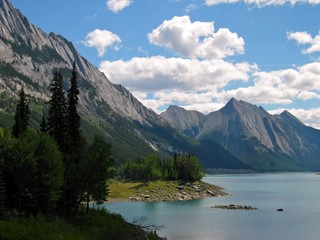 Aug. 4th, Monday morning, the four of us headed out toward Maligne Lake, one of the most photographed lakes in the entire Rockies.
However, we had to pass Medicine Lake and found it to be very picturesque as well.
Medicine Lake is a temporary lake – filling with the spring snow melt and gradually lowering as the summer goes along until it is a frozen meandering river in the winter. But there is no visible outlet to this "lake". In fact the Maligne River flows in to it from the south and the lake drains through "sink holes" in the bottom and resurfaces in the area of Maligne Canyon, some 16 km downstream.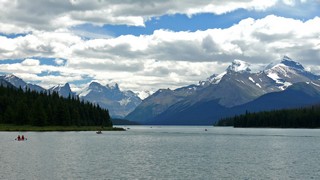 Maligne Lake is very beautiful and winds 14 miles beneath towering mountains.

The Maligne River drops from the higher Maligne Valley to the Athabasca Valley below. In doing so it has eroded a narrow canyon. In some cases the canyon is only a few feet wide, but as much as 200 ft. deep. The beautiful turquoise colour of the river adds to the drama of the eroded rocks.
There was major restoration work being done on the paths when we visited Maligne Canyon, so unfortunately we were not able to go all the way along the canyon rim.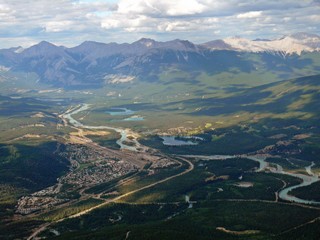 Late in the afternoon, Deborah and I travelled by tram to the top of Whistler's Mountain overlooking Jasper. The tram rises from the Lower Station at 4,279 ft. above sea level to the Upper station at 7,472 ft above sea level.
Another memory. While working at the lodge in the early 60s, a friend and I had climbed to the top of Whistler's. The tram wasn't completed until 2 years later. The view was just as spectacular this time. The mountains don't change, although the town of Jasper has grown somewhat. That's the Athabasca River in the valley below. I remember being so impressed when I first arrived in Jasper, to actually be seeing a river that I had only heard about in history and geography classes.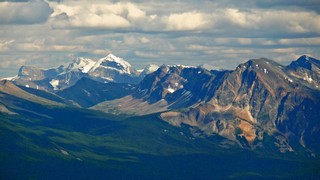 Another view from the top.
Monday, was a holiday – in Ontario it's called Civic Holiday – I'm not sure what it's called in Alberta but it's a holiday. Deb & George had headed home after dinner so the next morning we headed south on our own, down the Icefields Parkway.
In 1931, the Canadian Government put hundreds of unemployed men to work building this trail through the Canadian Rockies. It runs 230 km between Jasper and Lake Louise and is entirely within two national parks (Banff is the other one). It's a scenic drive – large trucks are banned.
Pictures tell the drive best: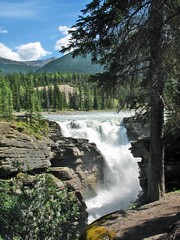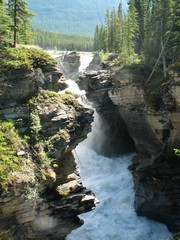 Athabasca Falls:
23 metres high (80 ft) and 60 ft. wide. It is known for the power of the falling water as the Athabasca River thunders through a narrow gorge.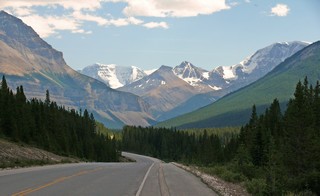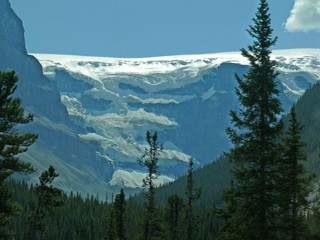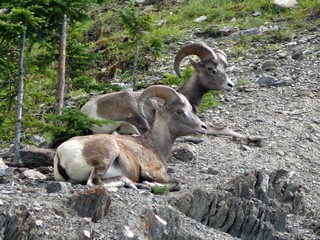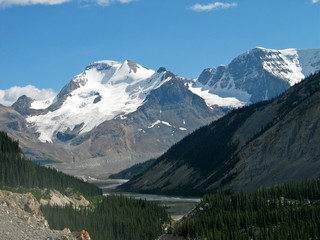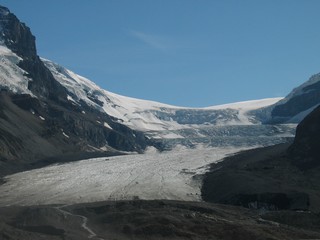 The Columbia Icefield is astride the Continental Divide and feeds eight major glaciers. This is the Athabasca Glacier which is located close to the Icefields Parkway. It is the most visited glacier in North America but has receded over 1.5 km in the past 125 years – and lost half its volume.
We walked to the edge of it.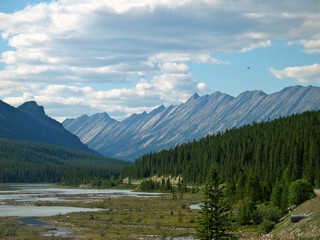 Looking back north from the glacier parking lot.
We only had time to travel as far as the Athabasca Glacier and even then we took all day as we stopped so many times.
We enjoyed our time in Jasper. It's a lovely town and still not as commercial as Banff. We did spend time walking around, checking out an art show and the shops. Unfortunately for the vendors, we don't buy a lot of "stuff". We sold most of our "stuff" when we started this adventure and we don't need to restock. We have a rule – if we buy something new, we have to get rid of something old. Keeps us from getting overloaded.
Wednesday, Aug. 6th, we headed back along the Yellowhead, past Mt. Robson to the junction at Tete Jaune Cache, then south on Highway 5 in British Columbia.
Next journal from Southern British Columbia.
Bernie & Ross
Posted by Bernice at August 10, 2008 09:49 AM
Comments
Bernie & Ross,
Your photos are spectacular, your narratives make me soooo homesick!!!
Luv, Shirley
Posted by: shirley blain at September 29, 2008 07:58 PM
Posted by: Marg. & Wayne Coker at September 29, 2008 08:57 PM
Spectacular!!! Thank you, Bernie and Ross.
Janice
Posted by: Janice McDermott at September 29, 2008 10:18 PM
It is several years since we visited the places you mentioned and they are as beautiful in your pictures as they ever were.
In the words, if not the music, of Bob Hope, "Thanks for the Memory'
Helen.
Posted by: Helen Lennon at September 30, 2008 02:34 PM
So, who worked at Jasper Park Lodge? Want to really date me--the first time I saw the Columbia River Icefields was in 1949--the road was all gravel and beyond there they were pulling cars thru behind a "cat". Gorgeous pictures--such beautiful country--just hope it doesn't become too commercialized-last time I saw Banff it certainly wasn't the town I remembered from the previous 3 times I had been there. Love everything you send! Sincerely, Bette
Posted by: Bette Andrew at October 3, 2008 04:02 PM
Fantastic views as always.
We're off to Vegas on Sunday - Jill's never seen it, and I haven't been there for 15 years. We'll certainly take pictures, but they won't be anywhere near as majestic as yours. They will be kitschy, though.
Happy driving to you both, and all the best from J & A.
Posted by: Jill & Alan at October 6, 2008 07:46 PM