« Dawson City and the Top of the World Highway | Main | Denali National Park & Preserve »
July 10, 2008
Valdez, Anchorage & the Kenai Peninsula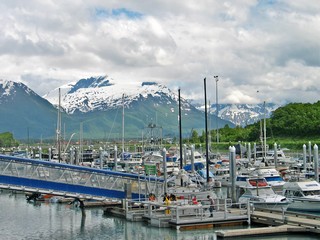 The city of Valdez sits on the north shore of a deep water fjord in Prince William Sound. It developed because it was a debarkation point for men heading to the Klondike gold fields and it had an ice-free port. The original location was destroyed by tsunami caused by the 1964 earthquake and rebuilt about 5km away. It is surrounded by wonderful snow capped mountains – one of the prettiest settings we have encountered.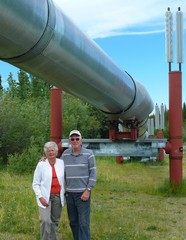 The Trans-Alaska Pipeline runs for 1,300 km (800 miles) from the Arctic Ocean at Prudhoe Bay to its terminus in the Gulf of Alaska at Valdez. Between these two points there were three mountain ranges, rivers and streams, active fault lines, bogs, permafrost and remote terrain. It was completed in 1977 and over half is built above ground where permafrost exists and if it must be buried to cross a highway, if need be it is encased in an insulated, refrigerated ditch. The 48 inch pipeline is visible from many points on the Valdez Highway and we went in to one information and viewing area to get an up close look at it.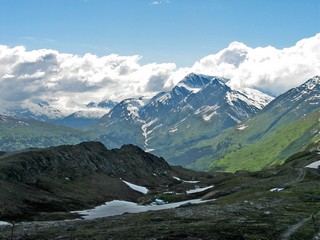 .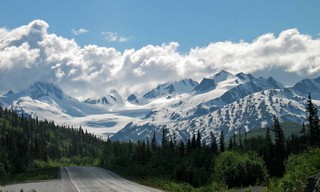 We left the trailer at Glenallen, about 200km north of Valdez and 300 km east of Anchorage and took only the truck over the mountains. With the number of stops we made for pictures and to marvel at the views, we were very glad that we had left it at the campground.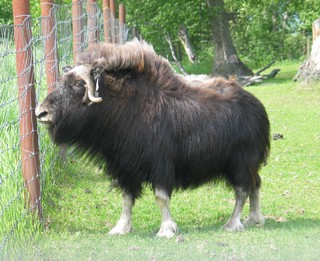 After our visit to Valdez, we next stopped for 3 nights in Palmer, about 30km north west of Anchorage. Close by was the Musk Ox Farm. These animals are prehistoric remnants from the last ice age. We took an excellent tour and saw cows and calves, as well as yearlings and bulls. We learned about quiviut (the under-wool) which is now being used in a textile industry for native communities in Alaska.
While in Palmer we took the opportunity to wash clothes, wash the truck, shop and generally catch up on domestic chores.

Anchorage is a big city – the largest in Alaska at close to 300,000 residents, 360,000 if you include the adjacent communities. It actually lies as far west as the Hawaiian Islands and as far north as Helsinki, Finland. The tides in Cook Inlet rise up to 33 feet and the city is surrounded by mountains. It was only 1915 that Anchorage was established as the construction headquarters for the Alaska Railroad and it is now the transportation and business centre of south-central Alaska.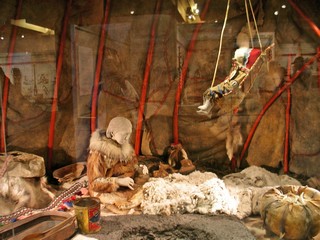 We spent two nights right in Anchorage, so that we could be close to the airport to welcome our sister-in-law, Jane, who arrived on July 1st to spend about 12 days with us. She landed safe and sound and not to be caught sitting around, we immediately (after dropping her suitcase at the trailer) took her to the Alaska Museum at Rasmuson Center. This museum gives a wonderful overview of Alaska history from the first explorers to the present.

We had visited the Alaska Native Heritage Center earlier in the day. By means of recreated village sites, it presents information about the five regional native groups that inhabit Alaska.
The following morning, Wed, July 2nd we headed south into the Kenai Peninsula. We left early in the morning as we were going to Seward and the city park we were headed for did not take reservations. It was coming up to the 4th of July weekend and we were concerned about getting a spot. As it turned out, they had opened up the ball park for dry camping so we did find room, although by the Thursday that was full as well. It was a beautiful travel day and the reflections on one of the lakes was outstanding.

Seward is a major cruise ship and freight port and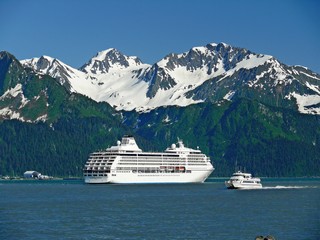 is the southern terminus of the Alaska Railroad which then will take passengers and cargo further into the state to other Alaskan attractions. But, it is also a pretty town with artist's studios and small shops scattered along the long main street. With the backdrop of snowy mountains rising abruptly across Resurrection Bay it was a perfect place for a long walk downtown and then back along the shore.
Thursday morning we had booked for a full day nature cruise into Resurrection Bay and Kenai Fjords National Park. Thursday morning it was raining.
We went anyway.
It was an excellent tour, although much of the time it poured rain. We were on a catamaran and were able to stay inside if we wished. We also had some rough water and Bev and Ross – along with many others – found that it didn't agree with them.
We saw: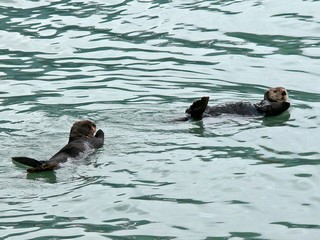 Sea Otters rolling and clapping beside the boat.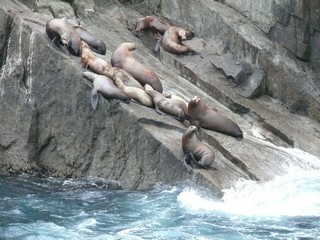 Sea Lions waddling and flopping on the rugged rocky islands.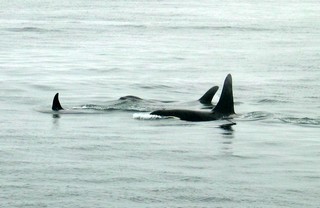 Orca whales – many of them.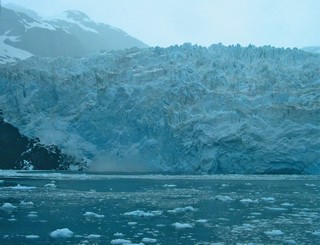 A glacier with it's terminus in the ocean. These are the ones that "calve" and you can see the splash (on the left side) when a large piece fell off or "calved" while we were there.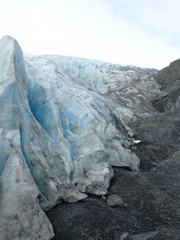 Next morning, before we pulled out of the campground, we visited Exit Glacier which is one of the fingers of the Harding Icefield. This glacier advances on land so has no "calving" associated with it. We were able to walk right up to the front edge of it. The melt water flows into the Resurrection River which then empties into Resurrection Bay right in Seward. Exit glacier has been retreating steadily – it is melting faster than there is snow to maintain it.

All in all, despite the weather a very satisfying time in Seward. We would certainly go back there again.
It's only a little over 200 km from Seward to Ninilchick which is on the west side of the Kenai peninsula. Ninilchick is about 20 miles north of Homer, but as this was the 4th of July weekend, it was the only cam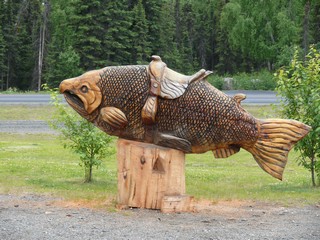 pground site available.
The west side is rolling and green and does not have the mountains "in your face" as the east side does. They are visible however, to the west across Cook Inlet.
We had seen a number of places advertising "chainsaw sculpture" and stopped at one such location. This fish was a masterpiece.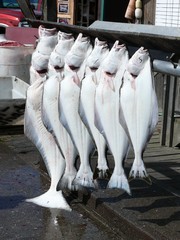 The west side of the Kenai concentrates on fishing – both commercial and tourist. Halibut is the major fish in this area and we saw some interesting catches as the charter boats came in. The big one on the left was over 4 feet long.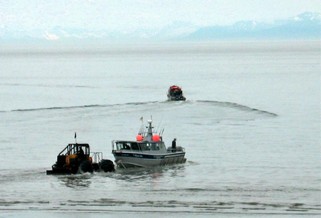 We watched a number of private fishing boats being launched. We had never seen it before, where a tractor hooked up to a boat trailer, drove right out into the water until the tires were almost submerged. The boat then was floating and moved away from the trailer. It appeared that the water was so shallow for a such a distance that normal boat launch, as we know it, was not possible. The procedure was reversed when the boat returned.

Homer is very much a tourist town and there is a long spit of land that runs way out into Kachemak Bay with many trendy and tourist shops and RV parks along its length. We spent most of one day wandering along the spit and also visited a couple of galleries in the town itself.
After those few days in the Kenai we headed to the north again on our way to Denali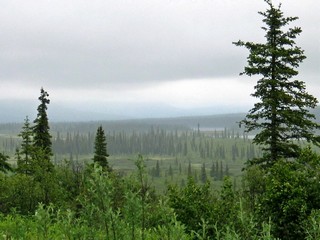 National Park. Alaska is a big state and we took 2 days to get to the park. We had read and been told that it is claimed that the drive as we approached Denali was one of the best in the state. Unfortunately, it rained and the ceiling was so low that we had no vistas at all ,so we can't comment on that claim. We were however, close to the tree line and had some interesting views of the scruffy black pines that grow in the poor soil.
We arrived at Denali National Park and Preserve on July 8th and will continue the journal from there.
Posted by Bernice at July 10, 2008 10:04 PM
Comments
Hi it won't let me send you a message so all I will say is HI
Posted by: Sharon Smith at August 21, 2008 02:27 AM
I enjoyed seeing and reading that you continue to enjoy a fantastic adventure. It is so good that you have assigned enough time to be able to maximize your total Alaskan experiences. Most people don't obligate enough time to more than "scratch the surface" of what there is to see and do. Cheers and continue to have fun. Larry
Posted by: Larry Harwood at August 27, 2008 05:52 PM
hugs from GAP in Waterloo, safe journey see you in the spring.
Posted by: glenda & bill Dicke at August 27, 2008 07:42 PM
Such gorgeous pictures. My sister has seen all of this country so much of it sounds very familar even tho she didn't have as many pictures. Loved the chain saw carver's fish! That was wonderful! Sorry haven't replied sooner but have either not been here, sick with an awful cold or in the midst of painting. Sincerely, Bette
Posted by: Bette Andrew at September 10, 2008 07:22 PM