« Denali National Park & Preserve | Main | Northern British Columbia »
July 25, 2008
Fairbanks back to the BC border
It's just under 200 km from Denali to Fairbanks and the road is very good, so it was an easy drive. Jane is flying home from Fairbanks on Saturday so we headed there on Thursday, July 10th to give us a full day to see the city before she left.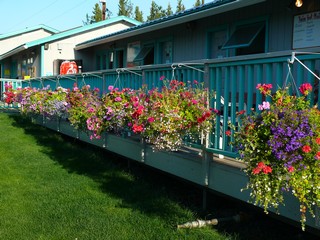 We stayed at a campground on the west side of the city, right beside the Chena River and close to the airport. A nice park with beautiful hanging baskets and a lovely trail along the river bank. On Jane's last evening with us, the three of us walked to a restaurant just a bit down the river and had an excellent meal. Jane said the crab cakes were the best she had ever had!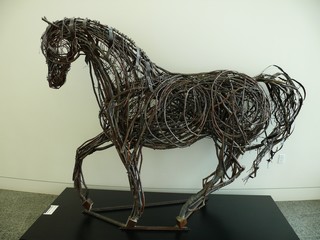 Fairbanks was founded in 1903 with the discovery of gold nearby. (Seems like most of the north was founded because of minerals or the fur trade!) It is right in the heart of the interior and is the northern terminus of the Alaska railroad as well as the Richardson Highway.
The comprehensive Museum of the North and art gallery is found on the University Grounds and we spent a couple of hours visiting it. There was a wonderful sculpture there – made from wood and wire.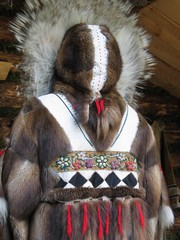 In the afternoon, we all took the Riverboat Discovery cruise on the Chena River and were treated to a sea plane demonstration, a visit with a sled dog team and time in a native village.
This was a beautifully made and decorated fur coat.
On Saturday morning we said farewell to Jane, at the Fairbanks airport as she headed home to Toronto. It was a great visit and we were all amazed at how quickly the days sped past.
This was the first time that we had anyone stay with us in the trailer for any length of time. Although it was tight quarters at times we think it was very successful and were very pleased that she had come north.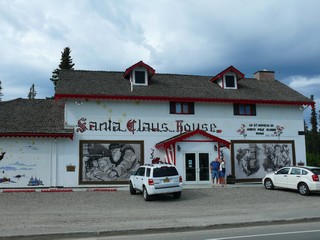 Fairbanks was our turning location. From there on July 13th, we started to head back east and south.
Just outside Fairbanks is the city of North Pole and of course, there had to be a Santa Claus House.
This is the biggest Christmas store we have every seen and inside the store is a post box where you can mail your letters and have them postmarked "North Pole". Kind of neat!!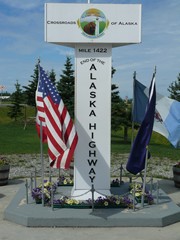 About 160km southeast of Fairbanks is Delta Junction, the official northern end of the Alaska Highway.
We stood at this monument, 1,422 miles from the beginning of the road in Dawson Creek. Although we had not travelled it continuously, it was the guideline of our travel and we did complete the total length as we returned to Whitehorse.
The highway just east of Tok had numerous sections of road construction and then just inside the Canadian border to about Destruction Bay the road was horrible. That whole section is frost heaves, washouts, cracking and generally unstable. We were told that there has been mountains of money spent on it but the ground is unstable and nothing lasts. We travelled slowly and were glad to find a campsite in Destruction Bay at the end of the second day.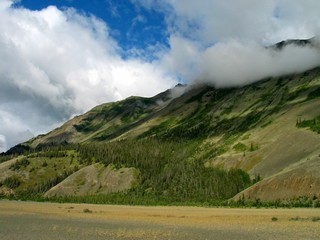 We reached Whitehorse on July 15th, the third day of driving. The highway follows the eastern boundary of Kluane Wildlife Sanctuary and a section of Kluane National Park. Kluane is not accessible by road so we were only able to see it from the edges.
It's a big park, 8,500 square miles and contains Canada's highest peak, Mt. Logan. At a little over 19,500 feet high you would think it could be seen, but not so – it's way into the park, probably at least 100 km from the closest road. It is the second highest mountain in North America – topped only by Mt. McKinley.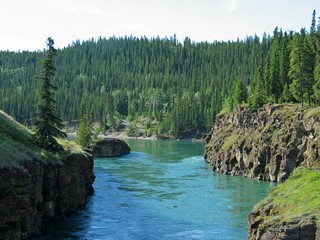 We only spent one night in Whitehorse as we had been there on our way north.
We did however visit Miles Canyon which was famous for its rapids which required goods be portaged around them. With the building of a dam, the rapids have disappeared but the canyon is still there although not as dramatic as before.

We continued south to Teslin where we camped at Mukluk Annie's. Now that's a deal! If you eat at the restaurant, you get to dry camp free (good sites at the lake), power wash your truck and trailer for free and take an evening pontoon boat ride for free (donations accepted). The food was good and the prices were reasonable.
Our last night in Yukon, July 17th, was at Junction 37 which is where Highway 37 leaves the Alaska Highway and heads south into British Columbia. It's about 20km west of Watson Lake. The campground was a disappointment. The sites were fine but the grounds were poorly kept. It could be a lovely park if someone cared about it.
British Columbia next.
Bernie & Ross
Posted by Bernice at July 25, 2008 06:21 PM
Comments
Destuction Bay and Mukluk Annie's. What pictures they conjure!
We love reading your journals.
Posted by: Heln & Ray at September 7, 2008 09:02 AM
What an elegant sculpture. Beautiful scenery, too.
I spent a much less exciting, but wonderful five days alongith four others)as guest of the Halton COnservation Authority at Mountsberg painting and sketching and walking and in one case sculpting. We also attended the raptor demonstration and were treated to an exclusive tour behind the scenes to see the birds in their mews. I painted a miniature of a darling barn owl in pastels who is imprinted on humans and cannot survive in the wild.
We went immediately afterwards to Sudbury to celebrate birthdays.
Do continue to keep safe while enjoying.
Cheers,
Janice
Posted by: Janice McDermott at September 7, 2008 03:47 PM
Hi Ross and Bernice;
I think Mukluk Annie's (or its predecessor) is where our survey crew stayed in 1977 - the camp we were at is north of the bridge across the Teslin and on the lake side - if I remember the camp site went down to the water - I remember swimming in Teslin Lake and being freaked out by the depth of the lake - very illogical as I've swum in lakes and oceans all my life but there was something about that lake that spooked me. Anyways, thanks for the journals and I hope all is well.
Eric
Posted by: Eric at September 10, 2008 04:30 PM
Thanks for sharing your travels. We met you in Naco last January. We did a 6 month but are home in Arizona now.
Posted by: Jerry and Judy Couch at September 12, 2008 12:32 PM
You certainly did see much of Alaska! And, it sounds as if you had an incredible time. I assume you are now heading in B.C. That is a gorgeous province--have seen only a small part of it--the Rockies, Victoria, Vancouver, and Vancouver Island --parts of. I am sure you will enjoy everything you see there. If you get a chance go to the West side to Tofino. It is on the Pacific Rim National Park. Sincerely, Bette
Posted by: Bette Andrew at September 19, 2008 10:42 PM