« Yellowknife, NWT to Dempster Corners, YK | Main | Dawson City and the Top of the World Highway »
June 22, 2008
Dempster Highway
From the time we began planning our trip to the north-west, we heard about the Dempster Highway, (the only highway in Canada that crosses the Arctic Circle, it took 20 years to build) in the Yukon/Northwest Territories and it has always been our plan to drive it. Beginning at the Klondike Highway about 40 KM (25 miles) east of Dawson City, extending 750 KM (450 miles) north to Inuvik (in-OO-vik), the all-gravel Dempster turned out to be everything we had heard and more. Inuvik is the focal point of the western Arctic, with a population of 3,300, of which a large percentage are First Nation Gwich'in Indians. But I'm getting ahead of myself.
After many opinions we received about driving this highway, we decided to leave our 5th wheel at Dempster Corners and take only the truck. After crossing the Klondike River, for the first 100 KM's we drove through flat scrub bush of black spruce, tamarack and aspen. Our first stop was at the interpretive centre at Tombstone Territorial Park. Although quite small it contained a full series of displays with emphasis on northern animals (a new centre about 4,000 sq. ft. is nearing completion and the staff is very excited about it).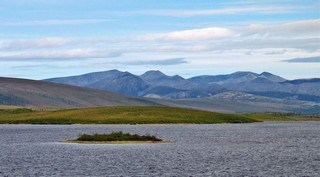 Shortly after, we entered the Ogilvie Mountains and WOW! The most obvious feature of the far north is its size. It's huge up there with vistas that spread out for miles in every direction. One of the things Bernie and I have talked most about is how to convey this sheer hugeness to you. Photos are two dimensional and it's very hard to capture the space.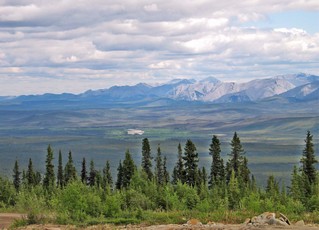 A second feature of the space is the emptiness. There is often nothing (except the spectacular views and animals) for hundreds of kilometres in any direction – no sideroads, utility poles, buildings, people, services – NOTHING - but around every corner is another breathtaking view. If we had been paid a dime for every time we said WOW, it might have paid for our fuel.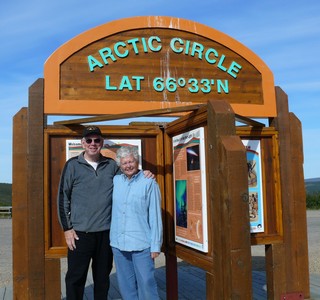 Our first night's stop was at Eagle Plains, half-way north, at 345 KM; a kind of northern oasis for travellers - motel, restaurant (great food), lounge, fuel, repairs and tires, gift shop and more. They generate their own electricity with a diesel generator.
Shortly after leaving the next morning, we (Ron and Beverly, Bernie and I) arrived at the Arctic Circle.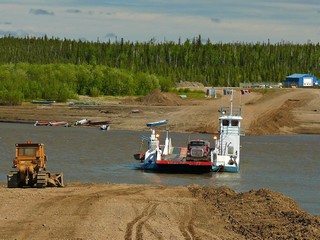 After photos all round, we continued north to Fort McPherson, then Tsiigehtchic and then the Mackenzie River crossing (our second location – the first was on the way to Yellowknife). The river is wider and deeper here, with many tributaries having fed into it over hundreds of kilometres. There are no ferry docks up here. The ferry pulls into the shore and drops a steel ramp on to the dirt and you drive on or off. The bulldozer at the shore extends the ramp to account for the river level drop as the snow melt slows. Next spring, the early rampaging river will wash out the dirt ramp from this year and they start all over again. In winter the river is crossed on the ice.
We travelled through the Richardson Mountains and again spectacular panoramic views. No, we never get tired of them.
The Richardsons were completely different than the Ogilvies the day before.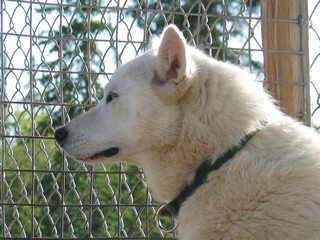 We arrived in Inuvik (celebrating its 50th birthday this year) the afternoon of our second day, June 13th, at Arctic Chalets, a B&B with a difference. They breed and work about 25 sled dogs – all are white with blue eyes (very rare) and very friendly. This up-to-date community has 3 supermarkets, a hospital, numerous hotels and restaurants, primary and secondary schools plus a college, as well as the usual assortment of smaller stores and services. The visitor centre was among the best we have encountered thus far. We had dinner our first night at the Chinese/Pizza/Burgers place on the main street. The next couple of days we spent sightseeing.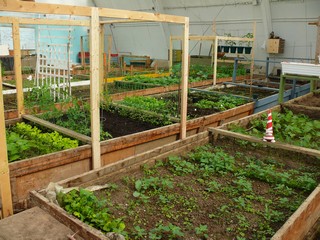 One of the most interesting spots was our visit to the old arena which has been converted into a greenhouse. Four by eight foot garden plots are rented and each family plants and decorates their space as they see fit. Most included vegetables (fresh vegetables are about twice the cost we are used to) and flowers. Because of the short growing season, few plants have time to mature outside. There is a waiting list for plots.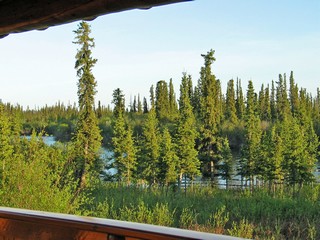 This is truly the 'Land of the Midnight Sun' and one store was selling t-shirts that read in part "Sunrise May 26
th
– Sunset July 19
th
.
We found it quite disconcerting that at bedtime it was fully daylight (like noon) and if you got up in the night it was still full daylight.
This picture was taken just before midnight on June 15th from the veranda of our cabin.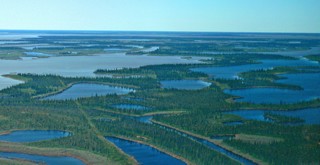 On Sunday we flew to Tuktoyaktuk (Tuk for short) with ten others for a 2 hour tour of this Inuvaluit community on the Beaufort Sea (Arctic Ocean). The flight was at about 500 feet so we could see the Mackenzie Delta, one of the largest in river deltas in the world. Our guide -Boogie- is a lifelong resident and still maintains a traditional hunting/fishing/trapping lifestyle, including a 350 mile winter trap-line which he works with both snowmobile and dog team.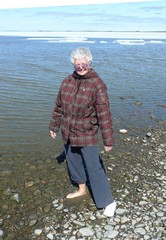 Bernie, in her winter coat, dipped her toes in the Arctic Ocean and was surprised how warm the water was, despite the fact that there was still ice not far off shore.
Much of the far north is built on permafrost – a combination of dirt and water – only a few feet below the surface which never thaws. But it must be kept frozen or whatever is above sinks, so all buildings are built on pilings with airspace under the floor so no heat is transferred into the ground. The Dempster highway was never less than about 8 feet deep of fill so the heat from the cars and the sun does not thaw the permafrost base. We wondered how many million truckloads of gravel were required to build this long road, which is never actually on the ground.

After 3 days of wonderful sights and new experiences, we began our trip back south stopping again at Eagle Plains for the night.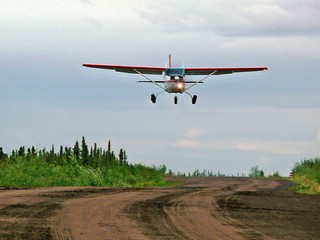 There are 5 airstrips along the way, all on or part of the highway. A sign says "Airstrip – DO NOT STOP OR PARK". There are orange placards where they start and stop and orange cones along the edge. On our way back south, we were flagged down by four men and asked to block the road from traffic (there was none) while they took off. We saw another plane parked just north of Eagle Plains and a helicopter further south. There are barrels of fuel beside the airstrips.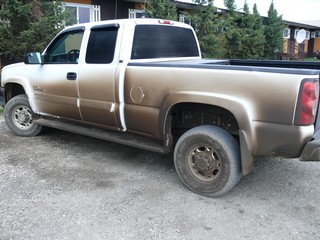 They were treating the road with anti-dust chemicals and our white truck was dark brown, then it rained and it was brown with white zebra stripes. When we arrived back at Dempster Junction quite a few quarters went into the power washer at the park.
The drive was amazing and well worth going the extra mile (actually 900 miles). Bernie is working on our next segment about Dawson City and the Top of the World highway.
Stay tuned.
Posted by Bernice at June 22, 2008 10:44 AM
Comments
Hi - sounds like an awesome trip up there. Check out the gum machines in all the Northwest stores up there. It's our equipment - they do delf-service. They don't always keep them clean & nice.
Toll free #1-800-263-3315. Have fun!
Posted by: Ann at July 22, 2008 02:31 PM
Sounds wonderful can't wait to see you both in the spring,all is well and we enjoy every posting
hugs bill glenda & sugar green acre park waterloo
Posted by: glenda dicke at July 23, 2008 06:20 AM
Amazing pictures and information about that part of our world! I believe that it is great that there are still places where no one lives and there are no stores or shopping centers--only gorgeous scenery. I truly envy you your experiences as it is something we will never be able to do. Looking forward to the next part of your journey. Sincerely, Bette
Posted by: Bette Andrew at July 23, 2008 02:09 PM
mountainside for a view at 11:30 p.m. While Mark sat in meetings I drove up over the White? Pass and down to Skagway through rainforest. How I'd love to go again. Didn't get nearly enough pictures. Janice
Posted by: Janice McDermott at July 23, 2008 05:54 PM
The light plane looks similar to the Cessna four-seater the bishop flew us clergy wives around the mountains around Whitehorse. He used it to travel from parish to parish. Janice
Posted by: Janice McDermott at July 23, 2008 05:57 PM
Glad you guys are having good time! I get a little homesick for Alaska when I read your journal. Bon voyage and stay safe!
Posted by: Louis Rychtarik at July 26, 2008 03:04 PM
I think I am enjoying the beautiful country almost as much as you guys. Most of it is breathtaking. You both look great and I'm sure that you are well and having a wonderful summer.
Looking forward to seeing you when you get back. Thank you for your journal.
Lorraine
Posted by: Lorraine Agar at August 1, 2008 07:10 PM
Ross and Bernice,
My interest in the north began 25 years ago when I worked at the Bay and had the Innuit Art Dept. as one of my responsibilities. All I have done in the mean time is to collect sculpture and subscribe to Up Here Magazine. Your story and pictures have awakened a desire to travel there. Thanks.
Posted by: Rick Russell at August 12, 2008 09:28 AM