« Dempster Highway | Main | Valdez, Anchorage & the Kenai Peninsula »
June 26, 2008
Dawson City and the Top of the World Highway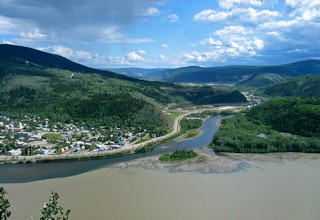 On Aug. 16, 1896, one of the world's most fabulous gold strikes was made on Bonanza Creek, which flows into the Klondike River, just outside Dawson City, Yukon. The next summer miners from there arrived in Seattle and San Francisco with about $2 million in gold and set off a massive gold rush. By the summer of 1898, 30,000 inhabitants were in Dawson City making it the largest city west of Winnipeg and north of San Francisco.
This picture is where the clear Klondike River flows into the muddy Yukon River. The Yukon River is a major river of the north – 3,185 km. It rises in the Coast Mountains in British Columbia and flows northwest through Whitehorse and Dawson City in the Yukon. After crossing into Alaska, it follows in a westward arc to the Bering Sea.

Times have changed; there is still some mining but the "rush" has gone, tourism is now a major factor in the town's economy and the year round population has dropped to about 1,750.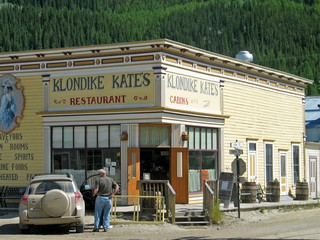 The town has character! There are a number of historic buildings, many still in use like Klondike Kate's. Others such as the Post Office are open for tours (which we took).
A former co-worker, Sandy, moved to Dawson in 1990 and is now the manager of "Jimmy's" a video and more store. We spent a couple of evenings with her and found out that she has no intention of leaving Dawson. Typical of many residents, once they are there they don't want to leave for the "outside". Her job is all year round but many of the businesses close for the winter. There are only two small hotels that stay open in the winter and they take monthly turns so everyone can enjoy a holiday.

One evening we took in the show at Diamond Tooth Gertie's Casino and I left my usual contribution to the local economy. It's the only casino in the Yukon so I had to try! Another evening we visited Robert Service's cabin and were treated to readings of his poetry. We drove up to Midnight Dome, a rounded peak above the city that gives panoramic views of the town, the rivers and mountains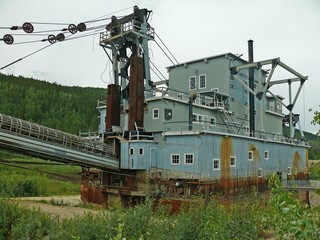 We also tried gold panning in Bonanza Creek – no luck, and then visited Dredge #4, the largest bucket-line, wooden-hulled dredge in North America. It's four stories high and moved by digging the ponds that let them float and move across the area to be mined. The continuous line of buckets scraped the mud and rock and carried it to a screening areas that separated the gold (which is heavier). The waste rock, or tailings were then deposited out the back.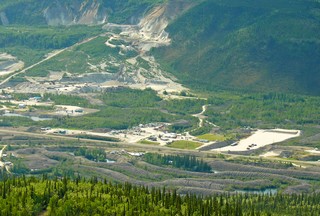 This picture was taken from Midnight Dome looking down on the tailings that were produced by the dredges on the Klondike River. You can see them in the lower foreground. They look like giant worms winding their way along the river. In the background you can see where there is still mining going on.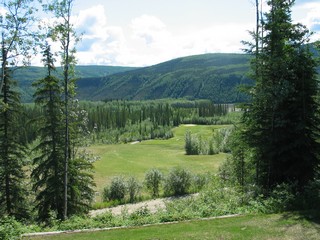 We had good weather while we were in Dawson and played golf at "Top of the World" Golf Course. We played in the afternoon on June 20th and that night they were having a tournament with a shotgun tee off at midnight. That far north on the summer solstice, it's still daylight at midnight and actually stays light enough to play golf all night.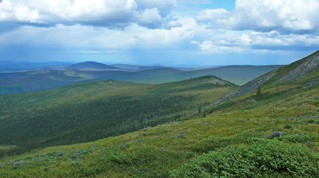 We crossed the Yukon River on a ferry that was just big enough to take our rig and four cars. There was then a steep 7 mile uphill pull that took us to the Yukon's "Top of the World". This highway runs along the top ridge of these mountains for100 km to the Alaska border and is only paved in sections, but at least the gravel is quite level and the road is acceptable.
From there the U.S. Taylor Highway drops down in a series of steep curves, pot holes and washboard and doesn't seem to have had much maintenance this season or this section. From here on it was paved and generally OK.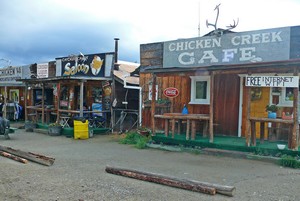 The small hamlet of Chicken, about 70 km from the border, had wanted to have the name Ptarmigan, but couldn't agree on how to spell it so settled for Chicken.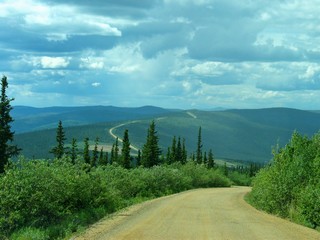 About 10 km before arriving in Chicken we encountered our first mechanical problem. The truck lost power and wouldn't pull the trailer. We were at the side of the road and wondered what we would do. Bev & Ron were with us and figured that they could continue to Chicken and see what might be available there. We decided to try starting the truck again and it ran OK so we continued to the RV park.
The next morning, June 23rd, Bev & Ron headed out before us toward Tok so that Ron could do some fishing. We pulled out and all was fine – for about 300 yards – then we lost power again. The owner of the RV park towed us – truck & trailer – to a campsite. We unhitched and again the truck was OK. We decided to try the drive to Tok to a garage there to have the truck looked at. About 15 km down the road, we lost power again, limped along for about 40 km and stopped for a break at a rest area. When we started up to continue, the truck worked fine again. Longer story short – the garage in Tok finally found a module that one side was not locked down. This was reseated and locked and after later putting dielectric one the contacts everything has worked since then. Our best guess is that the severe shaking on the Taylor highway caused the unseating of the module. We spent an extra night in Chicken when we went back for the trailer, but other than the extra trip to Tok of 125 km each way, no major harm done.
From here we are aiming for Anchorage.
Bernie & Ross
Posted by Bernice at June 26, 2008 11:37 PM
Comments
Hi, Bernie & Ross,
You two are having the time of your life! Thanks for sharing your wonderful journal.
Your Virginia Friends,
Bob & Melissa
Posted by: Bob & Melissa Turner at August 2, 2008 09:14 AM
Stories and pictures just seem to get better and better. What a great life!
Posted by: Heln & Ray at August 2, 2008 10:45 AM
Paul brought me to your site and I thoroughly enjoyed your description. I passed Tok on 2 Oct. 1957. Bought a non-res. hunting/fishing license for $50 and used it to bag 2 carribou, geese, ptarmigan and catch fish. Wishing you the best in safe, happy continued traveling. Larry Harwood
Posted by: Larry Harwood at August 2, 2008 12:25 PM
Klondike Kate was reported to have owned and operated a house of questionable repute. Not sure what's going on there now, but we certainly hope Ross behaved himself in Klondike.
Besr regards,
J & A
Posted by: Jill & Alan at August 2, 2008 02:52 PM
Your pictures and stories are spectacular!!!!It is quite a pleasure and treat to see your emails and we look forward to them. The pictures are always beautiful. Thanks for sharing them with us, Jeff & Estrella
Posted by: Estrella at August 5, 2008 04:52 PM
Klondike Kate ended up in Bend, was very well known here and her ashes are scattered east in the desert. Have much info about her in the museum where I volunteer. My sister has been in the same areas, has a sweatshirt from Chicken. Your pictures are so gorgeous! It will be so boring when you no longer do these incredible trips and I can't live vicariously through them. Maybe you will just keep going! Sincerely, Bette
Posted by: Bette Andrew at August 17, 2008 01:47 PM