« Home in April 2008 - then on the road again | Main | Northern Alberta & Northwest Territories »
May 20, 2008
Southern Prairies - Summer 2008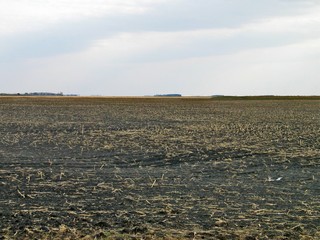 We left the lakes and forests of Ontario and shortly, within a few miles of the Manitoba border, were travelling on the flat prairie as we approached Winnipeg. It was obvious that spring planting was under way, although we were told that they were about 3 weeks late because of the cold weather.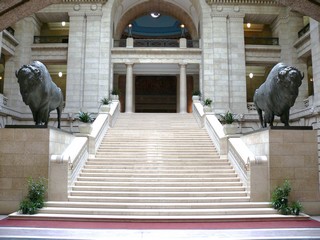 In Winnipeg we visited the Manitoba Provincial Legislature building which was officially opened in 1920. It is beautiful, constructed principally from Tyndall limestone, quarried just northeast of Winnipeg. On entering the building we were impressed with the grand staircase, flanked by two bison. In warmer climates, we saw these huge staircases on the outside of such buildings. This interior one seems very practical and sensible given Winnipeg's winters.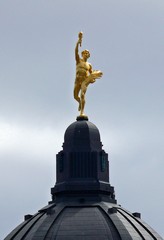 One of the most recognizable features of the Manitoba Legislature building is the "Golden Boy" that graces the building's dome.
Originally made of bronze, he is now gilded with 23.5 carat gold leaf. He measures 16 feet from toe to torch tip and weighs 10,000 pounds. The figure reaches just over 223 feet above ground.
The statue was sculpted in Paris, France in 1918 and escaped damage when the foundry was partially destroyed by bombs. It was then placed aboard a French ship bound for the U.S. but the ship was commandeered for war purposes. For the remainder of the War, the Golden Boy lay in the hold of the ship, travelling thousands of kilometers, in constant danger. It arrived in North America at the conclusion of the War, was shipped by rail to Winnipeg and was hoisted into position in 1919.
A guided tour of the Canadian Mint completed our sightseeing in Winnipeg this trip. The Winnipeg Mint produces all of the Canadian coins in general circulation while Ottawa produces the bills and proof sets. As well, this facility produces coins for over 60 countries worldwide. The volume of coins is outstanding –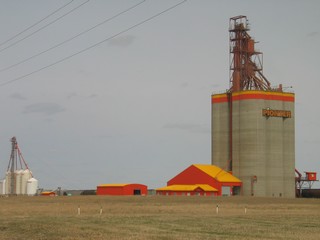 its high speed presses can strike 750 coins per minute
Dinner with friends, Rob & Shannon, and a contribution to the Winnipeg economy at the Casino, completed this visit.
We left the following morning, May 10th travelling the Trans Canada Highway. At Brandon, we started into new territory. This far we had driven these roads on our first RV trip west in 2005. (See May and Sept 2005)
The old style wooden grain elevators are being replaced with the new ones as seen here.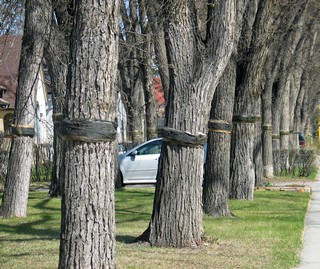 In Regina, as in Winnipeg, we saw many trees with banding on them. The trees all appear to be elm and we presume that it has to do with the prevention of Dutch Elm Disease.
We visited the RCMP Heritage Centre at the entrance to the RCMP Academy. The Academy is where all RCMP officers receive their training. It is an excellent account from the origin of the RCMP to todays high-tech police force.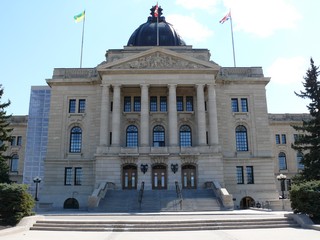 We also took a tour of the Legislative Building which was completed in 1912.
The building is surrounded by 165 acres of landscaped grounds and seemed a very people-friendly place. There were families out walking, teenagers playing ball and throwing frisbees. There was even a band playing at the side of the building with quite a crowd gathered.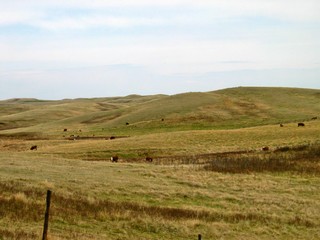 The following day we were surprised to find rolling hills and cattle as we travelled west from Regina toward Medicine Hat. Both of us had expected to find a continuation of the flat grain fields.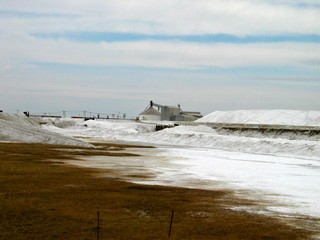 We were even more surprised to find salt – salt ponds, salt lakes, salt beside the road and even salt piles that looked like snow.
The area around Chaplin, SK encompassing some 15,000 acres of inland saline water is a haven for more than 30 species of birds that feast on the brine shrimp that are found in the salty, shallow water.


The Trans Canada Highway bypasses many of the small towns through the prairies. This has caused severe economic loss but many of the towns have tried to overcome some of the problem, by erecting advertising signs along the highway before the entrance to the community from the TCH. It actually is quite effective as you know in reasonable detail what businesses you can expect if you leave the highway for the town.
You can note above that we had returned to the flat land again – and it was only about 30 minutes past the rolling hills.
We met RV friends, George and Arlene from Vancouver Island, in Medicine Hat, AB. They are heading to the east this year and we are heading west – we both worked our schedules so we could have dinner together as we crossed paths.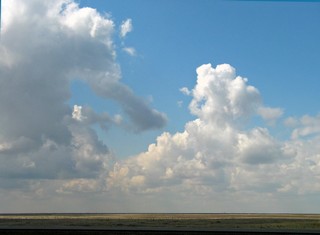 Shortly after we left Medicine Hat, we turned off the Trans Canada Highway that we had followed since southern Ontario.
As we headed north toward Edmonton, we stopped to admire the beautiful clouds. Here the prairies go on forever.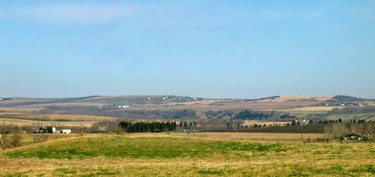 By the time we reached the Edmonton area the land, of more mixed agricultural and grassland, was much more in evidence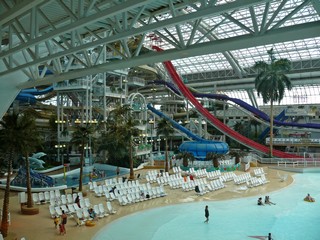 No visit to Edmonton would be complete without a trip to West Edmonton Mall, one of the worlds largest shopping centres. There are more than 800 stores and services, 19 movie theaters, more than 100 eateries and nine major theme attractions.
This is the World Waterpark. It offers 5 acres of indoor fun, including a giant wave pool. There are also two mini golf courses, an NHL ice rink, a recreation centre including bowling and a casino. Talk about a full service mall.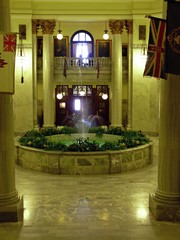 As we try to do with each capital of a province or state, we visited the Alberta Legislature buildings.
Another beautiful building, completed in 1912, built of granite and sandstone, with an interior of marble.
One of the interesting tidbits imparted by our guide: on the second floor balcony, the sound of this fountain is concentrated in one spot and it seems that water is pouring on the ceiling directly above your head.
We spent one of our evenings with Barnaby's parents, Liz and Mike and our second evening with friends, Deborah, George and Don. We also did some shopping to stock up on items that we thought might be in short supply as we head into the Territories.
I guess this was where our trip to the north actually started. We left Edmonton about 9:30 AM on Friday May 16th. The weather was great, the sun was shining, we had a full tank of diesel and we were on our way.
We'll write more down (actually UP) the road.
Bernie & Ross
Posted by Bernice at May 20, 2008 07:06 PM
Comments
Hi Bernice!
Looking forward to hearing of your adventures Up North (It's a place I'm hoping to travel to in the next few years). All the best for a safe drive.
Raff
Posted by: Raff Melito at May 31, 2008 09:34 AM
Bernice and Ross; Thanks again for the wonderful travel log. I love Canada so much but I have not been past Calgary so I am hoping with some planning that my husband Peter and I will venture out to B.C. The best I'm sure would be a rail trip to get the perspective of what you just showed us of the change in landscapes. You really have planned your life well. How many people actually do what you do? Well done. Louise Fell
Posted by: Louise Fell at June 1, 2008 10:46 AM
Great pix as usual. Scenery not at all boring - in fact, very diverse as you've presented it here.
Stay the hell out of casinos. We would hate to think of you guys reduced to a U-Haul.
Best regards,
J & A
Posted by: Jill & Alan at June 3, 2008 11:22 AM
As always extremely interesting. Open prairie land can be fascinating--wouldn't want to live there but seeing is different. The pictures of the government buildings are always a pleasure. I am traveling through your adventures so keep up the good information. Loved the comment about staying out of casinos. It remains cold, cloudy, rainy and generally awful here. HOpe you are having better weather where you are. Sincerely, Bette
Posted by: Bette Andrew at June 6, 2008 01:01 PM