« Tennessee & Kentucky 2008 | Main | Southern Prairies - Summer 2008 »
May 08, 2008
Home in April 2008 - then on the road again
April was a VERY busy month. As we were only going to be home in Ontario for about 30 days before we head out again, we had many things to do.
We are heading to the northwest – Northwest Territories, Yukon and Alaska to start with. We'll be back into Alberta probably in September then down through the western states of Montana, Idaho, Wyoming, Colorado and Utah. Finally, we expect to spend most of next winter in Mexico and then back home in April of 2009.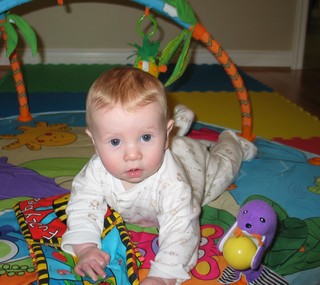 First priority, of course, when we got home was seeing Timothy, who is now about 6 months old. It goes without saying that we were happy to see Michelle and Barnaby, but they don't change much at their ages. We had seen Timothy mid January and it is amazing how little ones develop in such a short time.
Early in April we went to the Ministry of Health, to arrange for an approved long absence from Ontario. For those of you who don't live in the province, Ontario requires that you are resident for 153 days (five months) in any 12 month period in order to maintain your Health Insurance. That doesn't mean consecutive days, just 153 in total. However, as people like to travel, that may be quite restricting, so twice (in your lifetime) you can apply to the Ministry for an exemption to this requirement for a one year period. These periods can be taken separately or together to give you a two year exemption.
It is important to have this approval as the additional travel insurance most people obtain when going out of country is dependent on your eligibility for your provincial coverage.
We needed to visit doctors and dentists, get the truck in for a complete go-over, visit with many friends, some as far away as Brockville, visit with family, take the trailer in for a complete go-over, get our taxes sent in and do all the multitude of things that need to be looked after when you are going to be away from your home base for a year.
So – we're off.
We left on Saturday, May 3rd and last night, May 6th, were in Kenora. We haven't wasted any time travelling Highway 11, then 11/17 across the top of Lake Superior. We were through here in May 2005 so have already seen many of the sights.
Here are a few pictures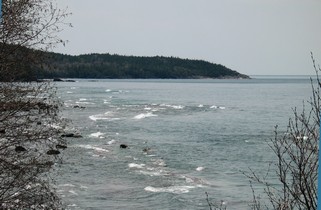 The Lake Superior shore line is long, generally uninhabited, rocky and cold. Then, unexpectedly we would pass through a very sandy area.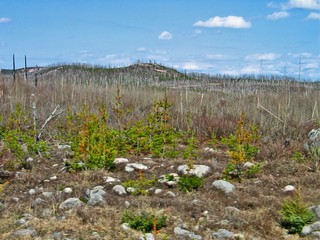 There was one long stretch where there had been a huge fire a number of years ago. New trees are growing again.
It was interesting to see how the road actually acted as a fire break.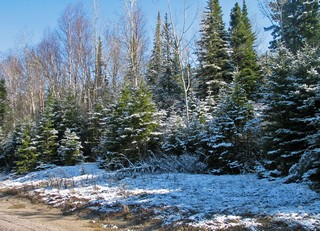 It had rained a little over Sunday night where we were, so when we reached some of the higher elevations on Monday morning, we were treated to beautiful scenes with the snow on the trees.
Fortunately it was only on the side of the road – the pavement was dry.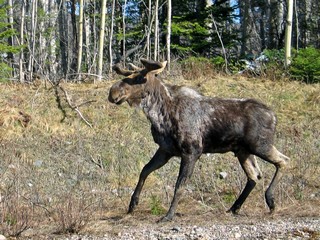 As we reached the brow of one of the hills this moose was on the side of the road. It ran along beside us for a couple of hundred feet before it stopped.
Can we ever understand how your vehicle would be demolished should you hit one!
They are massive.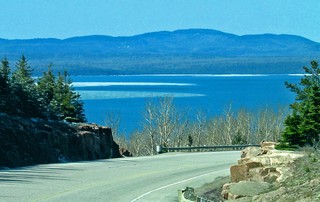 All along the north shore there are rock cuts, huge hills and blue lakes – many with ice still in them.
But it's beautiful!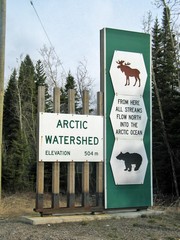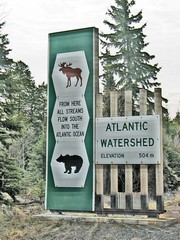 Just north west of Thunder Bay is where the waters of eastern North America split.
South of this point all waters run to the Atlantic. North of it all waters run to the Arctic.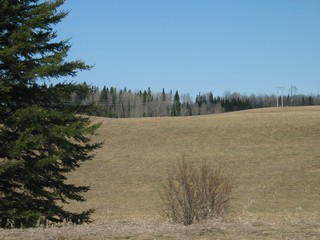 We were surprised at the amount of agricultural land around Dryden. After the rocks of Superior, I guess we had just expected it to continue. Not so – obviously a fertile pocket in the north.

It was another long drive to the campground in Kenora, but the next segment is only about 250 kilometers to Winnipeg. We'll stay there a couple of days before heading out again.
Bernie & Ross
Posted by Bernice at May 8, 2008 10:14 AM
Comments
Well, so you are off again on quite an adventure! All the info you send will be so interesting I am sure. When you come back in the fall through the states you mentioned let me know. There are some incredible areas in Idaho that many people haven't heard of or seen. You might not want to miss them. Have always wanted to see Alaska and know I never will. My sister has been there many times so get to see it through her pictures and conversations. Sincerely, Bette
Posted by: Bette Andrew at May 21, 2008 10:27 PM