« The U.S. Virgin Islands | Main | Arizona 2008 »
February 05, 2008
Home in Jan 2008 then back to the south U.S.
We arrived back in Canada, at the Waterloo Airport and were greeted by our whole family. Barnaby and Michelle were there with their adorable 2 1/2 month old Timothy. Also there, were Mandi, Quincy and our great 2 year old, Ricky. Mandi had arrived in Cambridge in early December as she was expecting their 2nd child (scheduled for Jan 3rd). Quincy and Ricky joined her on December 27th.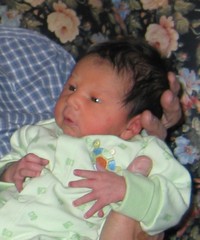 Aiden Nathaniel Walker arrived just before 3 p.m. on January 3rd. – 7 lbs 2 ozs, 20 1/2 inches and with a full head of beautiful black hair.
As planned, it was good to be home to help Mandi when she got out of the hospital and it gave us a great opportunity to spend time with both families.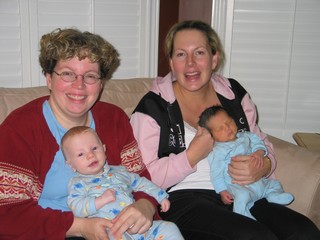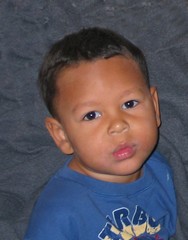 We are very blessed!!
We spent 2 weeks at home and thoroughly enjoyed our time with everyone. Quincy and Ricky returned to the Bahamas on Jan.13th and we returned to the Dallas area and our trailer on Jan 17th. Mandi remained in Cambridge until the end of the month when she and Aiden also returned home to the Bahamas.

After spending a day in Grapevine shopping, we travelled to Las Cruces, New Mexico to meet up with friends, Heather & Tony. While in the area we went to Old Mesilla to restock our supply of Bronco Bob's Raspberry Chipotle that Bernie loves. We get it at "Solamente de Mesilla", a great little shop run by Ron & Janyce Leone. Stop in if you are in the area and tell them that we sent you. You'll get a great reception!
The four of us visited the Farm & Heritage Museum. It's on 47 acres and is a mini working ranch. We took in the milking demonstration and Bernie found it interesting to see exhibits in the museum that included milking machines that she had used when she was growing up on the farm. Unfortunately, we had a defective memory card, so no pictures of our visit.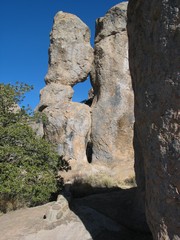 Friday, Jan 25th we all headed northwest into the mountains to the mining town of Silver City.
On the way we stopped at the "City of Rocks" State Park. Millions of years ago the volcanic rock was thrown up and then sculpted by wind and water into unusual shapes. These ones looked like they were kissing.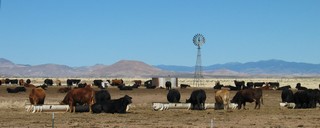 As we travelled, we crossed a huge flat valley where there were large herds of cattle. Often, they were gathered around the windmills which are used to pump water to the drinking tanks.
Silver City was the site of a rich silver strike in 1870. The town was saved from the fate of many other western mining towns – fire. An ordinance in 1880 prohibited frame construction so solid well built homes and businesses were constructed from brick from a local plant. Although the silver boom ended in 1883 the town recovered with cattle ranching, teaching facilities and later new mineral discoveries.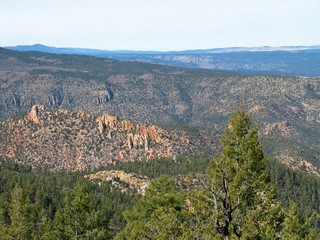 On Saturday the 26th, along with Heather & Tony, we headed further into the mountains to see the Gila Cliff Dwellings. It was only 45 miles but with the twists and bends, many at 15 and 20 mph. it took us close to 2 hours to get there. It is hard to describe the vastness of the Gila Wilderness where the three forks of the Gila River originate. With over 558,000 acres its designation as a wilderness, means that the character of the area will not be altered by the intrusion of roads or other evidence of human presence.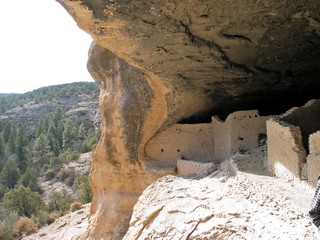 The Tularosa Mogollon (Muggy-own) people built these structures in caves with rock, mortar and timbers. The evidence indicates that these dwellings were only used from the late 1270s and were deserted by 1300. More questions than answers surround these buildings – were they residences or was it a ceremonial site; why such a short duration of use; why did they build in caves and what caused them to leave. We'll probably never know, but walking through these dwellings gives us a little glimpse into a past civilization.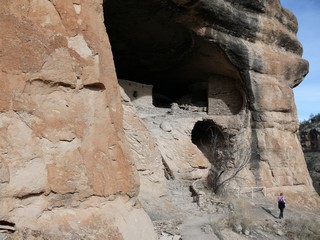 We walked the one mile loop up to the cliff dwellings and although from outside it looks like three separate entrances, in fact it is one huge cavern. There are around 40 rooms interconnected, some two stories high. We were able to walk all through the structures. To get an idea of the size of these caves – look at the picture, in the bottom right corner. That is Heather, dwarfed by the cliff.

The next day in the afternoon, it rained, and rained and rained some more. We went art gallery hopping in the late morning and had planned on doing the historic walking tour in the afternoon – but the rain got in the way. We drove it instead. Now, following a map by car, that is intended to be walked is a challenge. You don't have "One Way" streets when walking, and foot bridges won't carry cars. We saw more of the city than we had planned.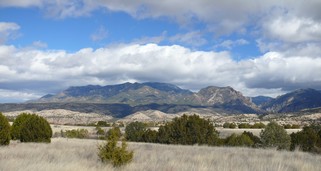 The sun came out the following day and with Tony & Heather we headed toward The Catwalk in Whitewater Canyon. The drive was wonderful – good road, spectacular views and great weather. This view is from Leopold Vista looking east to the Mogollon Mountains.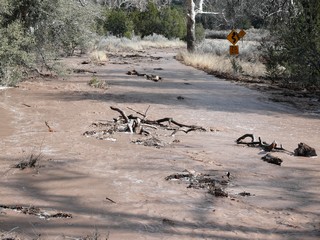 Just past Glenwood, we turned up the Canyon road to be faced with "Road Closed". We walked down past the barriers to find the road washed away and water, mud, branches, rocks and logs covering the normally dry pavement. A local resident said that she had never seen the river this high in her 24 years of living there.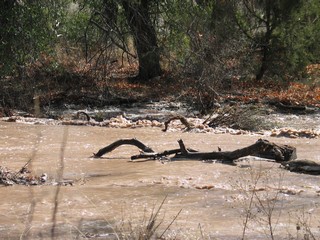 We walked further along the river watching as the water roared past, carrying huge logs, rocks and boulders, trees and bushes. Knowing how destructive water can be we kept well back from the edge as we could see small parts of the banks being undermined and swept away.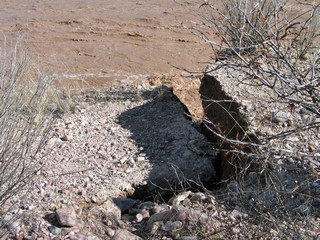 We were glad we had stayed back as Bernie felt the ground move, looked down to see a crack opening up just in front of her feet and another just behind her. She jumped back and we watched as a huge section of the bank – probably 25 – 30 ft long and about 5 feet wide, slowly separated and then dropped about 3 feet to the river. An earth moving experience!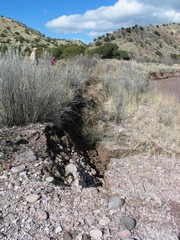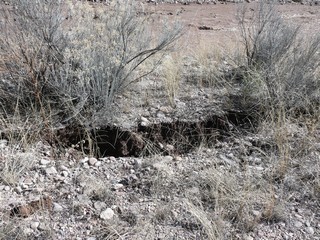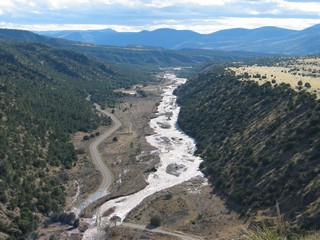 Since we couldn't get to the Catwalk (a suspension walkway in a narrow canyon) we travelled further up the road and hiked a trail where we could look down into Whitewater Canyon. We could see that up this far the river covered the road and bridge, again cutting off access.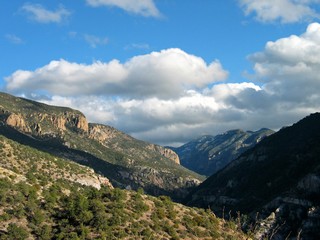 The mountain views that we were rewarded with, once we had hiked to the top, were awesome. The air was so clear and fresh and the silence was total. We didn't even hear birds.
The next morning, we found out that the rain had also washed out the road and bridge to the Gila Cliff Dwellings, totally isolating the area we had just visited two days previously.
We said goodbye to Tony & Heather that morning, as they were heading further into New Mexico and we were travelling west to Arizona. We'll stay in touch and meet up with them again somewhere along the road. That's typical of this lifestyle we have.
Bernie & Ross
Posted by Bernice at February 5, 2008 08:52 AM
Comments
Great pictures! Looks like fascinating country. Darling grandchildren! You were certainly lucky on your walk so far as the river was concerned. You could have been stranded there for a long time! Bette
Posted by: Bette Andrew at February 25, 2008 12:27 PM
Congratulations on the additions to your family. It's great to see pictures of Mandi, Michelle and the grandchildren. So good you had time to spend with everyone.
Continue your safe journey. We thoroughly enjoy following your every careful step of the way.
Best wishes to all.

Posted by: Saul and Carol at March 2, 2008 01:43 PM