« Viet Nam - Ho Chi Minh City - (Saigon) | Main | The rest of 2007 »
June 30, 2007
Viet Nam - Hanoi & Halong Bay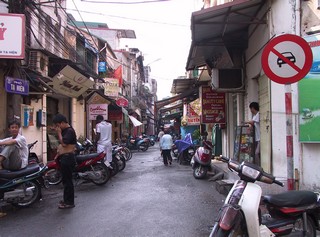 Sunday, June 3rd after breakfast we headed from our hotel in Ho Chi Minh City to the airport for our 2 hour flight to Hanoi, arriving about 1:30 pm.
Immediately after checking in to the Sheraton Hotel, we were given a pedicab tour of the Old Quarters.
June is into the rainy season which means that at any time the heavens will open. We had to take refuge in a sidewalk cafe to escape the downpour.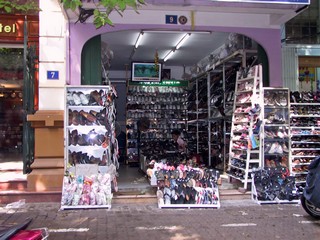 The Old Quarters is made up of about 36 shopping streets, each street named for its primary goods. This picture was taken on the "footwear" street. We also saw, "silver", "paper" "flowers" and many other specialities. The streets are very narrow and cars are not allowed down them. As the vendors were taxed on the width of their stalls, living quarters and workshops went to the back, creating "tube houses", 3 meters wide by up to 60 meters deep.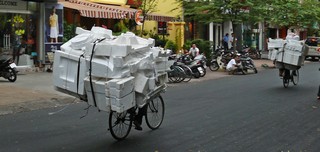 .

We saw many unusual products being transported by bicycle.
Labour is cheap as evidenced by the woman cleaning the side of the road with a twig broom.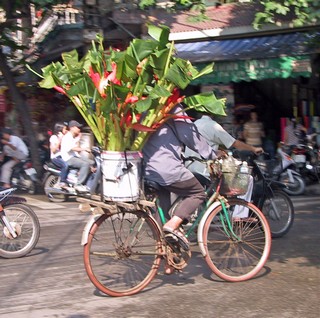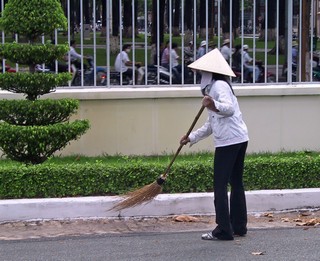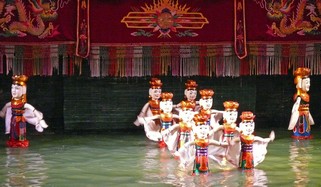 After the tour of the city we were treated to a performance of the Thang Long Water Puppet Theatre. Instead of being controlled by strings from above, the puppeteers are behind the backdrop and manipulate the puppets by long poles that are concealed by the water. A most unique show!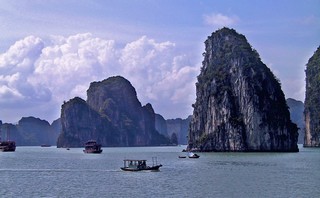 Ha Long Bay – a seascape of limestone mountains, emerging from a clear blue sea.
On Monday the 4th, we took a full day trip to visit this beautiful area, 165 km from Hanoi.
On arrival at Ha Long City, we boarded a boat and had a two hour cruise through these wonderful shapes. Lunch was served on board and Bernie bought some lovely pearls. The boat in the picture below is similar to the one we were on.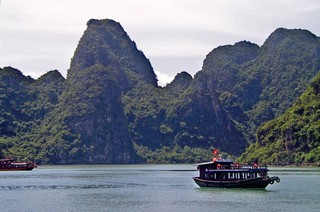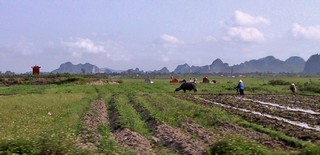 The area between Hanoi and Ha Long Bay has thousands of acres of rice paddies and all of it appears to be farmed by hand, primarily by the women.
It was about 34C (95F) and they were dressed in long pants, smocks with long sleeves and conical hats. The rice sheaves were hand cut and tied and then loaded on to a cart that was pulled by one woman and pushed by another to the side of the road.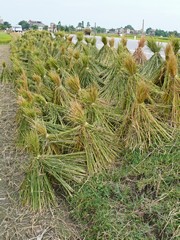 The sheaves were lined up along the edge of the road to dry. When dry they were taken, again by cart, to the threshing machine (the only mechanical item we saw).
From there, the rice were spread out on the driveways to finish drying and to be cleaned of chaff, before it was sold.
The chaff was removed by pouring the grain from basket to basket with the wind blowing.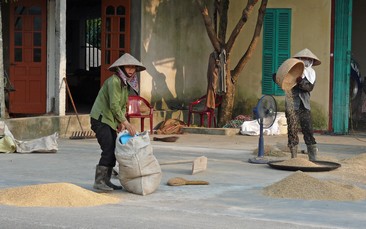 In the morning of our last full day in Vietnam, June 5th, we visited the tomb of Ho Chi Minh, the most important figure in modern Vietnam History.
In Vietnam today, Ho Chi Minh, the man is considered to be the very soul of the countries struggle for independence.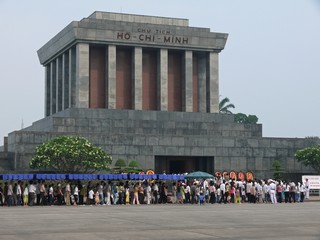 He died in Ha Noi in Sept. 1969 and his embalmed body is on display in a mausoleum which was erected in his honour at the end of the war in 1975. The mausoleum is modelled after Lenin's Tomb in Moscow. Our guide told us that every day thousands of admirers file past his body, rain or shine, often lining up long before dawn.
Interestingly, this "honour" is not what he wished. He wanted to be cremated and his ashes buried in urns on hilltops of Viet Nam.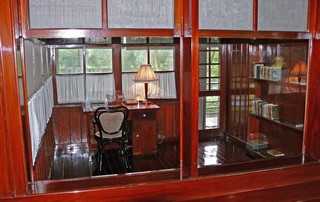 Ho Chi Minh was a very simple person and lived in a very small house, on stilts, close to where the Mausoleum is situated.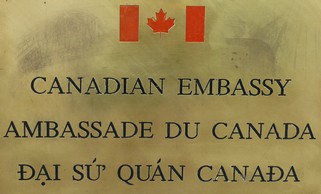 The Canadian Embassy is located at the approach to the Mausoleum Square. We tried to get a picture of it, but the Vietnamese guards would not allow us to take any of the buildings. They finally let us take one of the plaque.

That afternoon we spent walking around the local area. As we crossed one of the local streets, we noticed again that to successfully navigate it, once you start, you don't stop. When we got to the other side, Ross said "It doesn't even bother me anymore – It's interesting what you can get used to".
The next morning at 11:05 am, we flew out of Hanoi to Hong Kong on our first leg of the flight home. We finally arrived at Toronto airport at 10:00 pm that night. Given the time change and crossing the international date line, we had been en route home for 23 hours.
At times it is hard to believe that we were really there, it seems almost like a dream. But then, we look at the pictures and we really were standing on The Great Wall and walking through Angkor Wat.
A trip of a lifetime.
Bernie & Ross
Posted by Bernice at June 30, 2007 11:30 PM
Comments
Hi Bernie and Ross,
I enjoyed these last pictures very much. There were some painting subjects.
Hope you had a good Christmas. We had both our children and families including the dog who tolerated the children well. He's so fast no one can touch so staying with Simon and Sandra with two little ones worked. Snow stayed until last night when the rains came.
Where are you heading now? Have a Happy New year and May God be with you. Janice

Posted by: Janice McDermott at December 29, 2007 01:46 PM
Thanks so much for continuing to share your adventures with us - I feel like I'm constantly learning through you! A colleague of mine went to Viet Nam last spring on a vacation - I thought it was an odd choice at the time - I now understand.
Happy Holidays!
Posted by: Patti Kyrzakos at December 30, 2007 09:50 AM
Hello--What with the holidays,etc. haven't had time to post comments. Every journal you sent was incredible! Such beautiful country in Viet Nam--and how difficult it must be to live there and do that incredible amount of physical labor. I am really going to miss these journals--you should put them together in a book. Yes, you had a journey of a lifetime and something to treasure the rest of your life. Thank you, thank you, thank you. Sincerely, Bette
Posted by: Bette Andrew at January 10, 2008 06:42 PM
This must have been truly the trip of a lifetime, one to cherish forever.
Of course, it would pale by comparison to the Gulf Coast of Florida, but to each his/her own.
Tell me again how you got the RV to float across the Pacific to the Far East?
regards,
J & A
Posted by: Jill & Alan at January 14, 2008 02:08 PM