« Thailand Part I - Chiang Mai | Main | Thailand Part III - Bridge on the River Kwai »
June 25, 2007
Thailand Part II - Bangkok
Going from China to other south-east Asian countries is like going from Ontario to PEI, the size difference is huge. Our flight between Chiang Mai and Bangkok took only 70 minutes. Thailand, just slightly larger than Manitoba, is one of the first foreign countries I can remember learning about. It was then called Siam and Yul Brenner and Debra Kerr were starring in the King and I. Today 60+ million people live there and everyone we met was courteous, gentle, helpful and personable. The consultant Cambridge Travel uses, said it was her favourite country out of about 80 she has visited.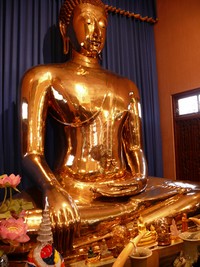 As in each previously visited city, our day began with a city tour. Thailand has over 25,000 temples (called Wats) so every tour includes 2 or 3 of their best. The first, Wat Trimitr (Temple of the Golden Buddha), was just what its name implied. Five and a half TONS of SOLID GOLD, set in a beautiful park-like setting near the city centre. It was discovered, beneath a layer of stucco, while the temple was under re-construction.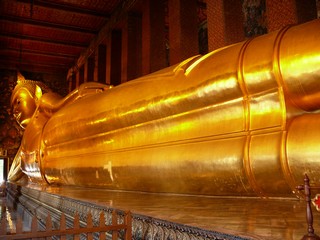 The next stop was Wat Po (Temple of the Reclining Buddha). The statue is about 15 metres (45 feet) long and is painted with 24 karat gold.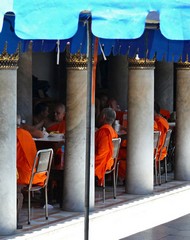 It was interesting to see the monks, all of whom wear a bright orange toga, sitting having breakfast beside the temple.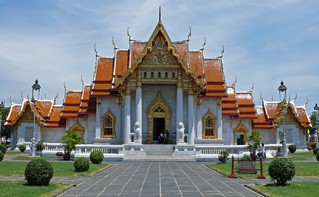 It the afternoon we enjoyed a cruise on the Chao Phraya River through the middle of Bangkok. It functions almost like another expressway, with boats of all types, both freight and passenger, coming and going constantly.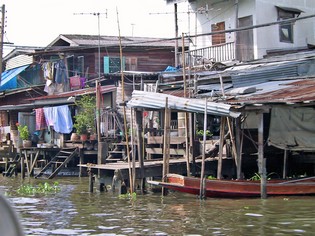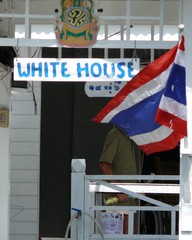 Many commercial establishments are accessed from the river frontage and people live in homes built right on the river, including the White House.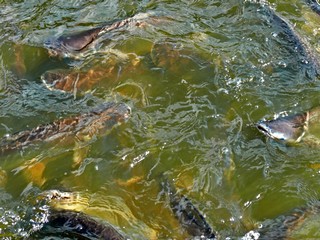 Part way through the trip we were transferred to a rice barge for a mid-afternoon lunch. These boats were originally used to transport rice but have been converted for tourist service. We stopped in mid river and were given bags of bread crumbs which attracted hundreds of big cat fish (18-24") when we threw the crumbs overboard. The water boiled with the frenzy of the fish to feed. When we tried again a hundred metres downstream – there were no fish.
During this part of our trip, meals were not included, so we set out downtown for dinners and found a couple of great places with excellent food. The temperatures were in the very humid 30s which we found almost overpowering at times. Many establishments are not air conditioned.
An all day trip, to the famous Bridge on the River Kwai, meant an eary start the following day. Please join us there.
Ross & Bernie
Posted by Bernice at June 25, 2007 07:54 AM
Comments
Isn't it amazing that there is so much poverty and so much gold!!!!!!!! Your pictures and information are as usual just great!
Bette
Posted by: Bette Andrew at November 15, 2007 05:28 PM