« Hong Kong | Main | Thailand Part II - Bangkok »
June 24, 2007
Thailand Part I - Chiang Mai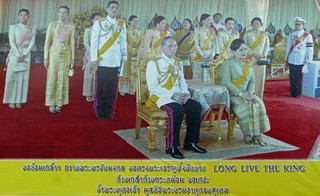 On Thursday May 24th, we arrived in Chiang Mai just after 7 PM. When we planned our trip to SE Asia, we included Thailand. Judy, our agent at Cambridge Travel, suggested we visit this second-sized city in the north of the country. After clearing immigration, we departed for Belle Villa Resort (an RCI resort), about an hour from the airport via a twisting, hilly road. As we were driving, we noticed many signs and billboards with pictures of the King and Queen and/or the royal family. The King's 80th birthday is 2007 and everywhere we went in Thailand were displays of the peoples' love for their king.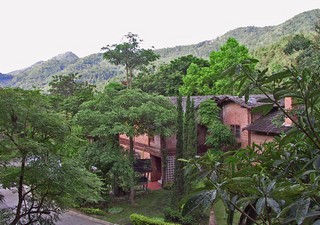 The resort was beautiful and we enjoyed a wonderful dinner on the outdoor dining deck. The Thai people are very calm and gentle and the evening was a wonderful contrast to Hong Kong. There were few guests but the service and food were superb. It was sultry, the tree frogs and night sounds were a sound track for the sheet lightning, lighting the sky through the clouds. The ceiling fans rotated slowly cutting the hot humid air. Bernie leaned across the table to me and asked, if she turned around, would Humphrey Bogart be sitting at the next table. It was just that kind of atmosphere.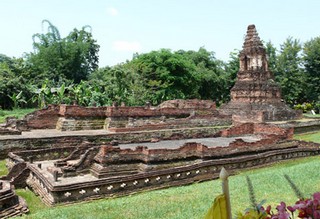 The morning dawned crystal clear and warm. Our guide, Bua, picked us up for a tour of Wiang Kum Kam, an ancient city buried and lost for almost 200 years following a massive flood.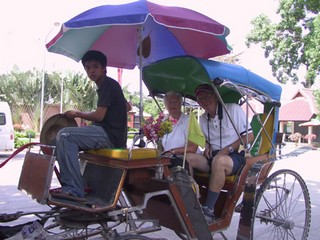 Our itinerary said 'by bicycle' but we were taken by horse-drawn taxi instead, which we were pleased with because it was 30+ degrees. We stopped at a downtown grocery while Bua and Bernie bought fruit and snacks and then continued with a tour of the city's historic places, including more temples, monuments and the Art and Cultural Hall, featuring a wonderful depiction of the area's history.

Our second day featured a drive up Doi Suthep Peak to visit a Meo hill tribe who live on mountaintops above 3000 feet. They observe a very simple lifestyle, with hand-built modest homes (but with modern automobiles parked outside). It was a most interesting visit including displays of local crafts. The residents, who had quite a different appearance to the Thai people we had seen, were quite friendly. On the road to their village we passed the king's summer residence. One of the interesting little experiences we had on this tour was that our driver from the hotel stopped about halfway to the peak and we took a second vehicle to the village. It was not a production car but rather a half truck/half taxi and the driver obviously knew every twist and turn in the road. We were glad it was daylight.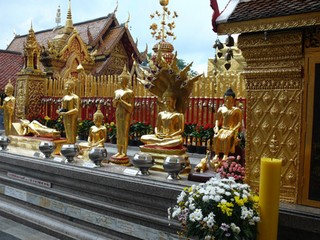 After coming down, we were taken to the most sacred temple in northern Thailand, built in 1384 AD. There were 300 steps from the parking area to get there, but fortunately there was also an elevator (whew!!). The view of Chiang Mai was wonderful and the temple, Wat Phra That Doi Suthep, was one of the most beautiful we have visited so far.

We returned to the hotel for lunch and then left for the airport for our flight to Bangkok, the capital.
Please join with us in our next journal.
Ross and Bernie
Posted by Bernice at June 24, 2007 11:31 PM
Comments
Defintely modest homes but so interesting that they have a nice car. Amazing in the U.S. the homes you see which are barely shacks but they have nice cars and satellite dishes. Shows where the priorities are. Again, your pictures and commentary are so interesting. Tried to find the RCI resort in my directory but apparently it is newer then the directory I have. Keep up the good work! Sincerely, Bette

Posted by: Bette Andrew at October 17, 2007 04:29 PM

Finally viewed your journal. It's renewed our thirst for adventure and hunger for travel!
So little time, so many places. God willing,
we'll follow in your footsteps to these (and
more) exotic locales :~) Stay safe!
Posted by: Louis & Michelle Rychtarik at November 5, 2007 10:29 PM