« China Part VI - Beijing | Main | Thailand Part I - Chiang Mai »
June 23, 2007
Hong Kong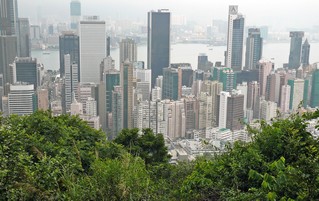 We didn't hear whether Hong Kong/Kowloon has a slogan, but it might be "the city of highrises. If we thought it would be significantly different than the other Chinese cities on our tour because of its British heritage, it was not. With over 6 million people on a few islands and a bit of mainland peninsula, it turned out to be the busiest, more bustling part of our trip. We stayed at the Kimberly Hotel in Kowloon (the mainland), about a block from the main thoroughfare Nathan Road, right in the middle of the action.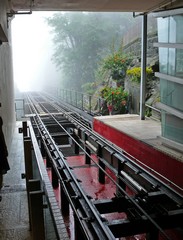 Our first sightseeing stop on the island of Hong Kong, was Victoria Peak, the mountaintop tourist viewing outlook reached by an incline railway. Unfortunately it was raining and very misty, but due to the magic of Adobe Photoshop, we were able to create some good photos. The one above was taken about half way up.
After a bus ride down from the top, past some of Hong Kong's most expensive private homes, we took a sampan tour of the famous floating community of Aberdeen, part of Hong Kong harbour.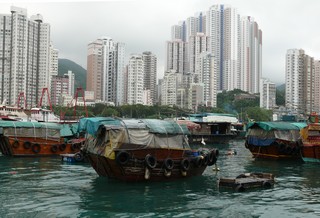 As you can see, in this city like so many in China, old meets new.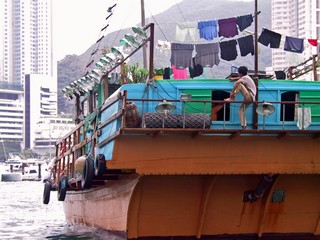 Not only is business carried on on the water but that is where the community also lives and spends most of their lives.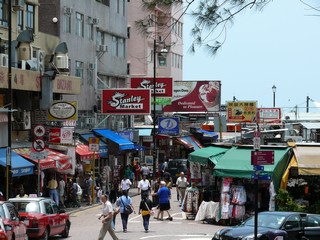 In every city we visited, we toured a market and here was no exception.With 2 world famous bazaars Stanley Market in the daytime and Temple Street Market in the evening – there was more than enough opportunity to sharpen our negotiating skills. KFC, McDonald's and Pizza Hut were side by side with every imaginable choice of Chinese cuisine.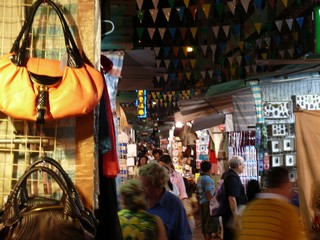 In China, it is expected that employees do not leave work until after their superior does, so - the workday starts early and finishes in early evening. The streets then come alive with commuters and shoppers and temporary food vendors, usually preparing only one food item, so you line up 2 or 3 times for your supper.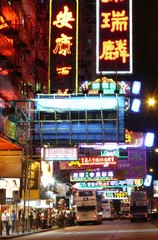 Street hawkers offer custom tailored suits (overnight), GENUINE COPY watches, city tours, jewelry, laundry and almost any other commodity you might desire. Nathan Street is lined with signs in Chinese (Mandarin is spoken in Hong Kong and English. Many of the signs are larger than the shops that sell the merchandise.
The city has nearly a thousand very modern double-decker buses. It is hard to imagine how bad the traffic would be without them.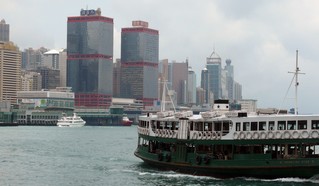 The next day was "at leisure", meaning no organized tour events, so we set out on foot to see more of the area. We walked to the harbour and took the Star Ferry to Hong Kong island. It is free for seniors. One of the worlds best hotels, The Peninsula, tucked in among dozens of condominiums and office buildings, faces the waterfront. The city is absolutely modern and enjoys some freedom from Chinese rules and regulations. We have never seen so many highrise towers, most very imaginatively designed. Everywhere we looked more were under construction. We concluded that Hong Kong was a great place to visit, but we wouldn't want to live there.
Later that afternoon, 3 of our friends from the tour left to return to Canada, one couple stayed in Hong Kong for a few more days and we headed to the airport for our flight to Chiang Mai, Thailand, our next journal entry.
Ross & Bernie
p.s: Bernie has returned to work at her former company in Toronto, as interim General Manager until November 15, so Ross is pinch hitting as journal author.
Posted by Bernice at June 23, 2007 11:49 PM
Comments
Posted by: Marg. & Wayne Coker at October 1, 2007 09:49 AM
Hey--not bad writing. Hong Kong looks very busy and crowded and terribly full of huge buildings. I don't know if I would enjoy it there--too large for a country girl. Didn't know that Bernie was working still--interim manager for what kind of company? Anyway, keep up the good work and looking forward to the next installment. Sincerely, Bette
Posted by: Bette Andrew at October 2, 2007 08:38 PM