« China Part V - Xian | Main | Hong Kong »
June 22, 2007
China Part VI - Beijing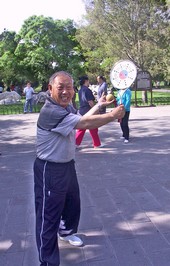 The Temple of Heaven is set in a large park and seems to be a meeting place for senior citizens of Beijing. There were groups singing, ballroom dancing, doing tai chi and playing badminton.
One gentleman tried to teach me the routine he was performing with a ball and paddle but my dexterity wasn't as good as his. Neither of us spoke the other's language but we didn't need to, to enjoy those few minutes.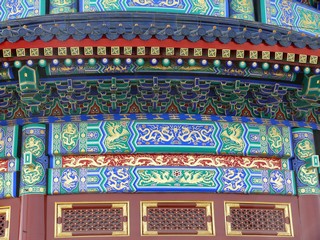 The Temple of Heaven was the place where the Emperors would worship heaven and pray for good harvests. It was first built in 1420 and is a wonderful example of China's ancient architectural art. The picture below is the Hall of Prayer for Good Harvests and is decorated with intricate graphics that can be seen in the picture to the left.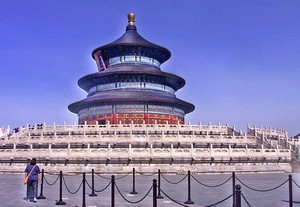 No nails or pegs were used in the construction and there are 50,000 glazed blue tiles (representing heaven) on the roof. The railings around it are white marble.
Tia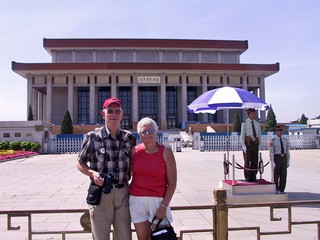 nanmen Square – we have all heard about it! It was the scene of massive (100,000 participants) political protests from April to June 1989 and the military crack down on the protesters left many civilians dead.
It is huge – 880 x 500 metres, a total of 440,000 square meters, which make it the largest open-urban square in the world. It is a modern creation with some walls of the Forbidden City removed to make way for it. Tiananmen (the Gate of Heavenly Peace) is the original front gate of the Imperial Palace and is one of the entrances for tourists visiting the Forbidden City. We are standing in front of the Mao Tse Tung Mausoleum which was closed due to construction on the entrances.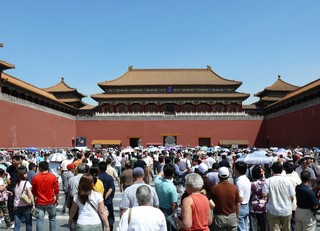 The Forbidden City is located in the absolute middle of Beijing and for 5 centuries was home to the Emperor and was also the ceremonial and political center of Chinese government. It took only 15 years to build starting in 1406 and required over one million workers. There still survive 980 buildings with 8,707 bays of rooms. At one time there were more than 20,000 rooms. And there were crowds – as you can see in this picture of one of the courtyards leading to the inner structures. There are three gateways in each wall as we moved toward the inner palace – the centre one for the emperor and the ones on either side for imperial concubines, officials, guards, artisans, etc.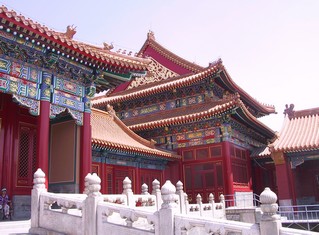 Beautiful colors and details.
Recently the presence of commercial enterprises in the City has become controversial. A Starbucks, which opened in 2000, and we saw on our visit, closed in July 2007 a couple of months after we were there.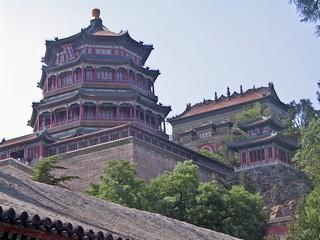 In the afternoon we visited the Summer Palace – the summer resort for the emperors. We took a boat to the wharf just below the palace and then walked a little under a kilometer back to the entrance gate through what is called the Long Corridor. The Corridor parallels the lake and there are fabulous paintings of Chinese history and legend inside the corridor.

The next morning we visited a silk carpet factory and after lunch a cloisonne factory before continuing on.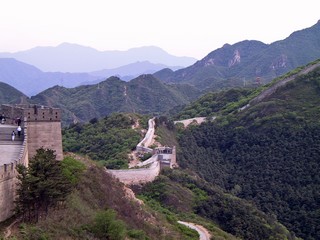 Finally, we arrived at the Great Wall!
We, along with thousands of others, walked about a mile or more along this wonder. We were at the Badaling section of the wall which has been restored and is about 75 km from Beijing.
It is a series of stone and earthen fortifications built, rebuilt and maintained between the 5th and 16th centuries to protect the northern borders. It stretches approx 6,400 km (4,000 miles) along the southern edge of Inner Mongolia.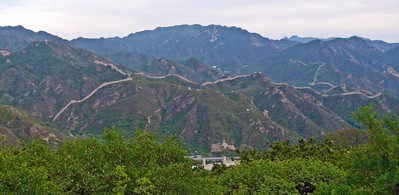 The wall hugs the contours of the terrain, and as it climbs up and down mountains, it keeps changing in height and width and building material. It has gate-towers for lodging and defence, passes and signal towers all with embrasures to allow shooting of arrows.
A visit we will never forget.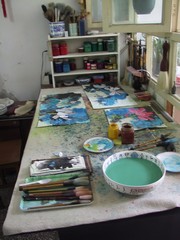 The next morning, May 21st, we visited the "hutongs", alleys or lanes in the ancient part of Beijing. In the residential area, closed courtyards were built in a neat layout and hutongs were used to get around them. We toured them in a pedicab as many are too narrow for a vehicle. We were fortunate to be able to visit a local artist, Zhang Shuixing. His studio is in his living room. He is considered quite well to do as he owns the housing quadrangle and lives on one side, while renting out the other three sides.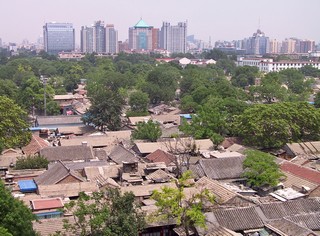 The contrast of the "Hutong" area with the new high rises of Beijing in the background.
Fortunately, many of these original residential areas are being preserved.
After lunch we visited the Silk Road Market where some serious shopping was done. It is a maze of small stalls with everything imaginable for sale. Yes – bargins!

That evening we went to a live theater show "The Legend of Kungfu" and then to the Hard Rock Cafe (western food!) for dinner.
We left Beijing for Hong Kong, after breakfast the next morning. A wonderful busy 2 weeks in a huge country. We certainly didn't see anywhere near what was worthy of seeing but we did get a taste of the country and the people. We loved it and would recommend this trip to everyone who likes to travel.
But, there was more on our itinerary, so Hong Kong, it's next in line!
Bernie & Ross
Posted by Bernice at June 22, 2007 08:44 AM
Comments
What incredible buildings in Beijing! I am sure you took numerous pictures there and how could you decide which ones to send with the text? Rather ironic that Tianamen means the Gate of Heavenly Peace when so many innocent people were injured or killed there. Sure walking on the Great Wall will be an experience that no one would ever forget! I am so enjoying seeing and reading everything you send. Sincerely, Bette
Posted by: Bette Andrew at August 29, 2007 04:26 PM
Bernice,
I have so enjoyed receiving your trip highlights. A trip to China is a dream of my husband and I and your journey sure makes us want to go all the more. Hopefully I'll see you back in class one day painting pictures of China.
Jacquie
Posted by: Jacquie at September 3, 2007 10:17 PM