« China Part IV - Chongqing & Dazu | Main | China Part VI - Beijing »
June 21, 2007
China Part V - Xian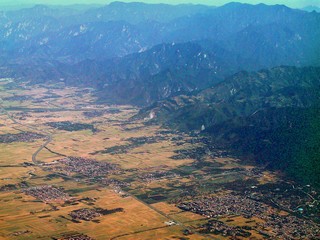 Our flight to the north east from Chongqing to Xi'an crossed the Qinling Mountains. The Yellow River flows to the north of the mountains and the Yangtze to the south.
The mountains, from the air, appear to have no foothills. The Guanzhong Plain starts immediately and is very fertile and totally cultivated. Villages, towns and small cities are scattered everywhere. Xi'an, with a population of 8 million was called a small city.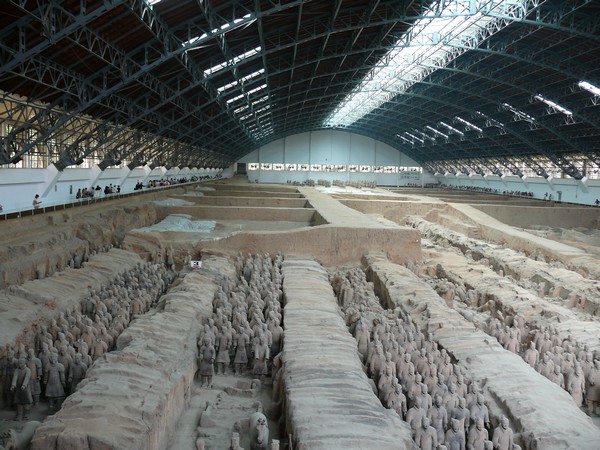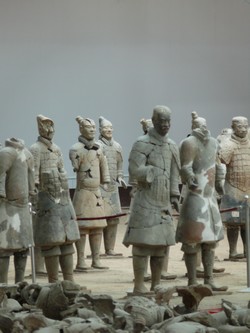 A jigsaw puzzle of immense proportions !
The Terrra Cotta Warriors were accidentally discovered in 1974, by a group of workers who were working on a well. The figures are from the Qin Dynasty from 221 – 206 B.C. They were created to protect the mausoleum of the emperor and to help rule another empire in the afterlife.
The above picture is Pit #1 covering about 3 1/2 acres, where there are more than 6,000 terra cotta warriors and horses in battle line formations. Close by there are 2 other smaller pits holding another 1,600 plus warriors, horses and chariots. .
The figures are life-sized The lower part of the body is solid, the upper hollow and the heads are separate. No two warriors are duplicated.
Huge buildings have been constructed to protect the pits and their contents from the elements while the work continues.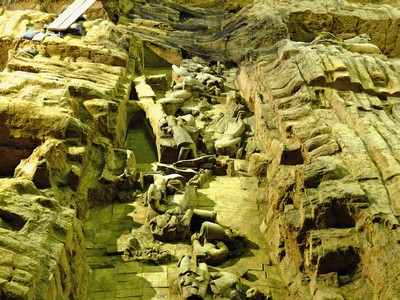 The figures were positioned in underground timber lined vaults but the site was ransacked, vandalized and set fire to, only a few years after the death of the First Emperor. Only one undamaged figure was found.
This picture shows one of the areas where archaeologists are unearthing the pieces.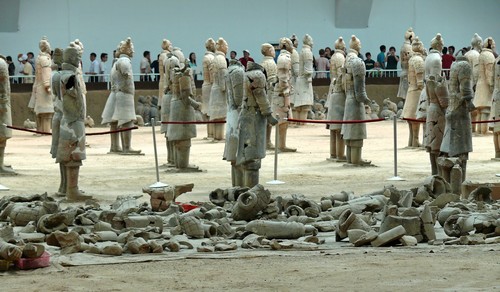 So – the jigsaw puzzle – the painstaking work of putting the figures back together, one by one continues.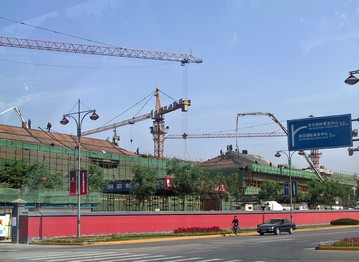 This was a familiar scene all over China.
Numerous cranes at building sites and buildings under construction, wrapped in green mesh.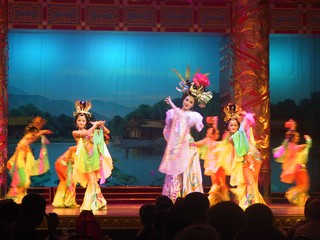 That evening we attended a cultural show with dinner at the Tang Dynasty Restaurant and Theater. The music and dance originated over one thousand years ago.
What a perfect performance to celebrate our fellow traveller, Alice's birthday.

On Friday morning, May 18th, we walked to the Big Wild Goose Pagoda, which was quite close to our hotel.
This is one of the most famous Buddhist temples in China. It was built in 652 A.D. to preserve the manuscripts of Buddhist texts that were brought from India and subsequently translated into Chinese.
It is very simple, 7 stories high and built of layers of brick, with no cement.

The old city of Xi'an is surrounded by a well preserved wall reconstructed in the Ming Dynasty. It is certainly wide and very flat, as the city is built on a plain. From this height, the views of the city are much better than from ground level.

After another excellent lunch (we certainly are being fed well), we headed to the airport for our afternoon flight to Beijing.
Bernie & Ross
Posted by Bernice at June 21, 2007 06:18 PM
Comments
Can you imagine how long it took when this was done to make the terra cotta warriors? How incredible! Such sights you have seen. As I said before I think you should put all of this in a book and publish it. For those of us who will never get there it would be such a journey! Keep sending your journals. Sincerely, Bette
Posted by: Bette Andrew at August 13, 2007 10:47 PM