« China - A Country of Contrasts | Main | China Part III - The Yangtze River »
June 16, 2007
China Part II - Suzhou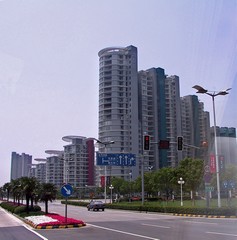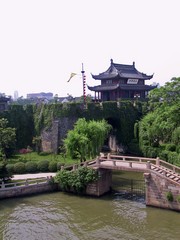 Suzhou, about 50 miles west of Shanghai, is situated on the lower Yangtze River on the shores of Lake Taihu and is renowned for its beautiful stone bridges, pagodas, canals and carefully designed gardens. It is a very modern city with new highrise apartments everywhere, many many close to the New Development Zone. This planned industrial area is now home to close to 100 major foreign enterprises – names like Dupont, Nike, Nabisco, Sanyo, Sony, Danone, Samsung, Shell and Mitsubishi.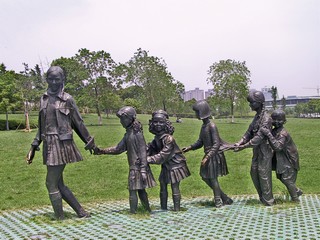 We visited Golden Rooster Lakeside, which is a beautifully groomed park across the lake from the industrial park.
There were many very interesting sculptures – this one of a group of children wading though the rice paddies. Music wafted gently in the air, from speakers hidden in bushes or disguised as rocks.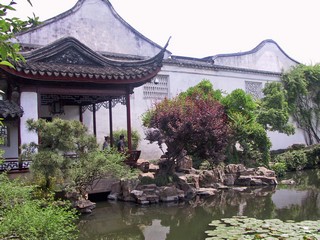 Suzhou has been proclaimed a UNESCO World Heritage Site due to its 2,000 year-old gardens. We visited the classic Chinese garden – the Master's Nets Garden. They have wonderfully descriptive names for their gardens which were built long ago. Examples are: Humble Administrator's Garden – 1509", "Lion Grove Garden – 1342", "Surging Wave Pavilion– 1044" and "Garden to Linger In – 1522.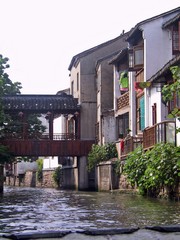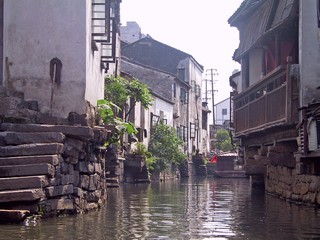 After lunch we took a cruise along The Grand Canal and also through some of the spider web of picturesque canals in the city. Now we know why Suzhou is called " the Venice of the Orient".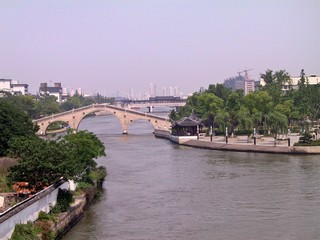 The Grand Canal, at 1,800 kilometers (1,080 miles) is the world's longest man-made waterway. It runs north and south (most of China's rivers flow east and west) and connects the Yangtze River valley and the Yellow River valley. Its building began in 486 B.C. and all parts were finally linked together by about 610 A.D.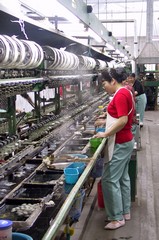 China has produced silk for at least 6,000 years and Suzhou is considered the silk capital of the country. From the mid 1300s to 1911 most of the high-grade silk produced for the royal families was made by Suzhou silk weavers. After our canal cruise we toured the Silk Embroidery Institute where we watched the production of silk from larva to finished product.
The cocoons are treated with boiling water to allow the silk filament to be separated. These women attach the filaments (which can be up to 1,000 meters in length from a single cocoon) to a bobbin which spins, unravelling the cocoon. Different grades of silk are used for different products, from comforters to fine clothing.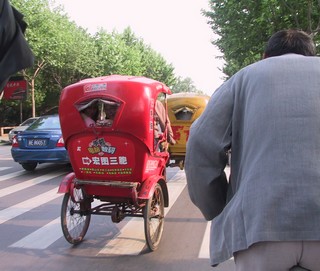 The next morning we left the hotel very early, by rickshaw, to visit a public park and then to go to the flower and bird market. These rickshaws are actually three wheeled bicycles and a number of the operators are middle aged men. There isn't an ounce of excess fat on any of them.
This was a most interesting ride as we shared the road with cars, buses, scooters and bicycles. If you want to get somewhere, you just go. Don't stop – just go. Turning left across 6 lanes of traffic was an experience. Fortunately, my hair was already grey.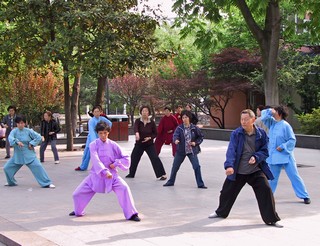 There were a number of groups practising Tai Chi in the park, as well as many other exercise and dance groups.
Throughout China, we found the parks to be used as an interactive social exercise facility. They aren't just grass and trees. Sort of like an outdoor YMCA.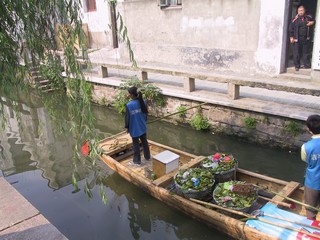 As we headed back toward our hotel we travelled beside one of the canals and watched the canal cleaners at work. All day they travel the waterways with scoops and nets, removing any leaves or debris that had fallen into the water. Once again, we were impressed with the cleanliness.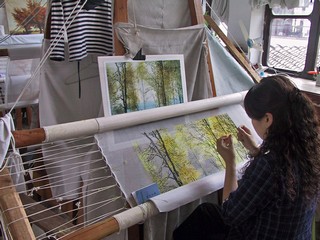 Before leaving Suzhou we visited The Lion Forest Garden where many of the rocks in the garden resembled Lions.
We also visited a workshop where beautiful pictures – landscapes, flowers and animals – are faithfully reproduced by silk embroidery.

After an early lunch we headed back toward Shanghai's second airport for our 1:30 flight to Yichang. We had been so busy these first few days that we looked forward to our next segment – cruising the Yangtze River.
Bernie & Ross
Posted by Bernice at June 16, 2007 09:23 PM
Comments