« Thailand Part III - Bridge on the River Kwai | Main | Viet Nam - Ho Chi Minh City - (Saigon) »
June 27, 2007
Cambodia - Angkor Wat & the Tonle Sap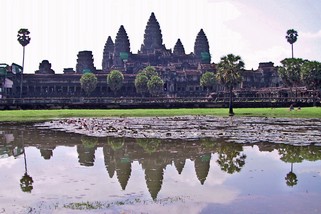 Our day, Tuesday, May 29th, began with a short hour and fifteen minute flight from Bangkok to Siem Reap, Cambodia, site of Angkor, an ancient city in northwestern Cambodia. Built between the ninth and fourteenth centuries, while it was the capital of Cambodia. It was abandoned in the early 1400's, only to be 'rediscovered' and unearthed by French archaeologists beginning around 1863 and continuing for about 100 years. Pillaging and damage was done during the political upheavals of the Khmer Rouge in the 60's and 70's.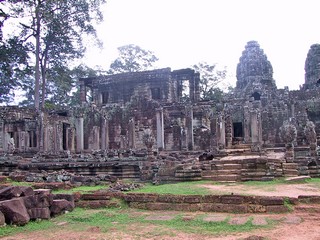 In 1987 the Indian government began a 7 year restoration of Angkor Wat (temple), the largest single complex in the city. Since 1991 the United Nations Educational, Scientific, and Cultural Organization (UNESCO) has helped the Cambodian government coordinate an international effort to research and preserve the sites in Angkor National Park and in that year it was classified as a UNESCO site and Cambodian National Park.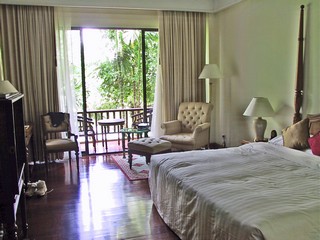 We were checked into the beautiful Sofitel Royal Angkor Hotel, located on Charles de Gaulle Boulevard. As we found throughout SE Asia, the French influence of a past era was very obvious.

We then headed immediately for the park, about a 15 minute drive away. Guess what? It is as hot as h… here too, but the local population including Nak, our guide, was well dressed in long trousers and dress shirts and looked quite comfortable. After getting our photo-ID pass, we began what would take nearly 3 days, to visit all there was to see.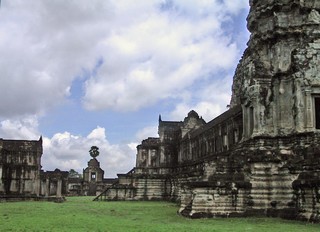 The temple itself is within a walled enclosure which is about 2800 by 3300 feet (850 by 1000 metres) which is within the park of approximately 60 square miles. It becomes more and more difficult to find words other than, beautiful, spectacular, impressive, etc. to describe these world-renowned historical sites we have visited, but this area must rank near the top of our list.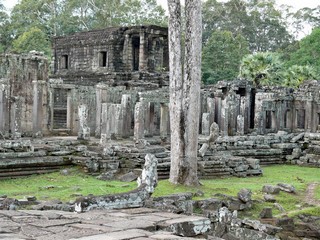 Again we realized that all this work was done by hand and basic machinery – no cranes, bulldozers or big trucks. Massive stone work cut to size by hand and then put in place by the workers (many of them slaves or prisoners).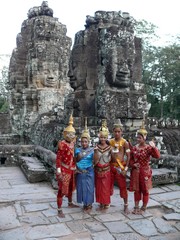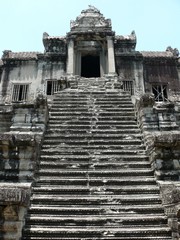 The next day we set out again with a full day of sightseeing and building explorations, including climbing to the top of a very old temple on a mountaintop near sunset, with many hundreds of others. Although there were steps to the top it was more like climbing a ladder because of the steep angle. It's hard to believe that people used to live and worship there.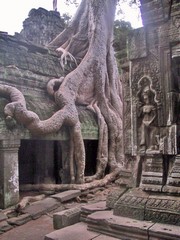 We explored Ta Prohm, a major temple. This site has been left with no restoration, only stabilization of the structure. The trees have taken over and support many walls and buildings. Some are nearly 40 feet in circumference, as the pictures show. The roots look like giant fingers holding up the walls. Just for perspective of size, the dark openings are doorways and arches.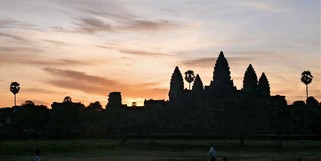 Our final visit to Angkor Wat was at 5:30 AM the third day for sunrise. Along with a thousand or so others (mostly tourists like us), we waited for the sun to appear over the roofs of the temple. Although it was very early, it was certainly worth going to see. It was also the coolest we had been – but – as soon as the sun came up, the heat came up with it.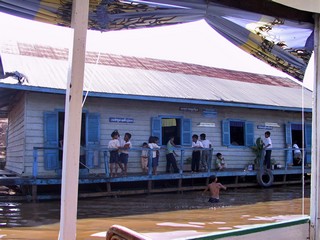 We returned to the hotel for breakfast and then immediately, left again for a boat trip on Tonle Sap Lake, the largest lake in SE Asia and one of the best sources of freshwater fish in the world. We cruised past floating homes, a school, churches, stores, restaurants and gift shops along the riverbank and in the lake.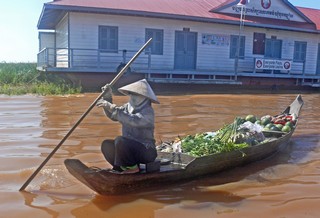 A fruit and vegetable vendor.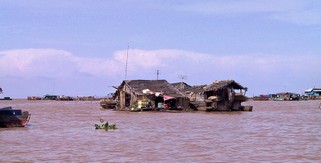 There were many floating houses on the lake. In the dry season the lake can be only a metre deep and have an area of 2,700 square km, but in the monsoon season is as much as 9 meters deep with an area of 16,000 square km.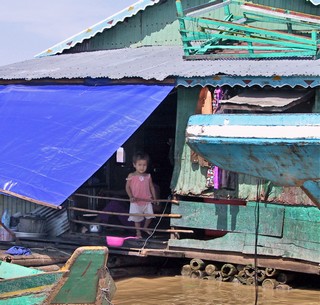 A little girl inspected us as we floated past.
The water was a very muddy colour and apparently was THE source of water for bathing, swimming and whatever daily needs there were for water, although we didn't hear that they drank it.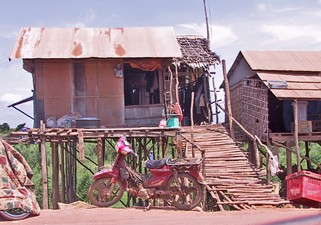 The houses along the banks that were not floating were set high on stilts to accommodate the flooding during the rainy season. At that time the lake covers the road we were driving on and everyone uses boats.


We headed back to Siem Reap for our transfer to the airport.
Three countries done ( plus Hong Kong) - one to go.
Viet Nam here we come.
Ross & Bernie
Posted by Bernice at June 27, 2007 01:24 PM
Comments