« March 2007 | Main | June 2007 »
April 05, 2007
The road home Winter 07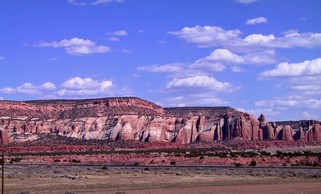 From Williams it is 196 miles (315 km) to the New Mexico border. East of Flagstaff, AZ the landscape is dominated by red cliffs. Interestingly they are mainly to the north of I40 while to the south the land spreads out forever.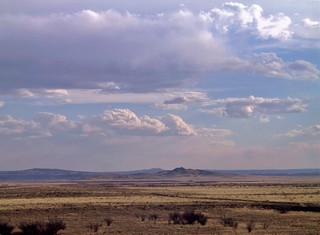 We travelled most of the day with the horizon miles and miles away. This picture was taken toward the end of the day as we neared Albuquerque, New Mexico.
I think one reason that we enjoy this area of the U.S. is because it is so different from Ontario.

On Monday night, the 19th, we stayed in Amarillo, TX and visited with RV friends. After a second 300 plus mile day, it was wonderful having dinner prepared for us when we arrived. Thanks Tony & Heather.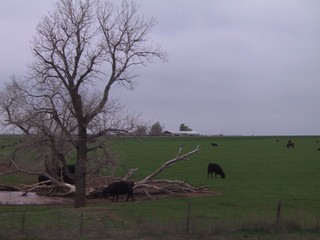 Tuesday was another long day -380 miles (610 km) with arrival in Tulsa, OK in the afternoon. The area of Oklahoma we travelled through is very fertile. We are back into green fields and lots of water.
We arrived in Chanute, KS Wednesday afternoon and stayed at the campground in town. It is free for 48 hours and we found that NuWa, the manufacturer of our Hitchhiker II 5th wheel, sponsors it. At 7 AM the next morning we left the trailer at Service for warranty work and stayed at the Super 8 that night. We toured the NuWa factories for a very informative insight into the manufacture of our trailer.
While in Chanute, we went sightseeing to Toronto about 35 miles away – that's right, Toronto, Kansas.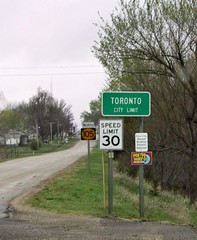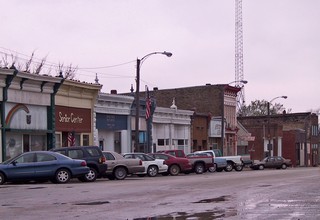 The population is 296. We think we'll keep our own Toronto!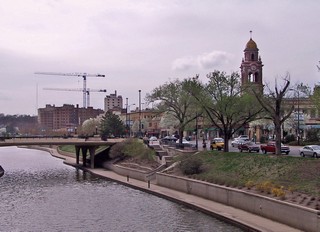 With the rush to make our 22nd appointment over, we took our time coming the rest of the way home. We really liked Kansas City! We had planned on one day there and stayed two. There is a manicured watercourse that goes for miles through the city and a great southwest themed shopping area close to it.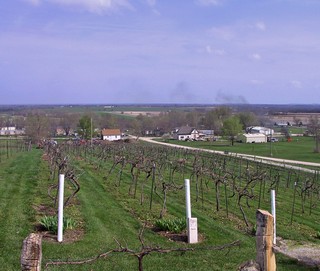 As we travelled east from Kansas City along Hwy 50, we came upon Bristle Ridge Winery and stopped to purchase a couple of bottles. When we expressed our surprise at there being a winery in Missouri, we were informed that Missouri was the largest wine producer in the nation prior to Prohibition. Who knew?
We crossed the Mississippi River into Illinois at Louisiana, after having toured Mexico a few miles west. It is interesting how many duplicate names there are for communities. In that same general area you can find Paris, California, Cuba, Vienna, Lebanon, Buffalo, Kingston, Memphis and so on and so on. It's not just in Missouri that you'll find this happening, it's everywhere.
Springfield, the capital of Illinois, was the home of Abraham Lincoln from 1844 til 1861 when he moved to Washington on his election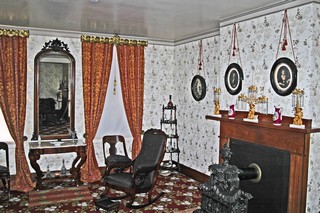 as the 16th President of the United States. We toured the house and the whole 4 block historic district that is being restored to its mid 19th century appearance. There were pencil drawings of some of the rooms in the house, so restoration has been quite accurate. This is the front parlor, the most formal and public room and is the room where Lincoln was advised, in 1860, of his nomination as the Republican Party candidate for President.

After a stop in Indianapolis to get information on the Indy 500 we travelled straight north to the Elkart area which is east of the bottom tip of Lake Michigan. In this area, 50% of all RV are manufactured.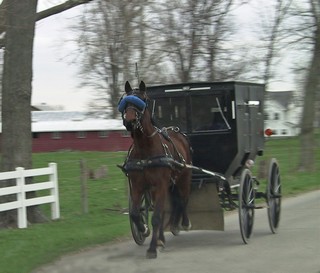 We toured the Jayco factory – that was the make of our previous 5th wheel. It is also Amish country and we were totally blown away by the wonderful farms, the immaculate housekeeping and the classic simplicity of the homesteads. We travelled local roads as we headed east and were very careful as we met or passed the numerous horse-powered vehicles. We saw horses at almost every farm and there were two 6 horse hitches working the fields.
Our route home brought us across the border at Windsor on March 31st and we continued on to Chatham that night and then to Green Acre Park in Waterloo on Sunday. We are here for a couple of weeks as our final destination – the KOA in Milton – won't have the water on until the middle of the month.
We will stay in Ontario until May 6th when we plan on embarking on a 5 week, 4 country (China, Cambodia, Vietnam & Thailand) journey. No – we can't drive the RV!! We are getting very excited about this trip and have been busy getting passports, visas etc. in place.
We had a great winter. We met new friends and reconnected with old friends. We saw amazing new sights and revisited some familiar places. The only thing we wonder about – what will the next year bring?? We're looking forward to it.
Bernie & Ross
Posted by Bernice at 12:45 PM | Comments (7)