« Texas to Tucson 07 | Main | Mexico - Part II »
March 10, 2007
Mexico - Part I
Sunday, Feb 25th we headed south from Tucson to cross the border at Nogales. First of course we had to stop and purchase automobile insurance. Your U.S. or Canadian insurance does not cover you in Mexico. It is reasonably expensive. It cost us $286.35 U.S. for 14 days of liability coverage on the truck and trailer and collision on the truck. The agent told us that once you reach 35 days it is cheaper to purchase an annual policy.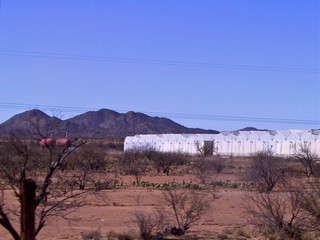 Once again, there was no personal inspection or stop going into Mexico, although 21 km down the road we needed to stop to obtain a visitors visa which costs about $24 U.S. each..
The landscape here is very similar to southern Arizona, with desert shrubs and huge piles of rock erupting from the earth. We passed some very large greenhouse complexes that appeared to be hydroponic agriculture. They were set right in the middle of barren desert and certainly would get all the sun that they need.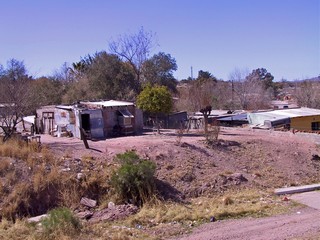 We stopped in Santa Ana for an excellent lunch at a roadside stand. This was our first chance to see up close (and while not moving) some of the houses that had been visible as we drove along. We were amazed at the housing in so much of the area that we visited. Shelter is made of anything; plywood, canvas, tin sheets,corrugated metal, cardboard – anything available. However, no matter how rudimentary the house, there was most often a line of clean wash hanging out. Even in such a basic shelter as the one in this picture, there is occasionally an air conditioner. You can see it through the wall on the right hand side. It gets very, very hot in the summer.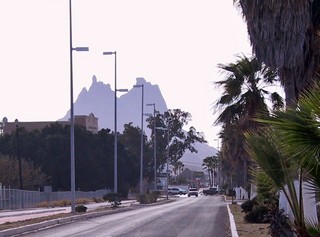 We arrived in San Carlos late in the afternoon, after a very long drive which took us along the edge of Hermosillo and then about 90 miles further south to just north west of Guaymas – a total of 330 miles from the campground in Tucson. The highway is 4 lane all the way, however as you go through the villages and towns speed is reduced. Not just reduced, almost stopped. They control the speed by "topes" (speed bumps) and they are so severe that you need to drop to a crawl not to damage your vehicle. On the open highway there are no "topes" but there is also no shoulder to the road and the drop off from the pavement can be anywhere from 2 inches to 2 feet. There are signs warning of the sharp edge but as would be expected, they are in Spanish. Our Spanish/English dictionary got a good workout figuring out the traffic signs.
The road is in good repair and very busy. It is the main highway down the west side of Mexico and is well travelled by 18 wheelers and intercity buses. There are pull offs quite often, however again the pavement drops down 4 to 10 inches at them, so we didn't even attempt to take a break there with the trailer behind us. We were glad to arrive.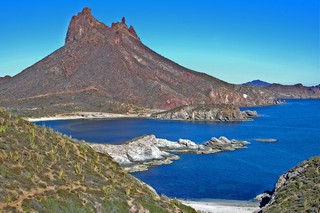 San Carlos is located on a bay in the Sea of Cortez and we stayed at a park quite close to the older area of town. We walked in to the grocery store and to the fruit & vegetable stand. One day we drove to the end of the road and the viewpoint out over the Sea of Cortez. Looking back from the viewpoint you could see the mountain that overlooks the town and was so obvious as we arrived. These are big hills – that is a dirt road at the bottom left, on the closest hill in the picture.

We went in to Guaymas on Thursday. It is a city of more than 125,000 and is an old port, now a fishing centre. It also is a departure point for one of the ferries across the Sea of Cortez to the Baja. There is a central square and a central market. We ended up at Ley's, which is a large Mexican supermarket chain and has excellent selection. In driving through parts of the city, we saw extreme poverty and also quite lavish homes. This seems to be an area of great contrasts.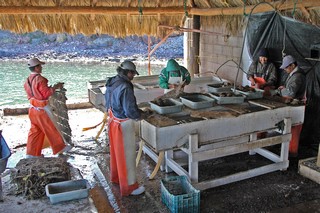 On Friday we visited a Pearl Farm operation. This is the only pearl farm in the Sea of Cortez. The oysters that are used are only found in this one area of the world. The farm was started by 3 University students as an experiment for their Master's degree thesis. It turned out to be successful and they now operate it commercially. They produce beautifully coloured pearls – blues, greens, grays, pinks and also half pearls in the same colours. It was a great free tour and one I would recommend to everyone.

That afternoon we went golfing at the course in San Carlos. Didn't have great scores but did enjoy ourselves. In the evening we went for dinner with some new acquaintances, Bob and Joann. The restaurant is a teaching facility and when we ordered Caesar Salad, we were treated to approximately a 15 minute preparation done step by step right at our table. Did you know that Caesar Salad was invented in Mexico? We didn't know that either.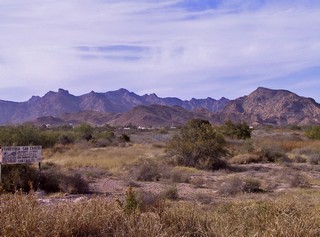 We enjoyed our time in San Carlos and would certainly go back there again. The weather was wonderful – about 80 to 85 F during the day with only about 15% humidity and at night you really did need a sweater or light jacket.
There were good restaurants, the golf course and Guaymas only 20 Km away.
But, it still really isn't the Mexico that we thought we might find this far south of the U.S. border. I guess the west coast of Mexico on the Sea of Cortez has had so much tourism that it is bound to feel Americanised.
On Sunday, March 4th, we headed north and then west again to Bahia de Keno, also on the Sea of Cortez.
We'll let you know what we found there in the next journal.
Till then
Bernie & Ross
Posted by Bernice at March 10, 2007 11:31 AM
Comments
Hi
Good to hear from you--Mexico has never interested me and still doesn't. Will send you a letter at your normal adress soon to tell you our plans in Canada. We will be staying a week just north of Quebec City so will have several days to visit it. Anyway, it still sounds as if you are having too much fun!!!!!!!!!! Bette
Posted by: Bette Andrew at March 28, 2007 07:26 PM