« From Tucson to Las Vegas | Main | The road home Winter 07 »
March 25, 2007
Grand Canyon
We left the opulence of Las Vegas the morning of Friday March 16th and headed back through Laughlin to Kingman and finally to Williams, AZ. Mandi & Quincy had rented a car and they travelled the road over Hoover Dam and from there to Williams. We didn't take the trailer that way, as we were advised that there were severe restrictions, since 911, on vehicles crossing the dam. Apparently, every truck and RV is inspected and could be turned back. Part of the restrictions are also because of the construction taking place for a new bridge being built over the gorge.
The five of us spent the day of the 17th at the canyon. It is only about an hour drive from Williams to the south rim of the canyon. I think the best way to express the overpowering grandure is through pictures, which in no way can give the true sense of size and power.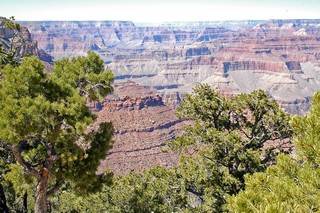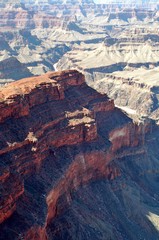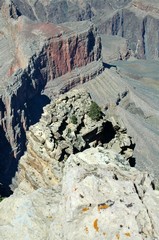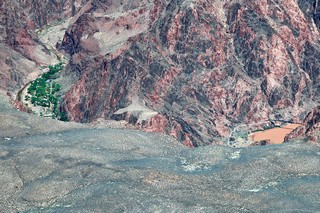 The use of a long telephoto lens allowed us to capture some of the greenery along the river at the bottom of the canyon. If you look carefully at the right you can discern a foot bridge spanning the river. While standing here, we also saw bright coloured rafts running the river.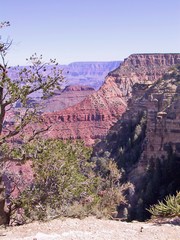 A few facts about the Grand Canyon:
– about 277 miles (446 km) along the river
– an average of 10 miles (16 )km wide
– 7000 ft elevation at the South Rim and 8,000 ft at the north rim.
– the rims are about 5,000 ft above the water.
– rocks in the canyon are hundreds of millions of years old but the canyon itself has an estimated age of six million years or less.

On our return to Williams, once again we were treated to a wonderful sunset.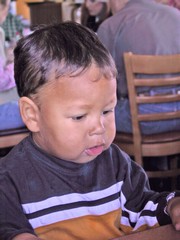 One more picture – since I have given updates on our Ricardo since he was born almost 18 months ago.
He really has grown and is talking up a storm. He is constant motion and gives the most wonderful hugs. We miss him.
We said goodbye to Mandi, Quincy & Ricky the morning of March 18th. They headed south to Tucson for a visit with Aunt Joan before flying back to the Bahamas on the 21st.

We started our journey home and will be back in Canada by March 31st with a stop at the Hitchhiker factory in Chanute, Kansas.
We'll send you our final journal for this winter in a couple of days.
Bernie & Ross
Posted by Bernice at March 25, 2007 05:50 PM
Comments
Is there anything more beautiful than a south western sunset!
Posted by: Michael White at April 10, 2007 10:42 AM
Hi
Yes, the Grand Canyon is truly incredible and you cannot describe it in words or even in pictures. You really need to be there to experience the feeling you receive. Have been there twice--both times the north rim and if you ever get a chance try to see that. I was there with my parents in the 50's and saw a double rainbow over the canyon. Glad you are home safe and sound. Bette
Posted by: Bette Andrew at April 10, 2007 08:58 PM
Dear Bernice/Ross:
You may remember us from about a year ago (later in April) at Green Acres in Waterloo. We were on our first weekend in our Airstream and it was a bit rainy.
We enjoy getting your missives and especially the pictures. You take very nice pictures.
We travelled only in Ontario last year. I was still working until July but this year we hope to travel a bit further.

David and Wilma Peirson
Posted by: David Peirson at April 13, 2007 11:37 AM
Hello,
I have enjoyed getting your news letters. We plan to fly to Las Vegas in September and spend some time there before visiting my son in Los Angeles. I wondered if it would be better to rent a car to view the canyon or take tours. The pictures you sent made me realize how amazing the canyon is. Should we use Los Vegas as a hub & take day trips from there. I am not sure whether we will drive to L.A. or take a bus. I believe it is about a 4 hour drive. We will not need the rental car in L.A. because my son has a car for us to use.
Thanks for your help. I am starting to plan our trip.
Take care,
Susan
Posted by: Susan Smith at April 16, 2007 12:21 PM