« Mexico - Part II | Main | Grand Canyon »
March 20, 2007
From Tucson to Las Vegas
We left the casino, south of Tucson, on Saturday morning March 10th. We met my sister Joan on our way through Tucson, as we had left a couple of bags of Texas grapefruit at her place before we went into Mexico. You can't bring citrus into the U.S. even if it is U.S. citrus that you are returning with. The Texas grapefruit is so good we didn't want to take a chance that we would lose it. We then stopped in Phoenix overnight before continuing on to Laughlin, Nevada.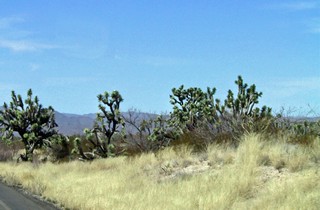 We followed US 60 then 93 that runs on an angle from Phoenix to Kingman. It is a desolate road after you pass Wickenberg. The land is again dry and there are huge hills with long quite steep grades and deep river valleys. At one point we drove through a very extensive Joshua Tree forest.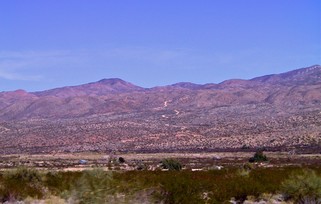 There were also long valleys as we neared Kingman, AZ.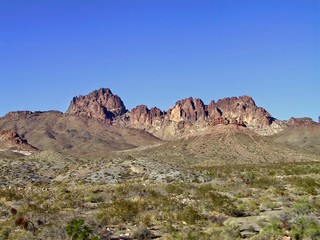 From Kingman we went straight west to Laughlin which is on the Colorado River. The road as you go down to the river is a 14 mile hill with a steady 6% grade. Going out the other side to Las Vegas is about a 17 mile uphill pull with about the same grade but at least it does have a few flatter sections. It's a good thing there is gambling in Laughlin – there sure isn't any obvious other value to the land in the area.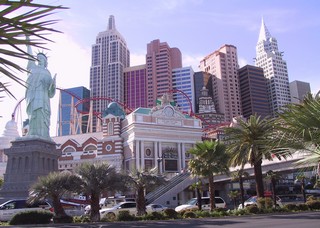 We arrived in Las Vegas on March 13th and set up at the Circus Circus RV Park, on the north end of the strip. We picked up Mandi, Quincy and Ricardo at the airport that evening. Barn & Shell, as well as Barn's mom and grandmother, were already in Vegas, . The next couple of days we spent being overpowered by the opulence and extravagance of the buildings, decor and facilities. One example is this picture of the hotel complex New York New York! All the buildings are 12 guest towers – just one hotel. The Statue of Liberty is a faithful copy which rises from a pool of water with a tub-boat and gushing fountains. If you look carefully, you'll see the red roller coaster track through the middle of the resort.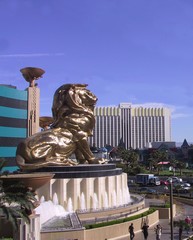 The MGM Lion, weighing some 100,000 lbs, stands 40 to 45 feet high in front of the MGM Grand Hotel. This hotel complex covers over 114 acres, with 5,000 rooms and a 170,000 sq. ft. casino (the size of 4 football fields)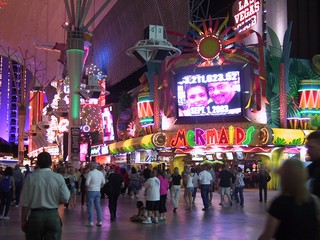 The old downtown Las Vegas has been revitalised with "The Freemont Street Experience, which is a show of 2 million lights on the canopy covering 4 blocks of the street.
The Casinos in the downtown are much smaller, older and less impressive than on the strip, but they still retain the feel of the old Las Vegas.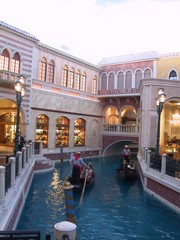 These singing Gondoliers are inside the Venetian Hotel & Casino. The canal winds throughout the hotel and is probably 750 to 1000 feet in length. It isn't even at ground level.
Barn's grandmother (she is from England and it was her first visit) wondered how she was going to make her friends at home believe that she had had a gondola ride on a Venetian canal, built on the second floor, inside a hotel which itself is built in the desert.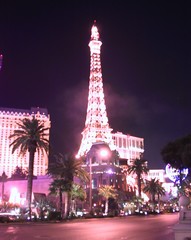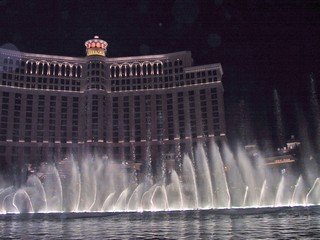 Las Vegas at night is lights! The Eiffel Tower at the Paris Casino is 50 stories high and the dancing waters in Bellagio's 11 acre lake are mesmerizing. Everyone should go to Vegas at least once in their life. You don't need to gamble a nickel to enjoy this spectacle in the desert.
We left Las Vegas on Friday March 16th having said goodbye to Barn and Shell and family at a great dinner the night before at the Cheesecake Factory at the Forum Shops at Caesar's Palace. Mandi and her men are coming with us as we head back toward the east with a destination of the Grand Canyon.
The next journal is about that.
Bernie & Ross
Posted by Bernice at March 20, 2007 02:10 PM
Comments
Great pictures Bernie! Sounds like your really enjoying your trip! We're home now, in the 'snow', hard to believe!! Enjoy your journey!!!
Posted by: Bill & Sharran at April 5, 2007 03:51 PM
Hello,
So, how well did you do at the tables in LasVegas? We have driven by but never stayed. Have been in Laughlin a couple of times but that was years ago--as you said, other then casinos why would you go there? Does sound as it you are having a marvelous time. The Grand Canyon is amazing--don't know if you have been there before. The North Rim is incredible! Travel Safe!!
Bette
Posted by: Bette Andrew at April 5, 2007 08:46 PM
I hope I got through. I'm not sure what url means. We really enjoy your journals. We did Tuscon, Vegas and the Grand Canyon. Enjoy.
Love, Bobbi
Posted by: Bobbi at April 5, 2007 11:26 PM