« Into the Winter of 2006/07 | Main | Big Bend National Park - Part I »
February 12, 2007
South Texas - Winter 2007
We arrived at Trader's Village campground early in the afternoon of Christmas Eve. The campground is right beside a HUGE outdoor flea market. It was miserable weather – wet cold drizzle (about 45F (7C). We wandered around for a bit, watching hundreds of people doing their last minute shopping, before we headed back to the trailer and snuggled in all warm and cozy.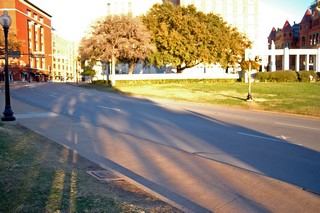 Christmas Day was still cold but the sun came out by noon. Since it was the holiday, we decided it would be an excellent time to head to downtown Dallas and visit the site of the Kennedy assassination. As you can see there was little traffic. The red building in the upper left is the Texas School Book Depository where Lee Harvey Oswald shot JFK from the 6th floor window. The X on the road on the right side is the location of JFK when he was hit. After having read and heard about this for years it was a very somber time to wander over the area.
We wanted to go out for a traditional turkey dinner, but had to change our plans. Don't count on restaurants being open in the Dallas area on Christmas Day. We ended up at a Chinese Food Buffet which was very good – and they even had turkey, mashed potatoes and gravy.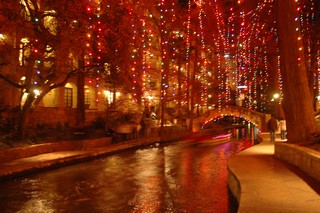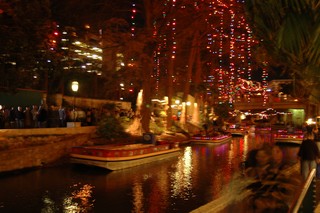 San Antonio is renowned for it's Riverwalk and what a spot! From Nov 24th till New Year's Day it is illuminated with 120,000 lights. We took one of the narrated river cruises which is probably the best way to see all the lights and learn about that area of the city. After that we wandered along the canal, sipping a coffee and enjoying the whole atmosphere.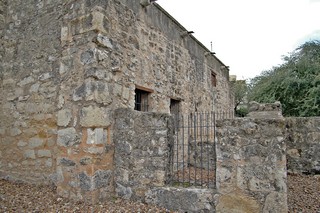 There is a neat area called Market Square which includes " El Mercao" patterned after an authentic Mexican market, as well as a Farmer's Market. From there we visited the Spanish Governor's Palace which was built in 1722 and served as the home of the Governor of Tejas (Texas) during the Spanish Government period that ended in 1821.
Of course, when you are in San Antonio, it is a must to visit "The Alamo". Originally a mission built in 1724, it is most famous for the 13 day defence against Santa Anna's army in 1836 during the Texas Revolution. Among the Alamo's garrison were Colonel William Travis, Jim Bowie and Davy Crockett. It is best remembered as a heroic struggle against overwhelming odds – about 200 defenders vs 4000 Spanish army troops
Deborah and George, friends from Edmonton. were flying down to South Padre Island for a vacation and we had arranged to meet them for New Year's Eve. We left San Antonio with a promise to ourselves to come back again as there were a number of sights that we didn't get time to visit.


We headed straight south on Hwy 281, over to 77 at Raymondville and on to South Padre via 100 which takes you past the Port Isabel lighthouse and across the bridge to the island. The island is really a sand bar and reminded us of Miami Beach. Certainly not as built up yet, but from the amount of construction they sure are trying.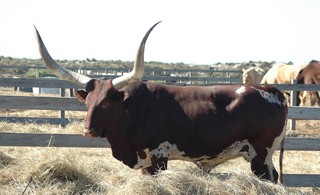 It's great that we had good friends to help celebrate the New Year as the weather was the pits. It was quite cold and often rainy. One day the four of us drove up the island as far as the road goes. Happened to see this bull in a pen along the road. Now that is one BIG set of horns. Another day we all went to Matamoros, the Mexican town across the border from Brownsville. The taxi ride back to the border from the market was unique. The 30 year old cab had the front right tire half flat, a loud knock in the motor - crankshaft? we're not sure what – but it got us there and – the cabby was great. He gave us a rundown on all the buildings we were seeing as we travelled the couple of miles back.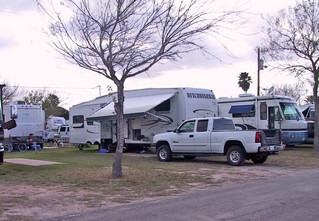 We left the island Jan 4th and headed about 80 miles up the Rio Grande river to Tradewinds RV park in Mission, TX. We had spent a week there last winter and decided that we would spend a month this year. There is a terrific group of people, many from Ontario, and we were looking forward to golfing, happy hours and cards. Well, we had the cards, some happy hours but only two days of golf. We had a few days of good weather when we arrived and then it turned cold and wet. Folks who have been coming to the valley for 20 years said that they had never had it so cold and wet for such an extended period. Last year the campground was basically dust – this year, as you can see, it was grass.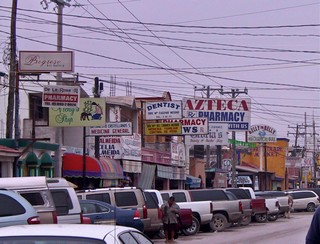 Towards the end of our stay, we once again crossed into Mexico to do some shopping. This time we went to Progreso – I swear it is the Dentist & Pharmacy capital of the border towns. In the picture to the left, there are signs for 4 pharmacies, 3 dentists and one doctor, and that is just one side of one block of a street probably 10 blocks long. Many Winter Texans go across to have dental work done and to get prescriptions. Much cheaper! One of our neighbours in the Park has gone over to the same dentist for 12 years. The pharmacies were all very clean and professional looking and many of the people in the park get their prescriptions filled there.

We visited RV friends at other parks in the valley. One couple, Heather & Tony, here from England, are travelling in their motorhome with their 2 dogs. We have met up with them in Waterloo, ON, Shediac, NB, Milton, ON and now Mercedes, TX. This lifestyle just puts your friendships on a different schedule than most.
Super Bowl was always a party when we had a house, so – we held one in our trailer. We found out we can comfortably hold 12 and everyone could still see the TV. Dinner at half time was crowded but manageable. I provided the chili and with everyone else providing the rest, no one could say they were hungry.
We did many of the same things as last year and then more: the Citrus Parade was on again and our park won 3rd place for our float, we went to Ropa Ustada (used clothing) and dug through piles and piles of clothes, we went out to eat at Pepi's, we went to old McAllen to shop and we ate the wonderful valley grapefruit and oranges, we played bingo and we played cards, we went to craft shows and RV and Travel shows and found out just how fast a month can go.
There was a big pot luck the night before we left and with about 35 at it, you can imagine the amount of food! One reason we will be glad to be on the road is because we are eating way too much! It seems every time we turn around there is food.
But, both of us are still in travel mode and we want to see many more things. We are heading into Big Bend National Park and will be in touch after we leave there.
Keep smiling
Bernie & Ross
Posted by Bernice at February 12, 2007 11:36 AM
Comments
Good lord those are a set of horns!
Drive safely you'll!
Love,
MJ
Posted by: Michael at February 13, 2007 08:50 AM
Great narrative - AMAZING pictures. Continue to enjoy.
Best regards,
J and A
Posted by: Jill & Alan at February 15, 2007 10:45 AM
Thank you so much for the info in the letter you sent. We will be spending a week about a half hour north of Quebec City so do intend to spend time there but thank you for your input about what is best to see. Since we have that time in the city may still try to do the Gaspe area. Sounds as if you are having a fantastic time--will be anxious to see what you think of Big Bend NP. Travel safely. Sincerely, Bette
Posted by: Bette Andrew at February 23, 2007 06:55 PM