« Nova Scotia - from A to A (Amherst to Annapolis Royal) | Main | Summer 2006 - the trip home »
September 30, 2006
Nova Scotia 2006 - the Atlantic Coast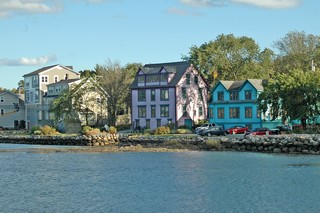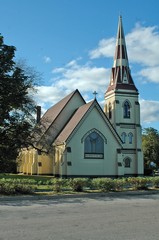 Mahone Bay is a summer area for residents of the Halifax/Dartmouth area. It is a pretty town with well kept homes and all the various shops that one would expect in a resort type village. We spent a whole afternoon wandering in and out of galleries, antique stores, etc. Three Churches greet visitors as they arrive and have stood on the bay since the mid-1800s.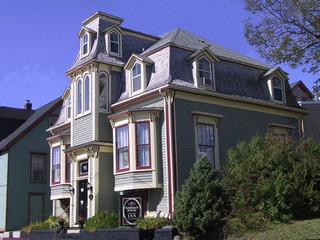 A visit to Lunenburg's historic downtown is like taking a trip back in time, where dozens of historic buildings and homes dating back to 1760 have been beautifully maintained. In 1995 the United Nations declared Lunenburg's Old Town area a UNESCO World Heritage Site.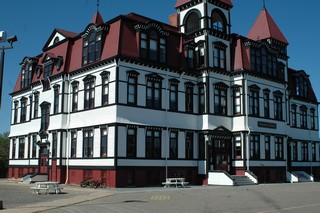 The beautiful Lunenburg Academy was built in1895 at a total cost of $30,000. Like most construction projects it was over budget – by $5,000. It is still being used, today as a primary school.
Lunenburg was the home of the original 1921 Bluenose and also the Bluenose II built in 1965.
The original Bluenose was the undefeated champion of the North American fishing fleet and winner of four international schooner races. Her picture graces the back of our Canadian dime.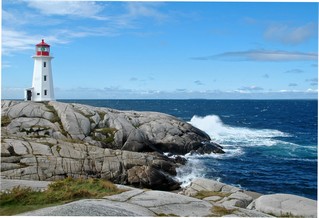 Peggy's Cove – it's just as picturesque as we remembered.
The rock is worn smooth from the waves but actually the footing is quite good as the rock surface has almost a texture to it.
The lighthouse is the Post Office in the summer and you can have letters hand cancelled there with a special stamp.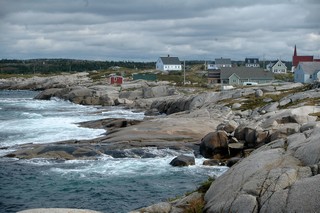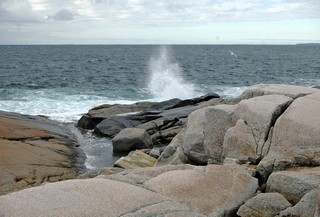 We visited with family while we were in the Halifax area and didn't really do any sightseeing as we have visited the city a number of times before. Of course, the Citadel is still there looking over Historic Properties and we stopped at the casino to leave our contribution. The Rolling Stones performed for 50,000 fans the week-end we were there.
We are now heading home as we want to be in Cambridge by Thanksgiving. Mandi & Ricardo (and Qunicy later) are coming home from the Bahamas for a visit. Ricky is walking so we are looking forward to seeing him. It seems like a long time since Easter.
We'll head back via Fredericton and the St. John River valley, so we'll send one more journal as it's a very pretty trip.
Bernie & Ross
Posted by Bernice at September 30, 2006 05:03 PM
Comments
Hi
So enjoy your pictures and information. I imagine you are quite close to home by now. We have quite a lot of information on that area now and are really looking forward to being there in June. Have a great and safe trip home.
Sincerely, Bette
Posted by: Bette Andrew at October 30, 2006 04:45 PM