« Prince Edward Island 2006 - Part II | Main | Nova Scotia - from A to A (Amherst to Annapolis Royal) »
September 15, 2006
New Brunswick 2006 - Sussex Balloon Festival.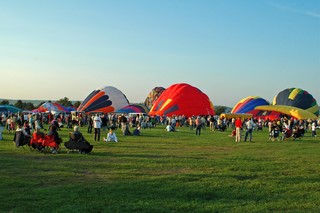 The town of Sussex, half way between Moncton and Fredericton hosts a balloon festival each fall.
Fortunately, on the Friday night the balloons were able to lift off, even though there was more than an hour's delay until the wind died down.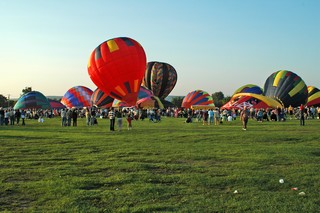 As the burners are fired to start filling them with air, the balloons seem to rise like some huge animals rousing from their sleep.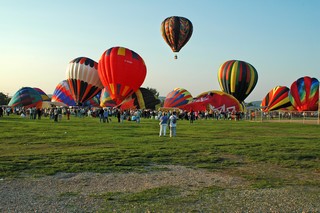 The first one is in the air!
There is really no control over where the balloon goes. The pilot can control how high or low, by adjusting the flame and that does give a little measure of direction – but the chase cars have to go after them as they don't land in a particular spot.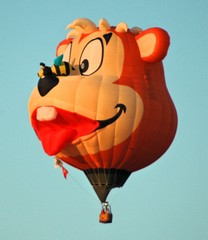 This one is called Honey Bear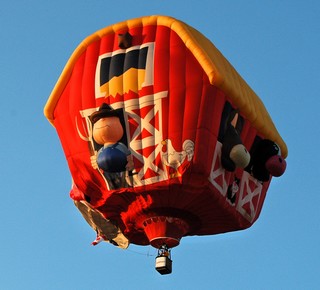 This one is Old MacDonald's Farm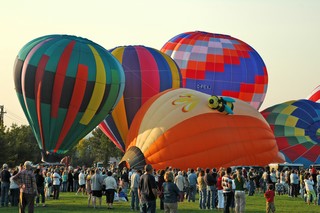 They come in every colour and pattern and as you can see even some very special shapes. The participants come from all over North America for this festival. It is apparently the last one of the balloon season.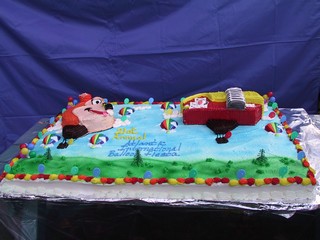 After the balloons took flight there was a huge cake – at least 3'x4' – served to everyone.
There was also an excellent craft exhibit building as well as carnival rides and games and other exhibitors.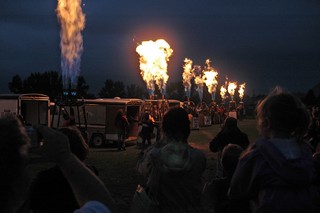 Unfortunately, Saturday evening a storm blew in just at the time that the balloons should have taken off so they didn't have a flight. They did however have a "burn" after it got dark and the rain had stopped.
We were all able to see the baskets and burners up close. It's amazing how much heat those burners put out.
We're taking a couple of days off – going over to Shediac to meet RV friends who have been on Newfoundland all summer. We've been busy so it will be nice to stop for a couple of days and do nothing.
After that we are headed into Nova Scotia.

'Til then
Bernie & Ross
Posted by Bernice at September 15, 2006 09:46 AM
Comments
Great shots! Thanks for keeping up up to date on your adventures.
Rick and Gill
Posted by: Rick Russell at September 28, 2006 09:10 AM
Loved the pictures of the balloon festival. We were there a couple of years ago. One of the balloons landed in Ken's cousins field. He owns a large dairy farm at Sussex. If a balloon lands in your field, you're gifted with a bottle of champagne. He does rather well each year.
Sounds like a wonderful trip--enjoy!
Dawn
Posted by: Dawn Gibbons at September 28, 2006 10:16 AM
Hi Bernie & Ross:
Still reading your journal with interest.
We have been hearing alot lately about RV-ing in Mexico. In one of your earlier journals you describe your trip through Mexico.
Can you forward that to me again and can you tell me the pro's and cons about rv-ing in Mexico.
We are planning to go back to Mission.
Jack and Anita
Posted by: Jack & Anita Riddell at September 28, 2006 09:05 PM
Hi! guys:
That was beautiful. I always wanted to go to Albaqurque, not sure of the spelling, maybe this one would be great too.
Was great meeting you. Thanks for all you did for Shirl.
Love gail parks
Posted by: Gail Parks at September 29, 2006 07:55 PM