« New Mexico to Home | Main | Quebec 2006 - The St. Lawrence River »
August 19, 2006
It's been a while!
We're on the road again!
I'll send a journal in a week or so to cover the first part of our trip which will eventually take us to the Maritime Provinces. We will not have time this trip to go to Newfoundland as we will be back home to Cambridge for early October.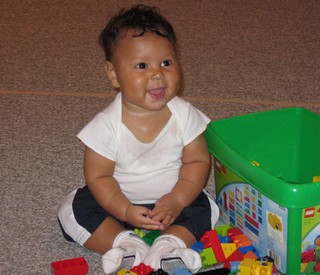 Mandi, Quincy and Ricardo are once again coming home for the Thanksgiving holiday.
It's hard to believe but Ricardo will be a little over a year old when we next see him. Time sure does fly! This is a picture of Ricky at Easter. We think he is wonderful, but then perhaps we are a little prejudiced.
Mandi expects that he will be walking by the time they get here as he crawls everywhere and walks along the furniture whenever possible.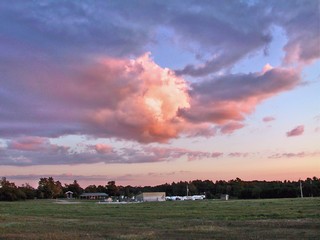 We have had a good summer. We stayed at Green Acre Park in Waterloo for the month of April and then transfered to a quite new park, Flamboro Valley Camping Resort, just west of Hwy 6 on Hwy 97 east of Cambridge. The folks, Doug & Irene, John & Margaret, were great and we became quite involved with activities in the park. This was only the 3rd full season for the park and they are continuing to expand quickly. It's on my recommended parks list. I also want to recommend our neighbors, Jim & Debbie as well as Mickey across the way.
As the campground is out in the country we had some wonderful sunsets and cloud formations. As well as being a very good park, it was also only 20 minutes from Barnaby and Michelle's home.
We have been busy. We did a lot of landscaping at Barn & Shell's as they decided that the front yard was too overgrown for their liking. It had been professionally landscaped when the house was new, 14 or so years ago, but as everyone knows, trees, shrubs etc do keep on growing. There is still more to do next year but they seem happy with our work (and so are we).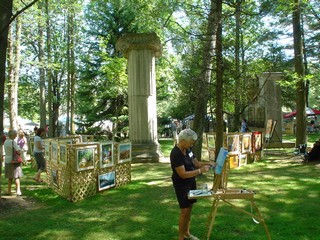 I really missed painting with my Wed. group in Toronto so started looking for other artists in the area of the park. I found a group in Milton that paints Wednesday during the day and joined them. What a pleasure to get back to the paintbrush. We decided to wait to leave on our trip until the middle of August so that I could be in Art Naturally, a juried show that is held annually in the gardens of the Guild Inn in Toronto. As you can see, the setting is wonderful, the weather was exceptional and to top it all off – I sold 6 paintings! A very successful show! I expect that I will find wonderful vistas as we travel east and should have many new paintings for the next show.

One day, earlier in the summer, we played tourist in the area. We started the day by going to the St. Jacob's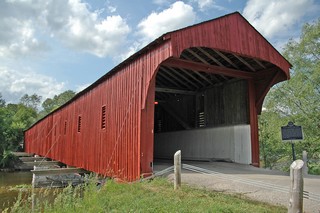 Farmers Market. If you are ever in the area, make sure that you visit it as there is something there for everyone. In particular are the baked goods and preserves brought in by the Mennonite women – and of course there is the produce! We continued north to Elmira and from there we followed the back roads through the county, looking at the wonderful Mennonite farms, the Conestoga River and dam and, after a stop in St. Jacob's for ice cream, the West Montrose covered bridge. This is the last covered bridge left in Ontario and has been kept in wonderful condition, considering that the road still goes right through it.

We will be sorry to be away in September as we will miss being there to support Michelle in her fourth year of walking in the Weekend to End Breast Cancer. As many of you know, in 2003 I lost my youngest sister Faye, to breast cancer. Michelle and Barnaby have concentrated their energies to this battle. Over the past 3 years Michelle has walked and Barnaby has "crewed" in Toronto and they have worked as "crew" for the walks in Calgary, Winnipeg and Ottawa and London, England. Michelle will be walking 60 km over two days with about 4,500 others. We'll be thinking of her the weekend of September 9 & 10. If any of you would like to help sponsor her (each walker must raise a minimum of $2,000 to be allowed to walk) please go to her web site link http://endcancer.jeansfamily.ca and follow the instructions.
So we are off again. As I write this journal, I am sitting on the banks of the St. Lawrence River, looking at the Chateau Frontenac across the river. It's cloudy, so I don't know how the pictures will turn out, but I'll get back to you again in a few days to bring you up to date.
Bernie & Ross
Posted by Ross at August 19, 2006 11:00 PM
Comments
Oh, I am so glad you are back on the road again. I really missed all the updates. As the Maritimes are one of our very favorite places we will enjoy everyone of your commentaries.
Mary Ellen
Posted by: Mary Ellen Chambers at August 24, 2006 10:51 PM
Well, seems you are off again having a wondeful time. I would love to see the Maritime provinces so will be anxious to see your journal.Where you were this summer looked really beautiful. We have had a warm summer and quite a few fires in the area but they seem to be under control again. Who is the painter?
Sincerely, Bette
Posted by: Bette Andrew at August 31, 2006 01:06 PM