« Arizona - Part II | Main | It's been a while! »
March 31, 2006
New Mexico to Home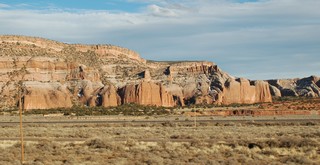 As we headed east the land is still striking with flat plains interrupted by coloured cliffs and buttes. The weather was getting colder and from Albuquerque we headed north east to Santa Fe, the capital of New Mexico. It, at 7,000 feet, is nestled in a valley between the Jemez and Sangre de Cristo mountains ranges with peaks rising to 12,000 feet.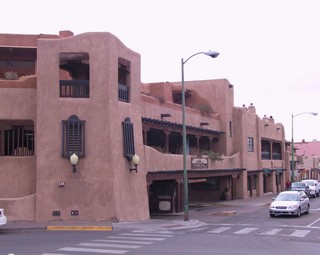 The Spanish arrived in Santa Fe in 1607 and it is considered to be the second oldest city in the United States. The buildings look Spanish-Pueblo and apparently years ago the city enacted legislation to set the appearance of any new construction. Buildings, including fast food restaurants and convenience stores must be painted in the various shades of brown that are sanctioned and they must also conform to the traditional adobe style. There is also a height limit. The building to the left is a perfect example – it's a parking garage.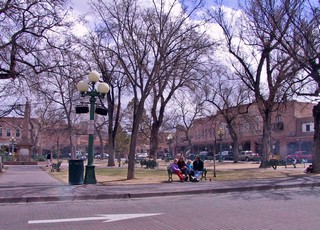 We walked around the square which has been the centre of Santa Fe since its founding. It still is a centre of commerce, festivals and history and although it was quite a raw day while we were there ( it actually snowed later) there were many families and visitors there. Surrounding the plaza are many galleries with pottery, silver and turquoise jewelry and other quality southwestern art. Along one side numerous native artisans sold their crafts. We will definitely come back to spend more time here, but we will try to make it when the weather is better.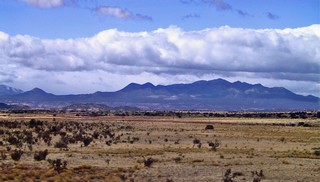 We left Santa Fe and the beautiful Sangre de Cristo mountains on a sunny but chilly Monday morning, March 20th and headed further east on I-40 across the Texas panhandle.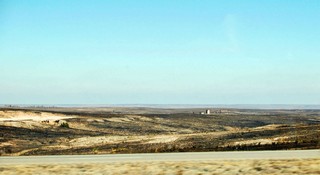 The second day brought us into the area where the wildfires have been this winter. About 10 days before we went through the area near McLean TX, the highway had been closed because of the fires around it. The Interstate obviously acts as a fire break as the burnt area came right up to the north side of the road but the south side was (in general) untouched.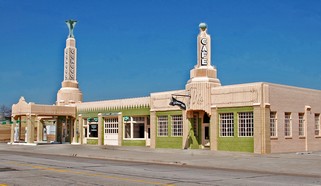 We have been following the old Historic Route 66 since we turned east at Flagstaff, AZ. It was the original highway from Chicago to Los Angeles and was the main street of most of the small towns that we have been passing. We have gone off the interstate on a number of occasions to follow Rte 66 and have found most of the towns in decay. The bypass by the interstate killed so many of the businesses that depended on the traveller. Occasionally, however we found wonderfully preserved examples of the architecture of the day. This former service station in Shamrock TX now has a second life as the Chamber of Commerce.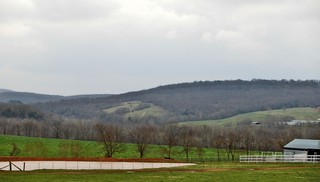 Our next destination was Branson, Missouri so we headed across Oklahoma, through the corner of Arkansas to the south east section of Missouri. We have been in green all the way through the rolling terrain of Oklahoma. Branson is in the Ozark mountains, which are the oldest on the continent, and are more like very large heavily wooded rounded hills.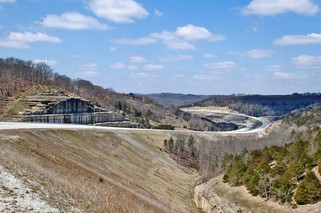 Branson is the newest live entertainment destination on the continent. It wasn't until the early 90's that growth really took off. We were talking to a "local" and the town used to be 3,500 – it now has 6,000,000 visitors a year. It has at last count 47 theatres that produce shows encompassing country & western, comedy, dinner shows, acrobatic acts and illusioinists. There are all types of restaurants available and dozens of family entertainment venues such as mini golf and go-carts. The city is built on hills and has a great road system with Blue, Yellow & Red routes that keep you away from the absolute traffic jam on the "strip", Hwy 76, the main street where most of the theatres are.
We went to two shows. One was Pierce Arrow, a fabulous musicical show with a good supply of comedy included. I laughed so hard I actually had tears running down my cheeks. The other show was Dolly Parton's Dixie Stampede which was a dinner show where we ate the entire meal with our fingers. We were in an arena and during the meal, horses and riders did trick riding, barrel racing and chuck wagon racing. There were ostrich races and racing pigs. We had a ball and the food was great!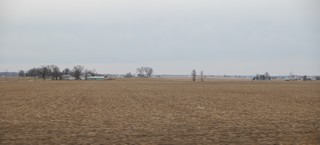 We left Branson on Sunday, March 26th and headed home. The road took us past St. Louis, MO, through Illinois, around Indianapolis IN, through Flint MI and across the border at Sarnia, ON. The land is very much like south western Ontario and we have been through this area a number of times before so we didn't stop to sightsee.
We took 4 driving days to cover the almost 1,000 miles from Branson. We have decided that in general we do not like travelling more than 250 miles (400 kilometers) in a day. The crossing at Sarnia was uneventful and after a stop in London, we were at the campground in Waterloo by about 5PM.
It's good to be home, but we will be on the road again sometime this summer – not sure exactly when. Mandi & Quincy are coming home for a visit at Easter, with our grandson Ricardo and will be staying with Michelle. As you can imagine we were glad to see Shell & Barn when we got here, and look forward to our time with all our family.
We have had a good trip (just under 19,000 km) this winter and hope that you have enjoyed the journals. We'll keep in touch and you'll hear from us when we are on the road again. If you are planning to travel and would like more detailed information about any of our destinations, please send us an e-mail or give us a call at 416–436–7232. We'll be happy to share what we have learned with you.
Till then, keep well, enjoy every day and smile.
Ross and Bernie
Posted by Ross at March 31, 2006 05:58 PM
Comments
Welcome home kids. Looking forward to seeing you both soon.
M
Posted by: Mike at April 6, 2006 03:47 PM
Hello,hope you remember the 'newbies'you met in June/2007 at the KOA in Campbellville.We had just picked up our Taylor Coach and were ready to hit the road.It's been a blast! We've been to Shipshewana,IN.,Traverse City and the U.P.Michigan[we heard they had reisling wineries-and they do!]Won $5700 on a penny machine in Brimley[near Sault,Mi.]Swam in lake Superior in Sept.and am now writing you from Grand Is.N.Y.after a visit with family in MI.,PA.and Christmas shopping in Buffalo.We can't stay home!Bernie,you said we were close to making the 'big plunge'and I'm beginning to agree.Our winter plans are sketchy--we want to be on water and settled for mid-Jan.-mid-March somewhere the kids can drive to from Barrie-maybe Myrtle Beach? If you guys have any advice-we sure could use it.If you don't remember us --thanks for sharing your adventures with us!I am 1/2 way through and have enjoyed every word-you had just returned from China when we met and am looking forward to reading about that trip.Take Care,Gary and Marg [and Maxine,our Schnoodle]
Posted by: Gary/Marg Daniels at October 25, 2007 03:29 PM