« Texas West | Main | New Mexico »
February 14, 2006
Carlsbad Caverns
Carlsbad Caverns National Park covers 46,776 acres and within it is Carlsbad Cavern, a series of huge rooms that forms one of the world's largest caves. Formations range from small, delicate growths resembling plants to giant stalagmites, stalactites and columns. The Caverns were first used more than 1,000 years ago by prehistoric Indians who ventured into the daylight areas of the cave. In the 1800s settlers discovered the cavern because of the thousands of bats rising up out of the natural entrance in the evening. They actually mined the bat guano and sold it as fertilizer. In the early 1920s the first tours were taken by lowering visitors 170 feet in a bucket. In 1923 it was proclaimed a national monument.
We descended into the Cavern by the Natural Entrance – there is also an elevator which we took back up. It descends more than 750 feet over a distance of 1 mile and follows steep and narrow trails through a tall spacious passage. It took us about an hour and a half to get down through the Main Corridor to the Big Room. In total we were about 4 hours just walking through.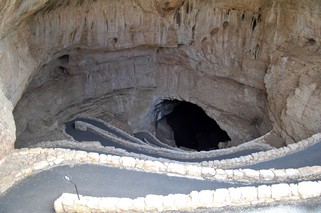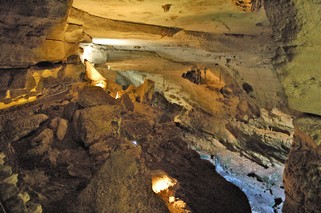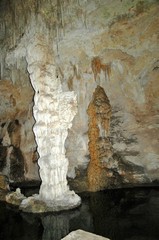 Ross took the underground pictures as time exposures with a Nikon D70 DLSR camera, using a tripod and no flash. We also did some adjusting once down loaded to the computer.
There are even lunch room and wash room facilities underground. Note the rock ceiling.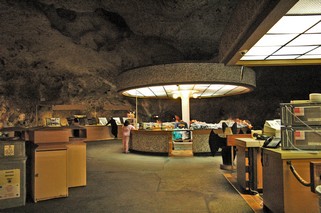 The Big Room is in the shape of a cross, 1,800 feet in one direction and 1,100 feet in the other. The ceiling arches 255 feet high. It is so full of rock formations that we were unable to get a good picture that shows the true size. Instead, we have a number of pictures of individual formations.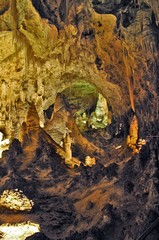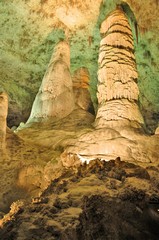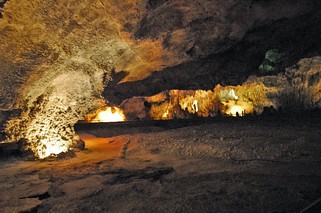 Although it is hard to visualize from these small images, most of the geological structures shown here are several stories tall.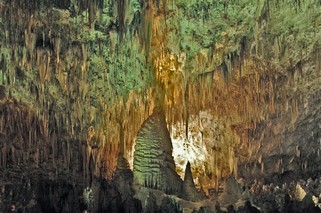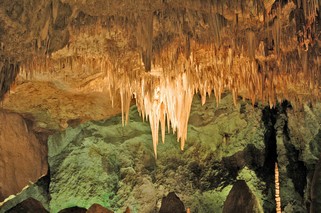 The stalactites that make up the "chandelier" are at least 20 feet in length and the "chandelier" hangs probably 100 feet or more above our heads.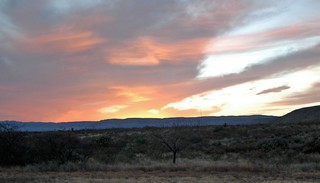 When we got back up it was late in the afternoon. That evening we were rewarded with a spectacular sunset over the Guadalupe Mountains.
A friend in Mission had told us that it was worth every mile we had to drive to see the Caverns.
He was right!
Bernie & Ross
Posted by Ross at February 14, 2006 07:05 PM
Comments
Hi Ross
Keep 'em coming
Love the tour.
Meryan (card lady)
Posted by: Meryan at March 5, 2006 07:50 AM
Keep on truckin'!!! We miss you
Posted by: Michael White at March 5, 2006 10:47 AM
WoW that was just beautiful, thanks for sharing your adventure.
Posted by: cheryl at March 5, 2006 10:48 AM
Just WOW! What fantastic pictures. You must be having such an incredible time! If you get to NV go to Great Basin NP and see the Lehman Caves--not as spectacular but very, very interesting. Can't remember whether I commented on TX but we were thru part of it one time and I was not impresssed. Keep having a great time.
Sincerely, Bette
Posted by: Bette Andrew at March 7, 2006 07:37 PM
You sure do get around! And then there's those of us that still have to work for a living!
Cheers, Bob P.
Posted by: Bob Paterson at March 9, 2006 04:08 PM