« January 2006 | Main | March 2006 »
February 26, 2006
Arizona Southeast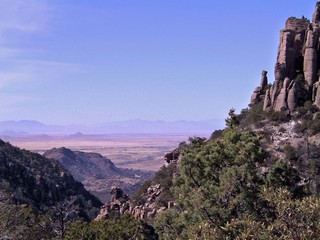 Chiricahua National Monument is at an elevation ranging from 5,180 to7,825 feet in mountains that rise above the surrounding grasslands. This was Chiricahua Apache country. Led by warriors such as Cochise and Geronimo, they were the last Native Americans to hold out against the US Army in later 1800s.. On Monday, Feb 13th we travelled on a rough unpaved road over Apache Pass from Bowie where we were were camped. You can also go around the mountain range on a paved road but it doesn't have the same feel. We hiked a 3 mile tail in this wonderful area of bizarre rock formations created over the last 27 million years. The forces of erosion have sculpted this 2,000 foot layer of fused volcanic ash into an odd array of strange towers and columns of stacked and balanced stones. No wonder the Apaches could just disappear here.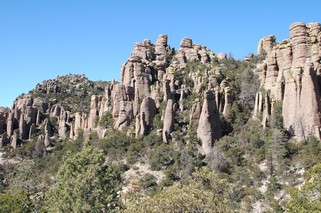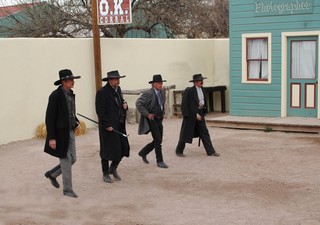 Tuesday we moved to Tombstone and in the afternoon went to the Shootout at the OK Corral. A bit of fun in an interesting town that has kept the main street quite authentic. We went for lunch at Big Nose Kates (she was Doc Holliday's lady friend) and wandered around the graveyard where Billy Clanton and the McLaury brothers are buried. The gravestones for the years 1881 and 1882 seem to show that the majority of those being buried were murdered, killed in shootouts or "found dead". Not good years in that town.

The next day we travelled further south to the town of Bisbee which by 1900, wa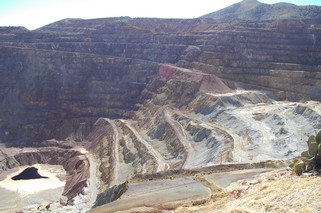 s the largest cosmopolitan center between St. Louis and San Francisco. This was because of the discovery of the Copper Queen Lode. Over the years the Bisbee mines produced more than $2 billion in copper, gold, lead, silver and zinc. By the 1970s most of the mines had closed but artists, art galleries and studios have taken over the town. They have also preserved alot of the Victorian architecture of the town. We took a town tour which included a visit to the open pit mine seen on the right. The pit is 950 feet deep. The slag from the mines is about 3% copper. The town expects Phelps Dodge to come back to reprocess the slag, as with the current price of copper, it is now economical at concentrations of only 1 1/2%.
We arrived in Tuscon on Thursday, Feb 16th. Both of my sisters are on holidays in the southwest during February. Joan is in Tuscon and Madeline in Mesa. It was great to get to see them. With us on the road, it is harder to get together with family so we take the opportunity when we can.
We spent a week in Tuscon and visited the historic downtown, took a day off to do nothing, got a hair cut, did a number of loads of wash and went to Joan's for dinner. On Monday, Madeline & George came down from Mesa and the next day we all went to Nogales Mexico. It was fun bartering with the shop keepers – a real battle of wills. We stopped at a casino on the way home and left our contribution to the community.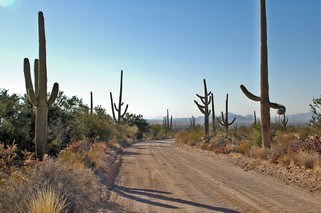 On Wednesday we went out to the Arizona-Sonora Desert Museum and then to Saguaro National Park. The Museum is a combination of zoo and plants that thrive here in the Sonoran Desert region. The Saguaro cactus are everywhere. We learned that they can live to be up to 200 years old and grow very slowly. They don't usually even produce "arms" until they are at least 35 years old. They absorb water when it rains but there has been a terrible drought and right now they are quite slender. A good rain can provide them with enough water for them to live on for up to 2 years.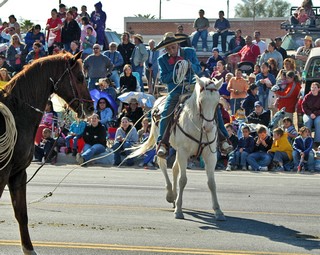 The Tuscon Rodeo was in town and the parade was on Thursday Feb. 23rd. We were amazed. The Rodeo is so important that the schools were closed for two days – the Thursday and Friday.
It is the largest non motorized parade in the country and there were 114 entries in the parade. Talk about horse power! Actually, it was a great parade and there were 10s of thousands of people out to watch it.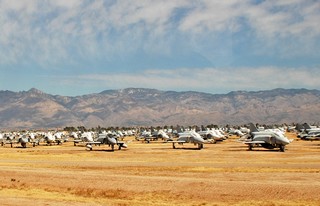 Before we left Tuscon, Ross took a tour of the Aircraft Maintenance and Regeneration Centre at the Davis-Monthan Air Force Base. It's nicknamed "the boneyard". This is one of the areas where the U.S. Armed Forces send their surplus or obsolete planes for storage, parts or demolition. The tour took him right out among approximately 5,000 planes.
We are now heading west along Interstate 8. We haven't decided whether to go into Mexico or not. I guess we had better make up our minds soon. We'll see.
Bernie & Ross
Posted by Ross at 10:10 AM | Comments (1)
February 24, 2006
New Mexico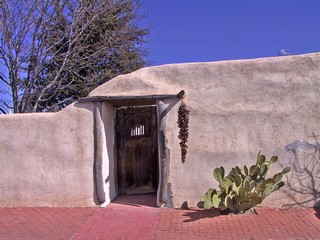 Mesilla is just a couple of miles south of Las Cruces and about 35 miles north of El Paso. It has some wonderful old adobes surrounding the plaza. The Spanish style of enclosed courtyards is very much in evidence here. It was in this town that Billy the Kid was tried and sentenced to death in 1881. Unfortunately, the town allows parking all around the hiatoric old square so any picturesque value is ruined. We did find some individual houses on side streets that were quite charming, This whole area is irrigated and agriculture is important. Chili farms are particularily plentiful.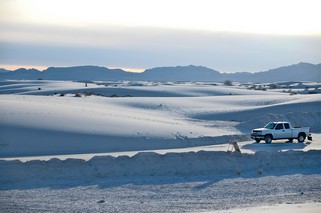 We then headed northeast and made camp in Alamagordo. After unhitching, we headed back a bit south to White Sands National Monument. It's the source of rare gypsum sands that form snow-white dunes that rise as high as 60 feet about the basin floor. Rain & melting snow wash tons of gypsym from the surrounding mountains into Lake Lucero in the southwestern portion of the monument. The wind dries it and then breaks it down into sand-sized particles which the winds blow into dunes. We took a ranger guided tour out into the dunes at sunset. They look and behave exactly like snow. Below are a couple more pictures.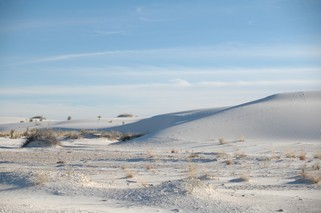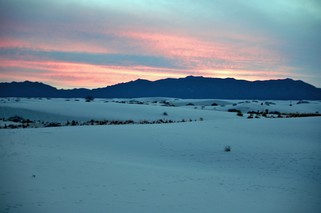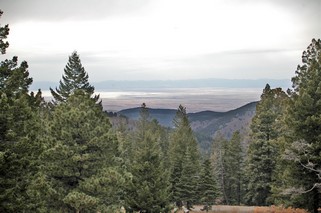 The next day we headed up into the mountains to Cloudcroft, a resort at the summit of the Sacremento Mountains. We talked to one of the residents who said that they usually have about 2 feet of snow at this time of year. There is none. The ski resort (it's the most southerly one in the US) is empty and the cross country ski and snowmobile rental places are closed. Everyone is worried as the snow is essential to the water supply for this coming year. We continued 15 miles up to Sunspot and the National Solar Observatory where we took a self guided tour and also had spectacular views of the valley below. That white in the picture is the north end of White Sands National Monument.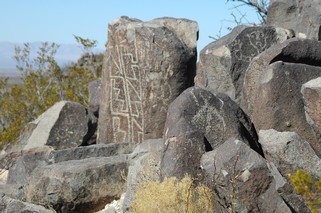 We had to go north about 60 miles from Alamogordo in order to go west across the Tularosa basin as north end of the sand dunes is the White Sands Missel Range. It's claim to fame is that it is where the worlds's first atomic bomb was exploded in July 1945.
On the way we stopped at an interesting petroglyph site. There are more than 21,000 individual petroglyphs which are believed to have been inscribed in about A.D. 900–1400. No – we didn't see them all!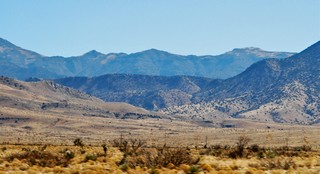 We are travelling through wide flat valleys surrounded by quite high mountains. These are not the rugged solid rock of the Rockies but more like scrub-covered huge piles of rubble.
We stayed just outside of Truth or Consequences for a couple of nights Feb.10 & 11th. Truth or Consequences was a radio game show in the 40's and the town of Hot Springs changed its name in 1950 to celebrate the 10th anniversary of the show. It's now known locally as T or C.
Up in Ontario we hear about people going to Florida, Texas, Arizona for the winter. We don't hear very often about New Mexico. I think I know why. The first night in T or C it was 27F (-3C) and the second night about the same. We decided it was time to get back to warm so headed out toward Arizona the next day.
Talk to you from there.
Bernie & Ross
Posted by Ross at 01:48 PM | Comments (1)
February 14, 2006
Carlsbad Caverns
Carlsbad Caverns National Park covers 46,776 acres and within it is Carlsbad Cavern, a series of huge rooms that forms one of the world's largest caves. Formations range from small, delicate growths resembling plants to giant stalagmites, stalactites and columns. The Caverns were first used more than 1,000 years ago by prehistoric Indians who ventured into the daylight areas of the cave. In the 1800s settlers discovered the cavern because of the thousands of bats rising up out of the natural entrance in the evening. They actually mined the bat guano and sold it as fertilizer. In the early 1920s the first tours were taken by lowering visitors 170 feet in a bucket. In 1923 it was proclaimed a national monument.
We descended into the Cavern by the Natural Entrance – there is also an elevator which we took back up. It descends more than 750 feet over a distance of 1 mile and follows steep and narrow trails through a tall spacious passage. It took us about an hour and a half to get down through the Main Corridor to the Big Room. In total we were about 4 hours just walking through.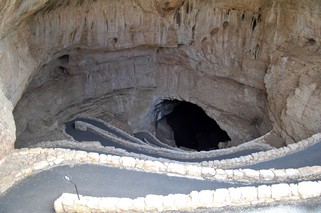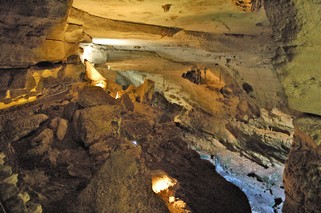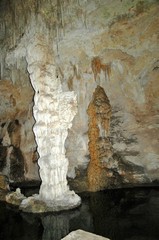 Ross took the underground pictures as time exposures with a Nikon D70 DLSR camera, using a tripod and no flash. We also did some adjusting once down loaded to the computer.
There are even lunch room and wash room facilities underground. Note the rock ceiling.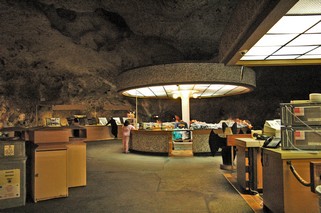 The Big Room is in the shape of a cross, 1,800 feet in one direction and 1,100 feet in the other. The ceiling arches 255 feet high. It is so full of rock formations that we were unable to get a good picture that shows the true size. Instead, we have a number of pictures of individual formations.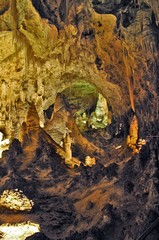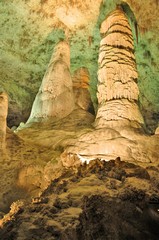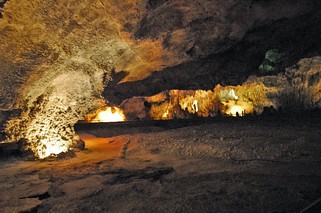 Although it is hard to visualize from these small images, most of the geological structures shown here are several stories tall.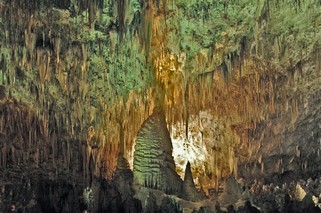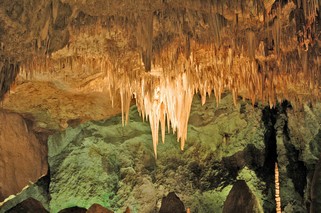 The stalactites that make up the "chandelier" are at least 20 feet in length and the "chandelier" hangs probably 100 feet or more above our heads.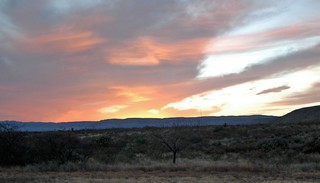 When we got back up it was late in the afternoon. That evening we were rewarded with a spectacular sunset over the Guadalupe Mountains.
A friend in Mission had told us that it was worth every mile we had to drive to see the Caverns.
He was right!
Bernie & Ross
Posted by Ross at 07:05 PM | Comments (5)
February 13, 2006
Texas West
The road to Laredo runs northwest beside the Rio Grande but again we could not see it most of the time because of the berm. The land is flat and along the valley there is irrigation that allows for farming and cultivation. The weather since we got to the valley has been very warm during the day – from 75 to 85 F – but it does cool down nicely during the night. One night there was a little rain, but in general it is dry with the sun every day. Great for us but not so great for the farmers in the valley.
We were going only 140 miles and planned to stop in Laredo for one night as we were on our way to – we weren't really sure – either Carlsbad Caverns in southeastern New Mexico or Big Bend National Park in southwest Texas.
Laredo is a major border town and that is about the best thing that can be said about it. Actually, the best thing was the county park that we stayed in right beside a man-made lake. We drove downtown that afternoon to the historic district and walked around, but even the historic district has little to impress. It's an old town and is struggling. 'Nuf said.
So, Thursday morning, Feb. 2, we packed up to leave. Problem. When I went to close the slide on the passenger side of the trailer, it wouldn't. The rear end moved the front didn't. After numerous calls to our dealer in London and also the Hitchhiker factory in Kansas, it was determined that a pin had sheared. Fortunately, we have a hydraulic jack with us and with much fiddling and about an inch or two at a time, we were able to get it closed. Laredo had no RV dealer and no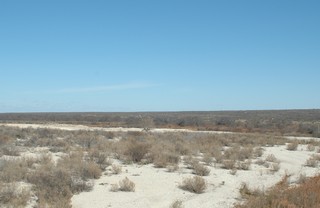 RV repair service to help us. Our dealer in London made arrangements for us to go to a dealer in El Paso on the following Tuesday. We could have gone earlier but decided to go to Carlsbad on the way. This all took us about 4 hours so we stayed another night in Laredo.
Did I say the land was flat. The land is flat. It's still sunny and warm as we headed northwest stopping one night in Del Rio – a lovely border town surrounded by cultivated land as there are springs in the area for irrigation. We toured the Val Verde Winery, the oldest winery in Texas and happened to be in town for the "First Friday Art Walk". The art galleries open their doors in the evening and have wine & refreshments and the local artists are also in attendance.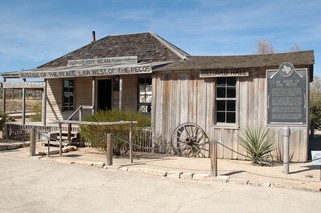 The next day, we visited Lantry, just off the main highway, to see where Judge Roy Bean, the frontier judge, dispensed beer and "the law west of the Pecos" from a saloon. His original saloon is now maintained by the National Park Service. Apparently he always sentenced the guilty party to a fine and kept the fine for his fees.
There is also a wonderful botanical garden with native desert plants.
We arrived at Carlsbad Caverns in south eastern New Mexico early on Sunday Feb 5th. I'm going to send a separate journal with pictures of the Caverns. They are wonderful.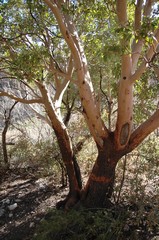 On Monday we headed southwest toward El Paso. We stopped and hiked a 5 mile trail into McKittrick Canyon which is in the Guadalupe Mountains.. This canyon has its own ecological system due to its changing elevation, water supply and protection within the mountains. We saw oak, maple, pine, juniper and chokeberry at the higher elevations and all the regular desert plants such as prickly pear, agave, cholla at the lower elevations. It really was an oasis of green.
We arrived in El Paso late in the afternoon just as the sun was going down and ended up driving through downtown directly into the sun. Sure were glad to get to the campground north of the city. It was right beside American RV where we had the appointment for the next morning at 8:30.
We were treated very promptly and the technician was excellent. They had a little trouble getting a pin to hold but everything seems to work just fine now. The dealership provides free coffee, hot chocolate and danish in the morning and since we were there at lunch time, we also received a free lunch.
Thursday, Feb 8th we headed into New Mexico. We are getting further north now and the nights are starting to get very cold. It was just a little over 0 C in El Paso so it's nice to have a good furnace.
We'll be in touch in a bit.
Bernie & Ross
Posted by Ross at 06:52 PM | Comments (0)
February 05, 2006
Texas Rio Grande Valley
I made a mistake in the last journal when I said that Brownsville was the most southerly city in the US. Actually Key West is quite a bit further and Miami is about 1 degree latitude further. So my apologies on the geography error.
We arrived in Brownsville in the early afternoon of Thursday Jan 19th as it was only about 70 miles (110 km) from the park we were staying at, south of Kingsville. After we had set up, we headed across the city to try to find friends (Ed and Lois) from Ontario. All we knew was that they were on East Boca Chica (the main street) and that they drove a Dodge 3500 dually and had a Terry 5th wheel. We started at the first campground we came to and drove up and down the rows looking then continued on to the next campground. We found them at about the 5th park. As you can imagine they were very surprised to see us as they hadn't known that we were coming to Brownsville. We all headed out that night to the Golden Corral – it's a buffet – and then they came over on Saturday to our place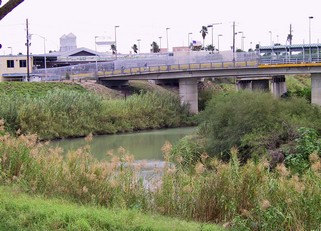 e for supper. It was fun.
Brownsville is on the Rio Grande river and this was our first chance to see this waterway that we have heard so much about all our life. What a disappointment. It's an insignificant looking, dirty stream that appears as if you could wade across and about as impressive as the Don River in Toronto. So much water has been diverted, used for irrigation and the river damed that there is little to impress at this point. I know there has been a drought so perhaps it is not always this low.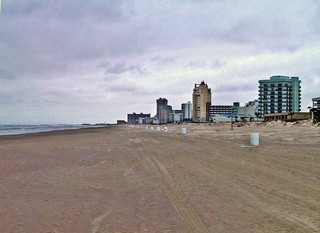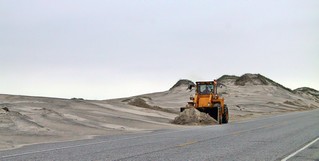 Having just been on North Padre Island, we had to drive the 28 miles to South Padre Island to see the difference. It's 4 miles of hotels, high rise and low rise and beautiful wide sand beaches. North of the hotels you can drive another 10 miles of unspoiled beach with huge sand dunes flanking the roads. The wind was blowing so hard that the sand was drifting across the road just like snow does. They had a front end loader out clearing the sand.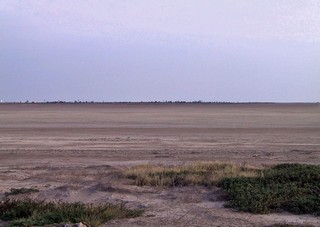 Another day we followed Boca Chica 25 miles east in hopes that we could see where the Rio Grande empties into the ocean. We travelled across massive salt flats to get there but unfortunately, the road ends well north of the river mouth. I guess you can drive down the beach to it but we opted not to as we don't have 4 wheel drive and there appeared to be a lot of sand drifts.
We did cross into Mexico while we were staying in Brownsville. You park your car on the U.S. side and walk across the bridge over the Rio Grande (see the first picture). There is no inspection as you go in – they don't even look at your passport. There were free shuttle buses to the market and it was interesting with all the small vendors and wares. Everyone bargains and you never pay the first price asked or even the second or third. We didn't buy anything that day but it was fun looking. Coming back over the border you have to go through U.S. Customs and Immigration and they do check your documents but we had no hassles. Mind you, they had sniffer dogs and many officers checking the vehicles that were coming in.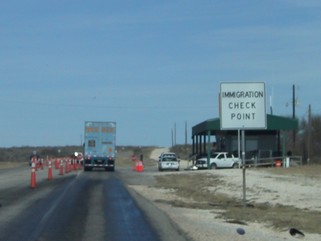 After spending 6 nights in Brownsville we headed to Mission, about 65 miles west, travelling along the road closest to the Rio Grande river. We could never see the river as there is a high berm built along it. The river winds a great deal so the berm also winds in following the river. On most of it there are lights and cameras and we were told motion sensors. We saw Boarder Patrol everywhere and there are numerous checkpoints where you are stopped. When the Boarder Patrol saw our licence plates we were usually waved through. It's a border problem that we in Canada are not familiar with.

We arrived in Mission Wednesday, Jan 25 in the early afternoon at Tradewinds RV Park. Friends from Ontario, Marg and Wayne Cocker, knew we were on our way and would arrived sometime toward the end of January. As we sat in our rig just inside the entrance trying to figure out where the office was, Marg came across the park to greet us. They had been watching for us and gave us a wonderful welcome. There were about 6 rigs from Ontario all parked in the same area and before we were even set up we were introduced to everyone.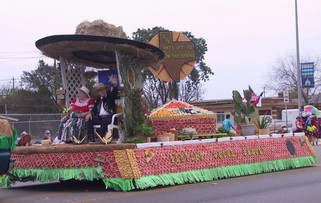 When we were north of Corpus Christie we got our first taste of Rio Grande Valley Texas grapefruit and oranges. They really are worth the drive – so big and juicy and inexpensive. Mission is right in the centre of the citrus growing and we were lucky enough to be there the weekend of the Citrus Parade. All the floats are decorated with citrus fruit that has been sliced, peeled, sculpted and used whole. It took close to 2 hours for the parade to pass our location. We bought BIG bags to take with us when we left.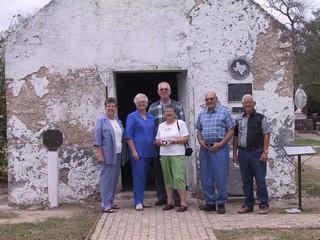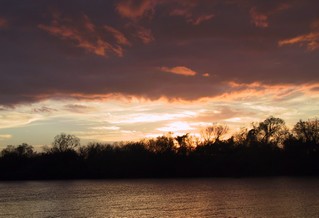 On Friday afternoon 12 of us we went to Pepi's for all you can eat shrimp or catfish – for $9.99. It's so popular that you have to go early if you even want to get a seat. The service wasn't great (actually it was terrible that night) but the food was terrific and so was the company. On the way there Marg & Wayne took us to visit La Lomita Chapel which is one of the oldest Texas missions still in use – it was built in 1865. Pepi's is built right on the Rio Grande and at this location it is much more what I expected the Rio Grande to be. It also was being patrolled by Border Patrol boats. Wayne said one of the boats would go 100 miles hour.
Ropa Ustada! Now that is an experience! As we arrived in Mission we had noticed a number of big warehouse type businesses that seemed to have a lot of activity around them. They were all named something like – Mission Ropa Ustada or Manuel's Ropa Ustada etc. On Monday we went to see them – they are used and new clothing warehouses that sell by the pound. The piles of clothes are at least 10 feet high in the middle of the warehouse floor and you just climb up, walk around and start searching. There is no sorting done so you take your chances. There were four of us from the park and we all knew what the others were interested in so we did find some items. I found three things for Ricardo, a smock for myself when I paint and a mosquito net for Ricardo's playpen. When I went to pay for them, the clerk weighed them and I had spent a total of 32 cents. It was a hoot and everything washed up beautifully.
Happy hour, bid eucher, jam sessions, golf, bingo. It was a busy time and made better by the folks there. We spent a week in Mission and have made new friends that we expect to keep in contact with when we all get back to Ontario.
This winter however, is a trip to discover many parts of the warm south – read no snow– and it's now February 1st and we are going on the road again. So, we packed up and with everyone there to send us off we head west again following the river.
Texas is a big state so we'll be in touch from the western part of it.
Bernie & Ross
Posted by Ross at 10:56 PM | Comments (2)