« From Home to Florida | Main | Texas Gulf Coast »
January 22, 2006
Florida to the Texas border
We headed northwest from Kissimmee the morning of Dec. 27th. It was sunny and warm as we passed groves of orange and grapefruit trees. Some of them were along the fence lines just like we see apple trees in Ontario. We stopped in Perry for the night and then continued west into the Florida panhandle on Hwy 96 which is the closest highway to the Gulf of Mexico.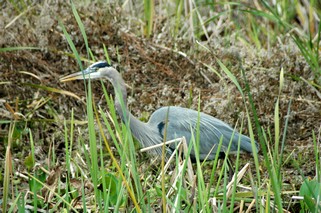 We took a side trip to Wakulla Springs State Park. It is believed to have been discovered by Ponce de Leon in 1513 who claimed it to be the "fountain of youth". The main spring water temperature is 70 F and has been explored to a depth of 300 ft. The average flow is 576 million gallons of crystal clear water a day. We took a narrated river cruise and saw hundreds of birds as well as alligators and turtles.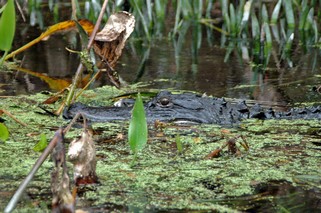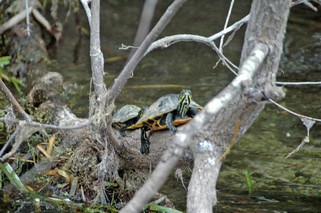 We continued further along the coast to Mexico Beach. It is right on the water southeast of Panama City . We planned on staying only one night but ended up there for 6 nights. We relaxed, visited Panama City, washed the trailer & truck and walked on the wonderful white sand beach. There was a pot luck supper New Year's Eve at the campground and then we drove along the coast looking for a coffee. All up and down the sand there were bonfires and people around them. We don't know if it is just in that area that they light the fires on the beach on New Year's Eve or if it is done elsewhere, but it looked neat. We never did get that coffee as EVERYTHING was closed.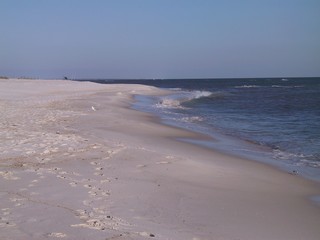 The picture to the left is the beautiful white sand in this area of the gulf.
Our next stop was just west of Pensacola as we wanted to visit the National Museum of Naval Aviation. We went to the Museum the afternoon of Jan 4th but it is so extensive that we ended up staying another day so that we could go back and finish seeing it. There are more than 170 historic naval aircraft and 4 A-4 Skyhawks are suspended from the ceiling in formation in the Blue Angels Atrium.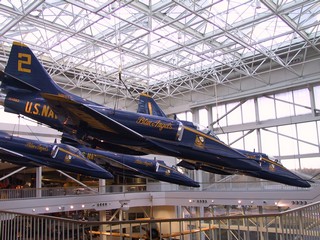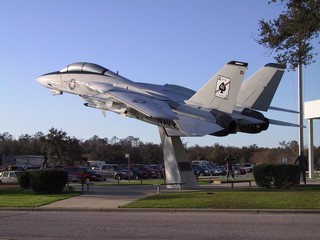 Since we were there the extra day we took the opportunity to go to the greyhound races. Unfortunately, we weren't allowed to take any photos at the races. (We didn't win anything)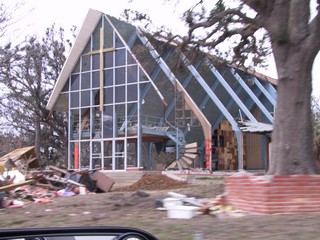 As we headed west we talked with a friend in Mobile, Alabama who suggested that we drive down along the coast to Biloxi and Gulfport. Her comment was that "until you personally see the destruction from the hurricanes, it is impossible to understand the devastation."
Oh, but she was right!
We felt like we were going through a war zone and this was already 5 months after it happened. We had been along the shore drive with our girls about 17 years ago and had marvelled at the wonderful old homes and beautiful beach. They are gone. We drove only about 10 miles but it was total ruin. Following are a few pictures but they can't show the emotion we felt as we drove past.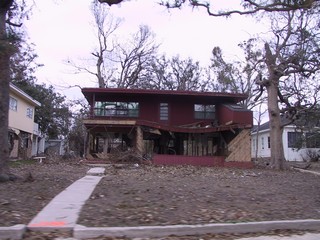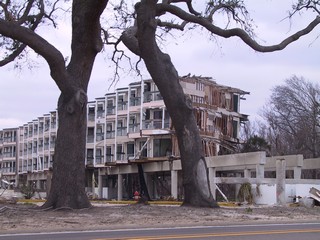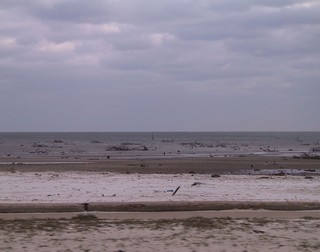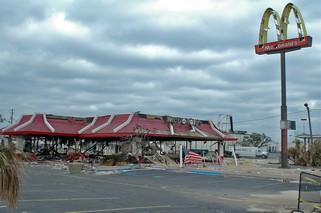 We arrived in Louisiana in the afternoon of Jan. 6th and went to the Visitor Centre just inside the border to find out about campgrounds. I had phoned 5 campgrounds that were located along the interstate north of New Orleans and had been told there was no spaces as they were all taken by relief workers or Katrina refugees. The ladies at the Centre (two of whom had lost their homes in the hurricane) told us that there was no accomodation anywhere until we got over to the western part of the state. They even had photocopied directions to get us to the WalMart parking lot in Sliddel just on the NE edge of New Orleans.
The next morning we decided that we would not go into New Orleans. First of all we were pulling the trailer, but I think of more influence – we still were too overwhelmed by what we had seen the day before in Alabama.
That night, Jan 7th, we stayed at a campground 4 miles east of the Texas border. All day we had been driving past signs of hurricane damage but they were gradually getting less the further west we went.
We are heading in to Texas tomorrow and will be keeping close to the Gulf as we head south.
Talk to you shortly from the Lone Star State.
Bernie & Ross
Posted by Ross at January 22, 2006 09:09 PM
Comments
Everything looked so very interesting--only been to Florida once and then stayed next to the airport for one night--what you saw seemed to be fascinating. The devestation in the gulf coast area is almost more then one can cope with. Have talked to several people who have been there helping and they also said it was unbelieveable. Anyway, enjoy your trip!
Sincerely, Bette
Posted by: Bette Andrew at February 22, 2006 01:42 PM
To bad we didn't know you were passing through on New Years Eve. We were in Ft. Walton Beach and probably were within miles of each other while you passed through. We go to the beach as much as possible and around Ft. Walton/Destin- they are some of the best you will find in the US!!
Posted by: Paul Graham at February 25, 2006 03:27 PM