« December 2005 | Main | February 2006 »
January 24, 2006
Texas Gulf Coast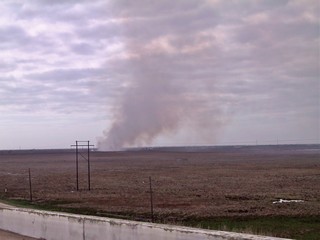 On Jan 8th, we entered Texas in the very south east corner, and travelled along I-10 til we reached Hwy 124 about 60 miles east of Houston where we turned south to the coast. The land is very flat here and we drove past quite a large grass fire. We could easily see the flames as we got closer.
We headed onto a long flat peninsula where we took a short ferry ride across the mouth of Galveston Bay to the city of Galveston. The city is on Galveston Island which is a barrier island 2 miles off the mainland and joined to it by a looooong bridge. We spent most of the next day exploring the city and surrounding area.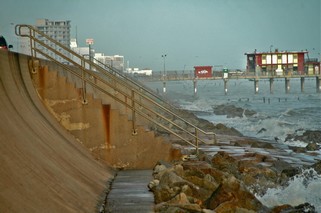 After a devastating hurricane in 1900 when 6,000 people died and the island was lashed by 100 mph winds and tides 15 ft high, the city erected a sea wall 17 ft high and 10 miles long. There is parking along most of it and the views of the gulf are wonderful. Some piers have been built out into the ocean with restaurants and fishing facilities on them. I guess they're hoping there won't be a repeat of the big one,
The following day we went to Houston. As it is a city of about 2,000,000 we expected to get into a fair amount of traffic but were amazed at how little there was. We were able to park at meters downtown with no problem. They have a tunnel system joining the downtown buildings. It's similar to Toronto's Underground City except there's almost no retail. It's mainly food outlets in the building basements and then real tunnels with no retail between buildings. It was in the underground that we saw all the people (it was lunch time) – very few were on the street.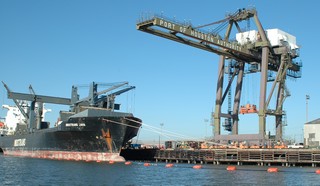 We had reservations that afternoon (they do that for security purposes) for a 90 minute boat tour of the 50 mile Houston Ship Channel. The Port of Houston handles more than 6,300 vessels and 150,000 barges annually. It's the 6th largest seaport in the world and handles 64% of all container cargo in the US. As early as 1837 a bayou near Houston was used as a harbour and gradually was widened and deepened to become this 50 mile long channel.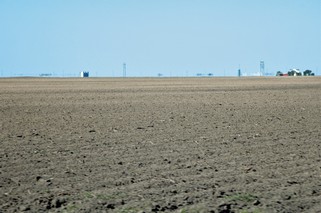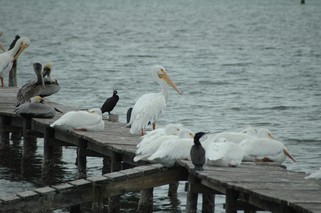 The area from Houston to Corpus Christie is very flat and you can almost see for ever. We stayed just north of Corpus Christie in the town of Rockport. Remember the white pelican that we discovered in Prince Albert National Park in northern Saskatchewan last September? Well, we found where they winter – on the Texas gulf coast.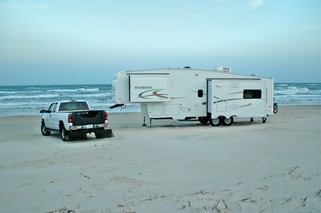 After 3 days north of Corpus Christie we headed to North Padre Island National Seashore where we parked right on the beach. (there were about 8 or 9 other rigs on the sand). The first evening we watched the high tide as it came to within about 100 feet of the trailer. The next evening when we came home in the dark after spending the day in Corpus Christie, the waves were coming right in under the trailer. An on shore wind of close to 40 mph had developed and it was also a very high tide. I must admit that we kept checking the tires and supports to make sure that the sand was not washing away when a wave came up too far. I'm not sure what we would have done if there had been a problem. By the time we went to bed, the tide was going out and no waves were coming up as far as the trailer. Interestingly, in the morning when we went to leave, the sand was actually harder than before the water had been on it.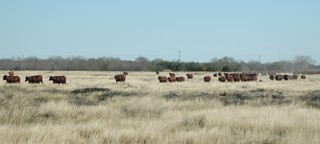 After leaving North Padre Island we continued south along the coast to Kingsville. We took a tour of the King Ranch founded in 1853. It's about 825,000 acres (finally Texas size) and has developed its own cattle breed – the Santa Gertrudus – and perfected the quarter horse. It is still a fully working ranch with about 300 cowboys and each cowboy has a string of about 8 horses. Most people know of the King Ranch because of the Ford truck that is named for it. An interesting fact about its size – You could purchase 100 square miles of the ranch and still have room to put the cities of New York, Los Angeles, Chicago, Atlanta and Boston inside the current Ranch borders.
Our next stop, Thursday January 19th will be in Brownsville, the most southern city in the US.
Talk to you from that area
Bernie and Ross
Posted by Ross at 04:53 PM | Comments (2)
January 22, 2006
Florida to the Texas border
We headed northwest from Kissimmee the morning of Dec. 27th. It was sunny and warm as we passed groves of orange and grapefruit trees. Some of them were along the fence lines just like we see apple trees in Ontario. We stopped in Perry for the night and then continued west into the Florida panhandle on Hwy 96 which is the closest highway to the Gulf of Mexico.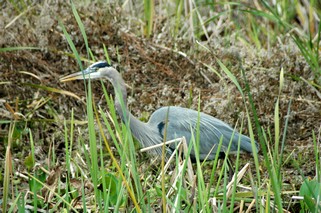 We took a side trip to Wakulla Springs State Park. It is believed to have been discovered by Ponce de Leon in 1513 who claimed it to be the "fountain of youth". The main spring water temperature is 70 F and has been explored to a depth of 300 ft. The average flow is 576 million gallons of crystal clear water a day. We took a narrated river cruise and saw hundreds of birds as well as alligators and turtles.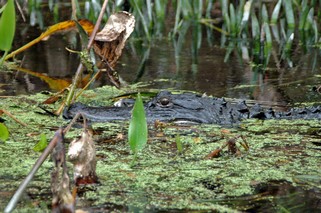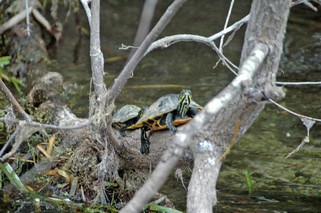 We continued further along the coast to Mexico Beach. It is right on the water southeast of Panama City . We planned on staying only one night but ended up there for 6 nights. We relaxed, visited Panama City, washed the trailer & truck and walked on the wonderful white sand beach. There was a pot luck supper New Year's Eve at the campground and then we drove along the coast looking for a coffee. All up and down the sand there were bonfires and people around them. We don't know if it is just in that area that they light the fires on the beach on New Year's Eve or if it is done elsewhere, but it looked neat. We never did get that coffee as EVERYTHING was closed.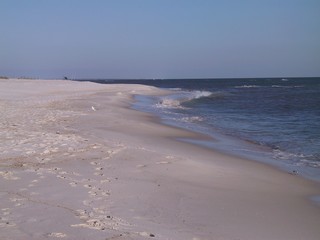 The picture to the left is the beautiful white sand in this area of the gulf.
Our next stop was just west of Pensacola as we wanted to visit the National Museum of Naval Aviation. We went to the Museum the afternoon of Jan 4th but it is so extensive that we ended up staying another day so that we could go back and finish seeing it. There are more than 170 historic naval aircraft and 4 A-4 Skyhawks are suspended from the ceiling in formation in the Blue Angels Atrium.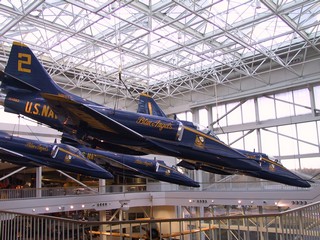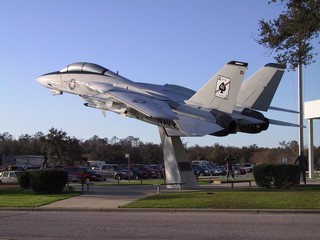 Since we were there the extra day we took the opportunity to go to the greyhound races. Unfortunately, we weren't allowed to take any photos at the races. (We didn't win anything)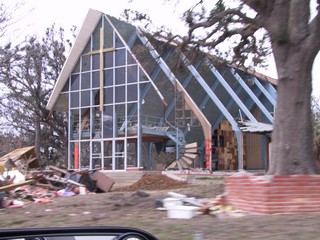 As we headed west we talked with a friend in Mobile, Alabama who suggested that we drive down along the coast to Biloxi and Gulfport. Her comment was that "until you personally see the destruction from the hurricanes, it is impossible to understand the devastation."
Oh, but she was right!
We felt like we were going through a war zone and this was already 5 months after it happened. We had been along the shore drive with our girls about 17 years ago and had marvelled at the wonderful old homes and beautiful beach. They are gone. We drove only about 10 miles but it was total ruin. Following are a few pictures but they can't show the emotion we felt as we drove past.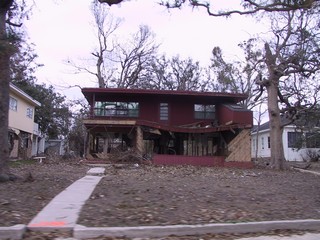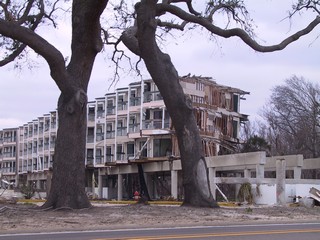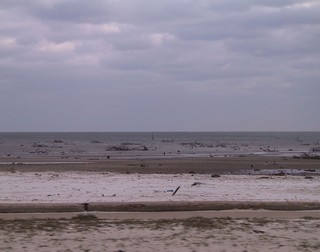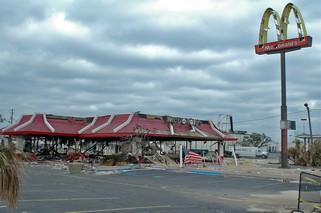 We arrived in Louisiana in the afternoon of Jan. 6th and went to the Visitor Centre just inside the border to find out about campgrounds. I had phoned 5 campgrounds that were located along the interstate north of New Orleans and had been told there was no spaces as they were all taken by relief workers or Katrina refugees. The ladies at the Centre (two of whom had lost their homes in the hurricane) told us that there was no accomodation anywhere until we got over to the western part of the state. They even had photocopied directions to get us to the WalMart parking lot in Sliddel just on the NE edge of New Orleans.
The next morning we decided that we would not go into New Orleans. First of all we were pulling the trailer, but I think of more influence – we still were too overwhelmed by what we had seen the day before in Alabama.
That night, Jan 7th, we stayed at a campground 4 miles east of the Texas border. All day we had been driving past signs of hurricane damage but they were gradually getting less the further west we went.
We are heading in to Texas tomorrow and will be keeping close to the Gulf as we head south.
Talk to you shortly from the Lone Star State.
Bernie & Ross
Posted by Ross at 09:09 PM | Comments (2)
January 05, 2006
From Home to Florida
December 7th dawned bright and sunny and we anticipated a morning start. But, we had been sitting at the park in Waterloo since we had picked up the new trailer. It had snowed and melted and snowed and melted those few days and left a layer of ice on the top of the slides. When we went to close them – no way – the layer of ice was in the way. Two hours later and much cracking with a hammer and scrapping with a windshield scraper we had them cleared and started south.
Just south of Erie, PA it started to snow and as the days are short, it was dark. We headed to a WalMart parking lot in Meadville PA. for the night as there were no campgrounds open at that time of the year. We parked at the edge of the lot, didn't even put the slides out as we didn't want to have snow accumulation on them and went to bed early. All was fine until about 3 AM when the snow clearing crew arrived to do the parking lot. In the morning everything around and close to our trailer was clear – right down to the pavement where they had scraped the snow away. We didn't have to move but it sure was noisy for a couple of hours.
The next day we got as far as Ft. Chiswell VA. We had been hearing about a huge storm that was to arrive that night and tried to get as far south as we could to outrun the snow. We went into a campground there and had just finished hooking up the electricity when the freezing rain started. I must say we were happy to be off the road at that point. The next morning we found about an inch of freezing rain/snow mixture on the slides – so back up on the ladder with hammer and scraper again. We stayed another night there to be sure that the roads were OK when we headed out. That was the last of the snow that we have seen on this trip!
Our route took us to Greenville, NC where we visited with Ross's cousin for a couple of days and then south through Myrtle Beach, SC to south of Charleston.
From there we went south to Folkston GA. This was a double stop as it is a major railroad intersection and is also an entrance to the Okefenokee swamp. Ross got to watch his trains. We were almost too close as the track ran right beside the campground and there were trains about every 20 to 30 minutes.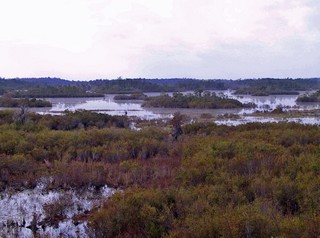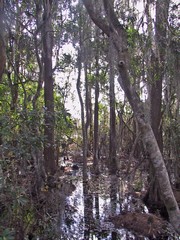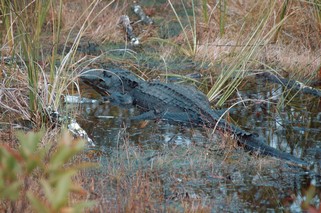 The next morning we went to Okefenokee swamp. It is an area of more than 600 square miles crossing the southern border of Georgia into Florida. Most of the swamp was declared a wildlife refuge in 1937. There was a 4,000 ft boardwalk extending out into the swamp that ended with a 50 ft high viewing tower. We saw our first alligator of the trip, sunning himself close to the boardwalk.
The main reason that we went down the eastern seaboard was to reach Florida for a holiday with our girls, their husbands and of course our new Ricardo.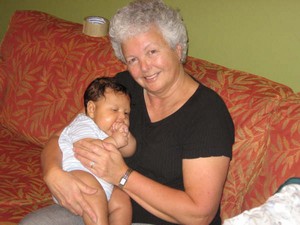 We spent the week of December 17th to the 24th with our family at a timeshare quite close to the Disney parks. Some visited them, we all went to Kennedy Space Centre, we all shopped and spent a lot of time together.
I decided to cook a full Christmas dinner which was quite a challenge with the small stove in the timeshare. However, a 17lb turkey (at 38 cents a pound !!!) with all the trimmings was enjoyed and devoured.
Mandi & Quincy had to fly back to the Bahamas on the 24th so they could catch the last flight of the day to San Salvador as Bahamas Air doesn't fly on Christmas Day. Barn and Shell stayed with us in the trailer Christmas Eve as we had to check out of the timeshare on the 24th and they couldn't get a flight until the 25th. It was neat having them with us for Christmas morning.
Our Ricardo has grown and as you can see by the picture I looked after him whenever I could.
We'll miss seeing our family but the road calls and we will be off again on December 27th. We're heading all the way around the Gulf of Mexico so will keep you posted.
Bernie & Ross
Posted by Ross at 08:38 PM | Comments (8)