« Nothern Prairies | Main | Home this Fall of 2005 »
December 10, 2005
Northern Ontario to Home
It has been a few months since I sent out the last journal and we have been home and are now back on the road. While we were home we had a very busy time and I didn't get the last journal sent out. Soooooo — here is the last of the trip west. Following this we will update you on our time at home and our new journey.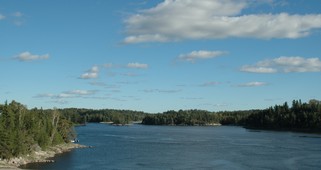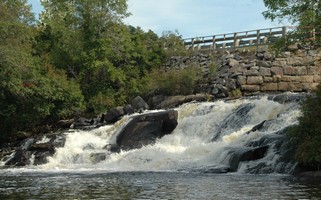 Northern Ontario is wonderful clear lakes and tumbling waterfalls and of course TREES. Miles and miles and miles of trees.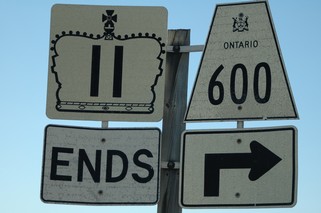 Highway 11 in Ontario is one of the longest streets in the world. We found the end, about 1900 kilometers from the foot of Yonge St. in Toronto. It's just a few hundred feet from the border crossing at Rainy River to the USA.
We enjoyed Fort Francis and stayed at a campground in the beautiful municipal park. On Sunday Sept 4th, we were on our way to Thunder Bay with a quick visit to Atikokan just off the highway.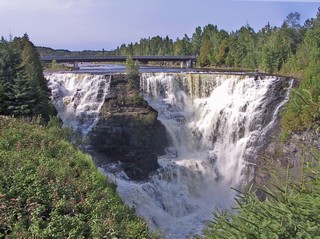 Before you get to Thunder Bay, Hwy 11 drops south to Kakabeka Falls. It is very impressive, and the way the walkways are built around it there are some spectacular views.
We stayed that night at Thunder Bay and early the next morning went to Old Fort William. It is a reconstruction of the Fort William that stood on the banks of the Kaministikwia River a number of miles away. The original site is now a railway freight yard and several city blocks of buildings.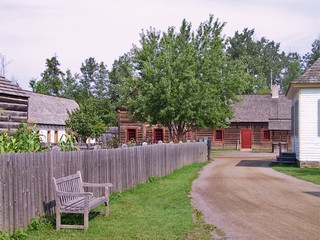 The fort's buildings and layout was built from historical sketches and descriptions, archaeological findings and simple deduction. They used the construction techniques to make sure the place was put up the way forts were truly built centuries ago. The staff are all in period costume and take on the life of one of the occupants of the fort. A most interesting morning.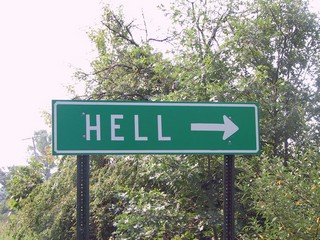 That afternoon we headed home. Over the next few days we travelled via the north shore of Superior, across into the USA at the "Soo" so we could visit cousins in Michigan – thanks Brent and Mary for your hospitality. While in Michigan we went to Hell and back. It's a small hamlet about 45 miles west of Detroit. They told us that it is impossible for them to keep the sign "Welcome to Hell" from being stolen. We crossed over into Canada at Windsor visiting with Bernie's sister, along the north shore of Lake Erie for a visit with Ross's cousins at Turkey Point and finally home on Sept 11th to the KOA at Milton.
We made it in time to greet our elder daughter, Mandi. She arrived that night from her home in the Bahamas. But that is another story which we will write about in our next journal.
Till then;
Ross and Bernie
Posted by Ross at December 10, 2005 02:42 PM
Comments
Hey Bernice!
Glad to see my email box full of your adventures! I was just think about you yesterday (at our coffee hour that still goes on most Fridays), and I was wondering why we hadn't heard in so long. I'm in Collingwood for the weekend enjoy some snowshoeing and snowboarding.
Happy trails, and hello from all of us back at 245 Carlaw!
Posted by: Raff at January 14, 2006 07:49 PM
Great to get your update and know that you are safe and sound and well! Happy New Year to you both! Can't tell you how much I miss the great service and the banter. The new folks are really nice people, but if the "service" I get is any indicator. Enough said.
If you ever decide to reopen elsewhere, please let me know! Regards and best wishes
Bob P.
Posted by: Bob Paterson at January 15, 2006 08:24 AM
Hi R&B:
Love the waterfalls!
So is it really hot in Hell? Ha,ha!
Didn't think they would let you out!:)
Thanks for the fun!
Betty M.
Posted by: B.Mann at January 16, 2006 04:35 PM