« Northern Ontario to Home | Main | From Home to Florida »
December 14, 2005
Home this Fall of 2005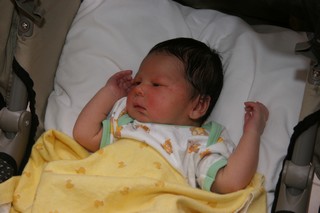 Our Thanksgiving this year was very special as we celebrated it with our first grandchild. Ricardo Ross Walker, 8lbs 3oz and 21" long, arrived safely on September 29, 2005 at about 6 PM. Mother and son both doing well.
Our daughter, Mandi, came back to Canada on September 11th, from her home in the Bahamas so that she could have the baby here. Ricardo decided to arrive early and his father, Quincy, unfortunately couldn't get air connections fast enough and didn't arrive until about midnight that night.
Our younger daughter and her husband, had moved to a new home in Cambridge the first of July. Mandi and Quincy were fortunately able to stay with them while here in Canada. They went back home to the Bahamas October 20th. How wonderful it was to be able to have this time with our girls and their husbands – and Ricardo. Isn't it amazing how such a little bundle can take over your heart!
When we started this adventure on the road, we didn't have any experience and we didn't know how long we would continue. We wanted to see whether in really was for us on not.
We like it. We expect to continue. We have been having fun. But – the slide on the Jayco trailer was only 5'10" and Ross is 6'3". Needless to say he hit his head on numerous occasions which took the edge off his enjoyment. We decided, if we were going to keep on travelling, we should make a trade for a new one with higher interior space.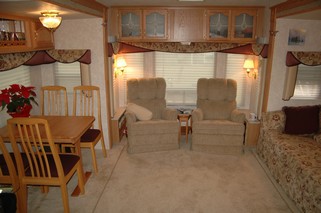 We have a new trailer – it is still a 5th wheel, a Hitchhiker II and is 34' long (the old one was 32'). It has 3 slides – one for the bedroom and one on each side of the living room (the old one had 2 slides). Most importantly, the slides and bedroom are high enough that Ross can stand up straight without hitting his head. So far we are very happy with it and the extra space is great as it makes our living area about 14' wide.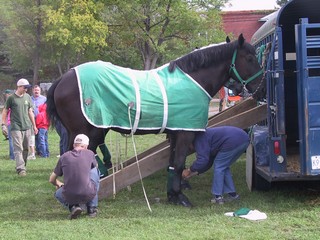 While home we went to Milton fair, visited friends & office colleagues, Bernie painted, Ross played??? golf (for the first time in 30 years) and we both gave landscaping assistance at Barnaby & Shell's house. We went to dentists, doctors and had our eyes checked. Bernie had surgery (she is fine) and had to take it easy for a number of weeks. We spent time with sisters and sister-in-law and other family.

And now we are ready to go again. December 7th is D (Departure) date. We'll be in touch from the road.
Ross and Bernie
Posted by Ross at December 14, 2005 02:43 PM
Comments
Congratulations on the safe arrival of your grandson, Ricardo Ross Walker! What a thrill for the entire family.
Thanks also for the journals. They're informative and interesting to read. Keep 'em coming.
best wishes,
Marg
Posted by: Marg and Peter Pearson at January 15, 2006 11:12 AM
Hi Roos and Bernie;
Congratulations on being grandparents. You're so right - what JOY a little bundle can bring. It helps keep life in perspective, no?
Happy New Year and tahnks for the note.
Allan & Shari Baker
in the Northern Colony!
Posted by: ALLAN BAKER at January 15, 2006 05:12 PM
Hi Bernice and Ross! It was so good to hear from you. Congratulations on Ricardo's arrival. He is beautiful. Our best wishes to Mandi, Quincy and to the new grandparents! Hopefully you are feeling well, Bernice, as you continue your adventure. We look forward to more stories and beautiful photographs from the road. Happy New Year! Best wishes and safe travelling, Saul and Carol.

Posted by: Saul and Carol York at January 16, 2006 08:33 AM
Congrats on your new RV--looks pretty plush and it is great that you are enjoying and seeing so much of the country. Doubt we will be doing much traveling anymore--just doesn't seem to fit into things and gas prices are so expensive & that really gets to John. Did not realize that Ontario was so gorgeous--Canada is such an incredible country. You are very fortunate to live there. Sincerely, Bette
Posted by: Bette Andrew at January 21, 2006 12:45 PM
Hi Bernie and Ross,
Wow, I'm so impressed with your wonderful journal. The photos bring your adventures to life for us and with some of them, I swear I can actually hear the water flowing. I can also imagine how well Bernie will put them to canvas.
May you both stay well, stay happy, may the big guy (no not Ross) keep you safe. Congratulations on the arrival of your handsome new grandson.
And may the wind stay at your back and the road ahead be filled with yet more lovely adventures.
We're thinking of you!
Cheers
Patti MacKellar
Posted by: Patricia MacKellar at February 5, 2006 02:12 PM