« September 2005 | Main | January 2006 »
December 14, 2005
Home this Fall of 2005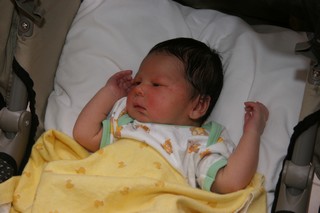 Our Thanksgiving this year was very special as we celebrated it with our first grandchild. Ricardo Ross Walker, 8lbs 3oz and 21" long, arrived safely on September 29, 2005 at about 6 PM. Mother and son both doing well.
Our daughter, Mandi, came back to Canada on September 11th, from her home in the Bahamas so that she could have the baby here. Ricardo decided to arrive early and his father, Quincy, unfortunately couldn't get air connections fast enough and didn't arrive until about midnight that night.
Our younger daughter and her husband, had moved to a new home in Cambridge the first of July. Mandi and Quincy were fortunately able to stay with them while here in Canada. They went back home to the Bahamas October 20th. How wonderful it was to be able to have this time with our girls and their husbands – and Ricardo. Isn't it amazing how such a little bundle can take over your heart!
When we started this adventure on the road, we didn't have any experience and we didn't know how long we would continue. We wanted to see whether in really was for us on not.
We like it. We expect to continue. We have been having fun. But – the slide on the Jayco trailer was only 5'10" and Ross is 6'3". Needless to say he hit his head on numerous occasions which took the edge off his enjoyment. We decided, if we were going to keep on travelling, we should make a trade for a new one with higher interior space.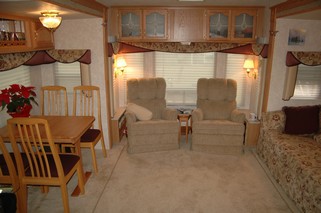 We have a new trailer – it is still a 5th wheel, a Hitchhiker II and is 34' long (the old one was 32'). It has 3 slides – one for the bedroom and one on each side of the living room (the old one had 2 slides). Most importantly, the slides and bedroom are high enough that Ross can stand up straight without hitting his head. So far we are very happy with it and the extra space is great as it makes our living area about 14' wide.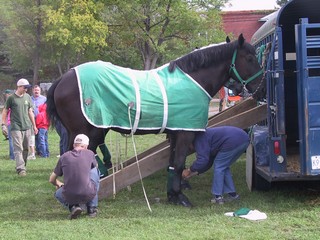 While home we went to Milton fair, visited friends & office colleagues, Bernie painted, Ross played??? golf (for the first time in 30 years) and we both gave landscaping assistance at Barnaby & Shell's house. We went to dentists, doctors and had our eyes checked. Bernie had surgery (she is fine) and had to take it easy for a number of weeks. We spent time with sisters and sister-in-law and other family.

And now we are ready to go again. December 7th is D (Departure) date. We'll be in touch from the road.
Ross and Bernie
Posted by Ross at 02:43 PM | Comments (5)
December 10, 2005
Northern Ontario to Home
It has been a few months since I sent out the last journal and we have been home and are now back on the road. While we were home we had a very busy time and I didn't get the last journal sent out. Soooooo — here is the last of the trip west. Following this we will update you on our time at home and our new journey.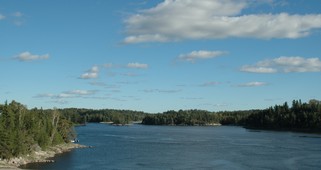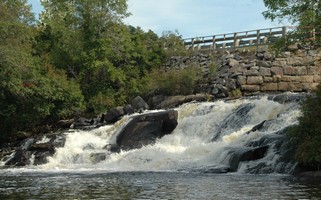 Northern Ontario is wonderful clear lakes and tumbling waterfalls and of course TREES. Miles and miles and miles of trees.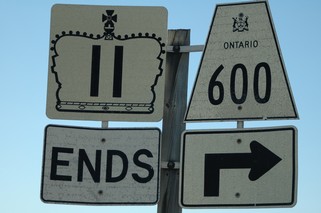 Highway 11 in Ontario is one of the longest streets in the world. We found the end, about 1900 kilometers from the foot of Yonge St. in Toronto. It's just a few hundred feet from the border crossing at Rainy River to the USA.
We enjoyed Fort Francis and stayed at a campground in the beautiful municipal park. On Sunday Sept 4th, we were on our way to Thunder Bay with a quick visit to Atikokan just off the highway.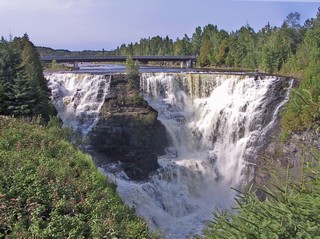 Before you get to Thunder Bay, Hwy 11 drops south to Kakabeka Falls. It is very impressive, and the way the walkways are built around it there are some spectacular views.
We stayed that night at Thunder Bay and early the next morning went to Old Fort William. It is a reconstruction of the Fort William that stood on the banks of the Kaministikwia River a number of miles away. The original site is now a railway freight yard and several city blocks of buildings.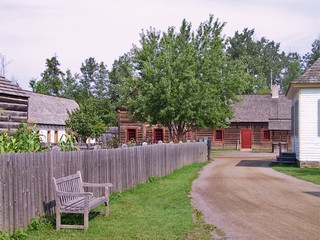 The fort's buildings and layout was built from historical sketches and descriptions, archaeological findings and simple deduction. They used the construction techniques to make sure the place was put up the way forts were truly built centuries ago. The staff are all in period costume and take on the life of one of the occupants of the fort. A most interesting morning.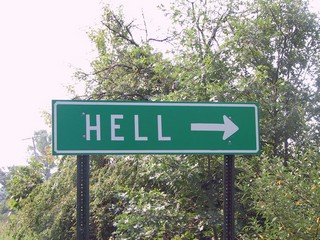 That afternoon we headed home. Over the next few days we travelled via the north shore of Superior, across into the USA at the "Soo" so we could visit cousins in Michigan – thanks Brent and Mary for your hospitality. While in Michigan we went to Hell and back. It's a small hamlet about 45 miles west of Detroit. They told us that it is impossible for them to keep the sign "Welcome to Hell" from being stolen. We crossed over into Canada at Windsor visiting with Bernie's sister, along the north shore of Lake Erie for a visit with Ross's cousins at Turkey Point and finally home on Sept 11th to the KOA at Milton.
We made it in time to greet our elder daughter, Mandi. She arrived that night from her home in the Bahamas. But that is another story which we will write about in our next journal.
Till then;
Ross and Bernie
Posted by Ross at 02:42 PM | Comments (3)