« Vancouver Island - Pacific Rim | Main | Alberta »
August 27, 2005
British Columbia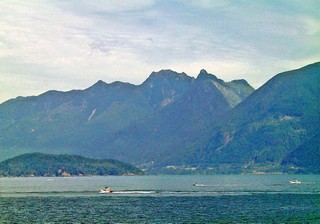 On Saturday, August 20th, we caught the 11:00 AM ferry from Nanimo on the island, to Horseshoe Bay on the mainland. The mainland coast has mountains rising right out of the water. As we had arrived around noon we decided to head up along Howe Sound to Squamish, which claims to be the premier wind surfing destination in Canada. Of greater interest to us was the West Coast Railway Heritage Park, which has the largest collection of rolling stock in western Canada. Another railway fix for Ross. Guess what – another curvy, narrow, hilly road – but this one is getting a major upgrading because of the Winter Olympics coming to BC. Looks like its going to multi lane all the way to Whistler.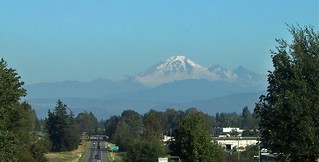 We stayed that night in a WalMart parking lot in Chilliwack. As we went east and then north along the Trans Canada we could easily see Mount Baker across the border in Washington state. It's another of the volcanic mountains sitting by themselves. This area of southern BC is agricultural and appears to be very prosperous. We followed the Fraser River to Hope and then took the Coquihalla Hwy to Merritt before turning east.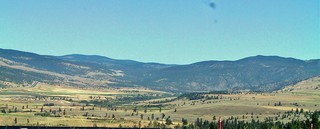 Merritt is set in a wide valley of long rolling hills and fertile lowlands. The road from there to Kelowna was one of the most difficult for the truck that we had travelled. It didn't have sharp turns or exceedingly steep grades, but it did have long hills – up to 20 km in length – and consistently steep grades of 5 to 8%.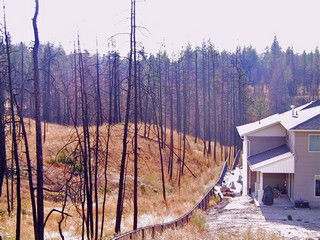 We all remember the terrible fires that burned so many homes in Kelowna. Well, they are rebuilding. We drove out into the area and took this picture of the fire area and a new home built on the foundation of one that had been destroyed. The green is starting to come back and it is interesting to see the pockets of trees that were spared by the fire for no seeming reason. We visited friends, Jackie, Ace, Jenna and Jeff who had moved to Kelowna about 23 years ago. That's a lot of catching up to do.
As we were in the Okanagan valley, we took the opportunity to take a tour of a winery as well as an apple orchard. The orchard farm was 140 acres with approximately 1/4 million fruit trees. Quite an operation. The weather was HOT and we found out that it is very normal in the valley. However, as in all of the other mountain valleys that we have been in this summer, it does cool off nicely at night.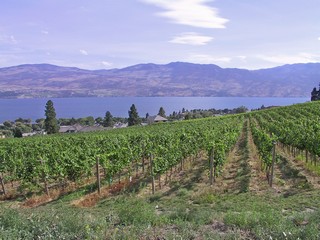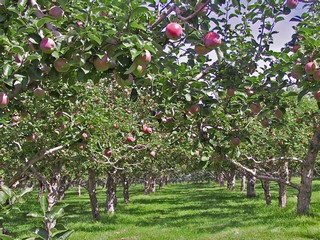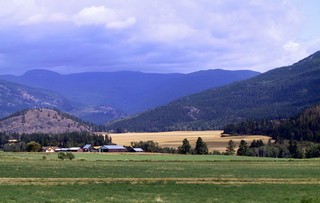 On Tuesday, we continued up the Okanagan and stayed in Revelstoke that night. Again we saw fertile valleys set among the hills – big hills, but in most cases not the huge mountains that we are headed into. Just before we reached Revelstoke, we stopped to visit Craigallachie where, in November 1885, the CPR rail line from the west met the line from the east .
Interestingly, most people think of the Columbia River as being in the U.S. After all, we visited the Columbia Gorge in July and it is a large part of the border between Washington and Oregon. Well, Revelstoke is on the Columbia River which originates from Columbia Lake in BC just west of the Rockies.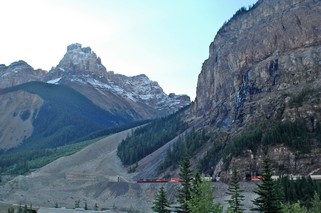 From Revelstoke we continued toward the east and over Rogers Pass, the central route through the Rockies. Through most of the trip from Vancouver we have been running within sight of railway tracks. The railways found the best way through the mountains, usually in a river valley, and the highways, in general, followed along. When we arrived in Field, BC, we could watch the trains on the CPR mainline from our campsite. We also were close to the spiral tunnels and watched two trains go through them. The tunnels are spirals built mostly inside the mountains in order to get enough elevation at a reasonable grade to get over the mountains at Kicking Horse Pass.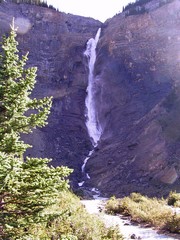 Early the next morning we travelled up the Yoho Valley Road to Takakkaw Falls ("magnificent" in the Cree language). The falls drops 1,265 ft. in all, making it one of the highest falls in Canada. Unfortunately, by being there in the morning the sun's angle was not on the falls. Our pictures would have been better in the afternoon but we were planning on being into Alberta by then so didn't stay.
We really are in the mountains now and every turn of the road is another overwhelming view. It is difficult to express in words the power of the mountains. This truly is something that you feel. These mountains are different than the ones we have travelled through these past two months. This is rugged, shear, snow and glacier, evergreens and aspens, rugged bolders and ice cold rivers. It is overpowering.
Below I am showing just a few of the scenes as we travelled.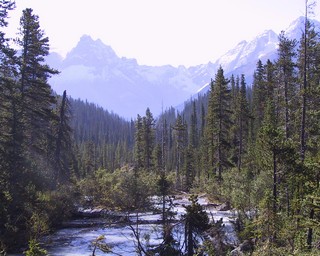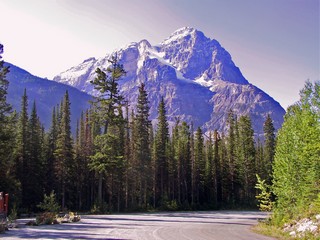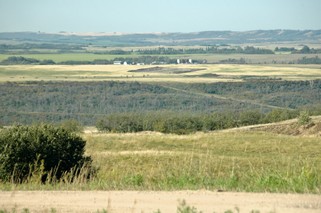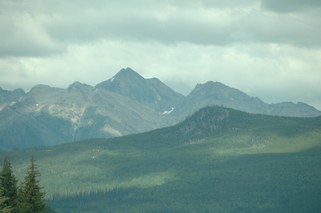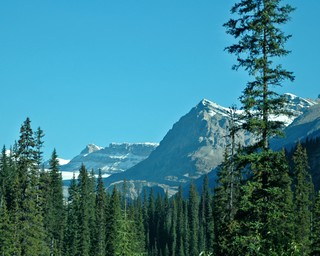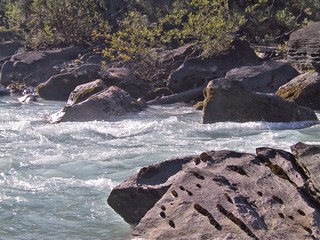 Our next journal will be from Alberta.
Ross & Bernie
Posted by Ross at August 27, 2005 01:28 AM
Comments
I noticed you mentioned in your journal that squamish is famous for their wind surfing, well they are also famous for watching of the bald eagles and also for the rock climbing which is one of the best spots in Canada to do as well, just some information for you if you ever plan on going back to squamish or that area.
James G.
Posted by: James Graham at October 8, 2005 02:56 PM
Thanks for the update, folks. Keep having fun and safe driving!
Aly
Posted by: Aly Buckingham at October 8, 2005 04:43 PM
Hi guys.....Looks like you're still having a ball!! The pictures are absolutely georgous.....Not only is the scenery beautiful, but you are quite a photographer..... Thanks a lot....Sylvia & Al
Posted by: Sylvia & Al Bell at October 8, 2005 07:45 PM
Hi Ross:
Man this part is amazing. Someday I would like to ride through all that on my motorcycle. That would be an unreal fealing.
Hope everything is well. Enjoy!!!!!!!!!
HAVE FUN
Bob Hall
Posted by: Bob Hall at October 8, 2005 08:21 PM
Thank you for journal. Did enjoy our visit at T.P.
Spent 3 days with B.& P. Barry has certainly failed since a year ago. Then I had three days with Lynn at a lovely home close to the farm where she is.
Betty
Posted by: Betty Russell at October 8, 2005 08:24 PM
Hi Bernice and Ross! It was so good to hear from you again. Thanks so much for keeping us up to date on each part of your exciting adventure. Your photography is absolutely superb. We see a book in your future! All our love and best wishes to you both. Saul and Carol
Posted by: Saul and Carol York at October 9, 2005 11:57 AM
WOW! Amazing pictures...
Congratulations on your new grandson. He sure has a cool set of grandparents in the two of you.
Happy travels through Alberta. Looking forward to your trip East.
Lori and Jeff

Posted by: Lori at October 11, 2005 08:36 AM
Thank you very much for including me in the submissions. If I had known you would be in Nanaimo, we could have gone for coffee. The pictures are great as well as the journal!
Dave Johnston
Nanaimo
Posted by: Dave Johnston at October 11, 2005 05:24 PM
Hi R&B:
It is always fun to see where you've been. You would make a great tour guide. The scenery is great. You are certainly wetting our appetites for travelling. You should be getting a commission from the travel agencies :)
Thanks for including me in your travels.
Betty
Posted by: Betty Mann at October 13, 2005 12:49 PM
Fabulous! So glad to see your dream coming true!
I love the pictures and the commentary. Helps to plan our own future adventures. Congrats on your grandson! Send us a note about where the family is.
Need some updates and we'll give you ours.
Penbar
Posted by: Penelope & Barry at October 16, 2005 04:03 PM
Hi,
Have been through much of the country you described in this section. Truly gorgeous and fascinating. The pictures brought back memories of being there. Sincerely, Bette
Posted by: Bette Andrew at October 28, 2005 04:11 PM