« British Columbia | Main | Nothern Prairies »
August 29, 2005
Alberta
It is only a short trip of about 225 km from Field, BC to Chestermere, AB (east of Calgary) which was our destination for the day, but once again we went through some magnificent views in the Rockies.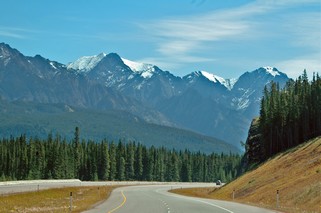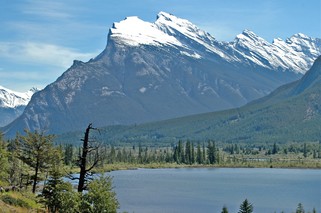 We arrived in Banff in time to wander around the town before lunch. It certainly caters to tourists, but has avoided being tacky. We felt that the town has maintained a presence that fits in with the incredible scenery that surrounds it.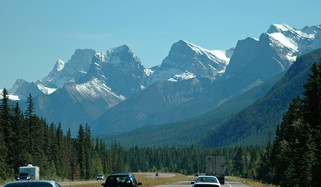 The road toward Calgary runs through the Bow River valley and for about another 40 kilometres we were still overshadowed by the towering peaks. The area around Canmore is particularly beautiful with the Three Sisters dominating the landscape. Every direction you look there are massive mountains.
Words are inadequate to describe the mountains. At once you are amazed at the stunning and awesome beauty, you feel overpowered by the shear size and mass of the rock and you are astounded by the forces that created them. As much as seeing – you feel them.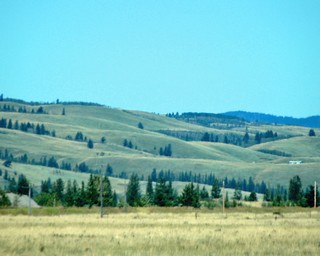 And suddenly you are out of them and into the rolling foothills west of Calgary.
When you look behind you, you can see the mountains looming there, but as you continue east they gradually disappear into the haze and you're not sure then, if it's the mountains or a cloud bank.
We spent a couple of nights in the Calgary area where we visited with Bernie's cousin Carl & his wife Shannon. Thanks cuz, those Alberta steaks were great!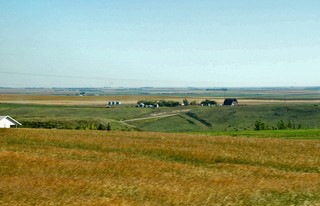 Early Saturday, August 27th, we headed north. We are now in country where the sky seems endless. What a change from the mountains just a short distance to the west! Early on, we think we can still see them, but as the mountains angle to the north west and we are heading straight north they have soon totally disappeared. We will miss them as we have been surrounded by or at least able to see mountains of all types since we approached Yellowstone the first of June. I guess that's not exactly true as there were no real mountains in southern Idaho or eastern Nevada – but you get the idea.
We stayed to the east of Edmonton and decided to treat ourselves to Sunday brunch in the city with friends. Deborah and George, it was great fun. Hope to see you in November when you come to Toronto.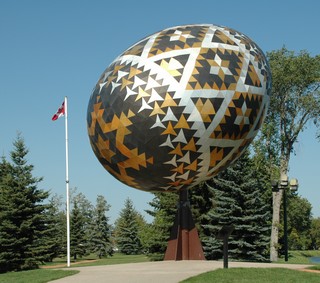 On Sunday afternoon we headed east. From now on that will be the main direction of our travel as we are headed back to Ontario. Our elder daughter Amanda, who lives in the Bahamas, is expecting our first grandchild in October. She is coming home to have the baby here and will be arriving on Sept 11th. That is our target date to be back close to Cambridge, where she will be staying with our other daughter Michelle.
The road east goes past Vegreville, the centre of eastern Alberta's Ukrainian culture, where you can find the world's largest Ukrainian Easter Egg or pysanka. It's 31 ft. high and made of more than 3,500 pieces of bronze, gold and silver aluminium.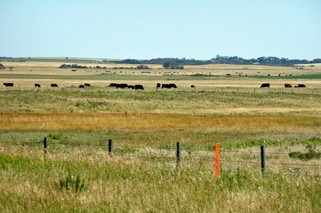 The land is still generally flat and we see many large herds of cattle. This area has more grassland than grain and does seem very prosperous although the ranch buildings are distant from each other.
We arrived in Lloydminster in the late afternoon and went to the visitor centre to get maps and information on Saskatchewan. Lloydminster is a city divided. Well, at least one half is in Alberta and the other half is in Saskatchewan. Common to them both however, is the number of heavy oil refineries. It's the chief industry in the town.
When we were at the visitor centre, we ask for directions to the campgrounds in the area. This is the first time on our trip that we have encountered no vacancies. Fortunately, there was a WalMart in town so we stayed there in the parking lot. The Husky Truck Stop said that we were welcome to stay in their lot as well. With the solar now working well, we are comfortable anywhere.
Tomorrow, it's into Saskatchewan.
Bernie & Ross
Posted by Bernice at August 29, 2005 11:14 PM
Comments