« Northern Washington | Main | Alaska - Part II »
August 10, 2005
Alaska - Part I
We crossed into Canada of Wed. July 27th and it was very easy. Took about 2 minutes as there was no line up at all and customs basically waved us through. Our campground was only about 5 km from the border and from there over the next couple of days we toured the White Rock, Langley, Surrey area. We had arranged with the campground to park the trailer in a field while we were on the Alaska cruise. We had planned on going in to Vancouver and staying in a hotel close to the dock on Friday – but – when we found out that the hotels in that area were $250 to $300 per night we went to plan B. We stayed at the campground one more night.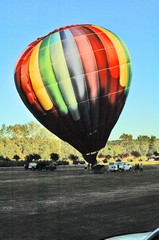 That Friday evening, we were entertained when a hot air balloon crew arrived and set up in the field about 100 yards from us. They do charter rides and had 11 people they were taking up. It was most intriging to watch the whole process. They can't control where they go so they have a chase car that follows as best it can to pick up the passengers when it lands. If we had gone downtown to a hotel we would have missed this.
As we were almost due to have an oil change, tire rotation and differential service, we contacted a GM dealer in the city and made arrangements to have it done while we were away. They did the work and then kept the truck for us for the week and even paid for the cab ride to the ship. Had we left the truck at the campground the cab would have been about $90.
We met Barnaby & Michelle, who had our tickets, and then boarded the ship – Holland America's Zaandam – about noon on Saturday. Barnaby's parents were also on the cruise, as well as his grandmother, an aunt & uncle from England and great aunt and cousins from Vancouver Island. There were 12 in our group. It was great to have others on the cruise to meet for meals, etc. but we all did our own thing during the day and while on shore.
On boarding, we of course headed directly to the lunch buffet as our luggage and rooms would not be ready until later that afternoon. One thing we learned quickly is that you never go hungry. The food was excellent with lots of choices and at least one restaurant was open at all times. Our dinner seating in the more formal dining room was at 7:45 and we had a window table. The service was wonderful and nothing seemed too much trouble for any staff member. That was true all over the ship, everyone went out of their way to provide you with every service, right down to carrying your tray from the buffet line to a table.
We left the dock in Vancouver at 5 PM and sailed up the Strait of Georgia between Vancouver Island and the mainland. Sunday we continued up the Inside Passage with signs of civilization becoming less and less. At one point we had a whole school of dolphins playing around the ship. The sea was quite calm although on Sunday morning as we were in Queen Charlotte Sound away from land there was quite a roll. No sooner had we noticed the rolling, than we could feel the stabilizers employed and the ship settled right down again.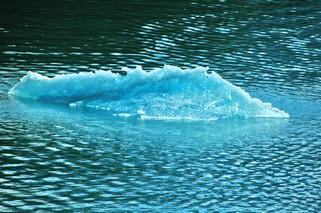 We were awakened on Monday morning by the speaker in our room announcing that we had arrived in Tracy Arm. This is a beautiful fjord just south of Juneau. We saw our first iceburgs – not the huge ones that you see in pictures, but small ones floating everywhere. They were the most beautiful blue and when the sun shone through them were almost irridescent. The water is also blue green which is a result of the glacial silt that is carried by the streams from the glaciers. As we left Tracy Arm we went through a fog bank so thick that you couldn't see.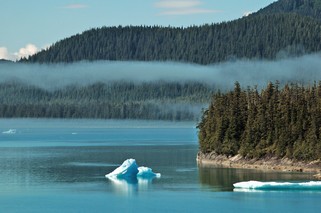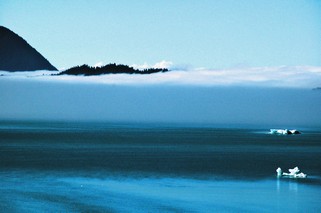 In the afternoon we docked in Juneau, the state capital of Alaska. There are no roads from the outside into Juneau so it can only be reached by sea or air. There were a number of tours that could be taken from there and Barn & Shell went out to the Mendenhall Glacier. We stayed in town and took a tour of the State Capital building as well as wandering around the shopping area. We don't buy much as we have no place to keep it, but we enjoy looking. The ship left Juneau at 11:00 pm but we had come back about 8:00 pm for dinner.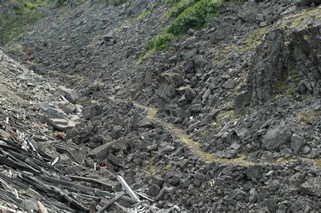 Tuesday when we woke we were dockside in Skagway. At noon we took the train, the White Pass & Yukon Route Railroad for a half day narrated ride. The rail line was built in 1898 to carry supplies and people (who could afford it) to the Klondike gold rush. The picture at the left is part of the trail that the miners used and is so narrow that you couldn't meet except at certain points. Each miner had to have with him enough supplies to last for a year (about 2000 lbs) before the Mounties would let him cross into the Yukon. It took them numerous trips up this trail and many pack animals and people didn't make it.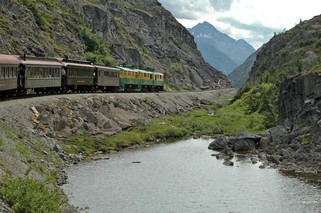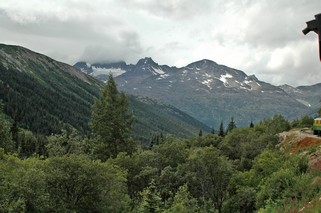 The train tracks are narrow gauge, which means the rails are 3 feet apart. A regular track is 4 ft 8 1/2 inches. By using the narrow gauge, the track bed only needed to be 10 feet wide instead of 15 feet. That was very important when they were building on the side of a mountain. The White Pass summit is 2,865 ft and is about 20 miles from Skagway which is at sea level. The scenery is beautiful with great mountain vistas. We saw mountain sheep in the distance and a bear beside the tracks. All in all a wonderful 4 hours.
Tonight we will set sail for Glacier Bay and will be there when we wake in the morning. We'll tell you about it in the next journal report.
Ross & Bernie
Posted by Ross at August 10, 2005 05:55 PM
Comments