« Southern Oregon | Main | Southern Washington »
July 25, 2005
Nothern Oregon
5 days; 5,612 registered RVs holding about 12,000 people; another1,000 daily admissions; over 1,000 RVs on display and about 500 indoor exhibitors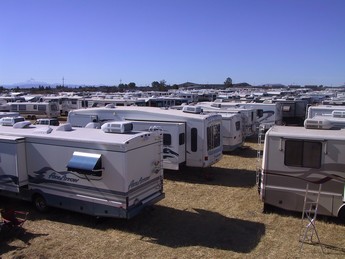 ; the Redmond School Board buses hired to shuttle registrants from the RV parking areas; headliner entertainment in the evening – Debbie Reynolds, Pam Tillis, Ronny Milsap; about 100 different seminars on everything from "Fundamentals of Trailer Supension Systems and Brakes" to "99 days to Panama". The Redmond, Oregon RV rally was quite a spectacle.
We were in parking area "H" which was really a farm field, complete with 8" grain stubble and dust and was about 4 miles from the fairgrounds where the activities were. There were about 700 RVs where we were and the organization getting everyone in and later out was outstanding. In fact, we were very impressed with the efficiency and organization of the whole rally. Bernie took this picture standing on the roof of our trailer.
We arrived on Sunday July 10th, around noon and left Friday morning. This was the test for our solar system as we had no hookups for the 5 days. It worked wonderfully and we were able to have all the comforts just as if we had been plugged in.
By Thursday evening we were exhausted, as we usually went for the morning seminar at 8:30 and didn't come back until after the evening entertainment. It was well worth the time spent as we learned so much and saw and heard so many new ideas both in the seminars and at the exhibits. I don't know if we will go to next years rally – it's in Daytona, FL in April – but we definately will go to another at some point.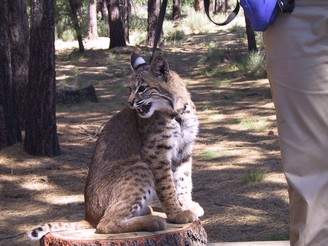 After we left the rally we went back south of Bend to the High Desert Museum. It is a natural museum set outside among the trees as well as some wonderful indoor displays. The rangers brought a bobcat out to the one of the outdoor displays and gave a short talk about it as well as answering questions. We spent the whole day at the museum. We spent the night at the WalMart parking lot in Redmond as all the campgrounds were full because the rally was just over.

We are now heading north so that we will be in Vancouver on July 30th as we have reservations to leave on a 7 day cruise to Alaska. But there is much to see on the way.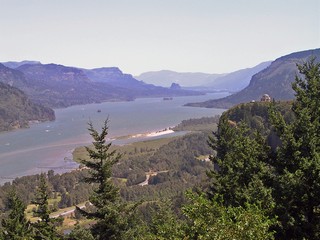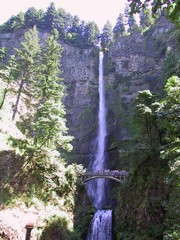 These pictures were taken in the Columbia Gorge. The Columbia River at this point is the border between Oregon and Washington. Some of the waterfalls are spectacular. This one is Multnomoh Falls and is over 600 feet high. You can see a foot bridge part way up that crosses over the water. The view of the falls from the bridge is quite impressive but is too close to get a good overall picture.
We are heading now to Washington. This is the final state in the contiguous United States that we have yet to visit. Most of the others we visited with our daughters when they were teenagers.
Ross & Bernie
Posted by Ross at July 25, 2005 11:15 AM
Comments