« Southern Washington | Main | Alaska - Part I »
July 30, 2005
Northern Washington
Remember back when we were coming through Ontario, Manitoba, North Dakota, Montana and into Yellowstone? All we had was rain and cold. Well, other than about an hour of drizzle just before the Redmond rally, we have had wonderful weather since then. The central valleys of California, Oregon and Washington are quite hot in the daytime but cool off beautifully in the evening. We have only used the air conditioning a couple of times – I think it was in Chico – to cool the trailer down from the high daytime heat. I guess our decision to go south into Idaho and on from there was the right one!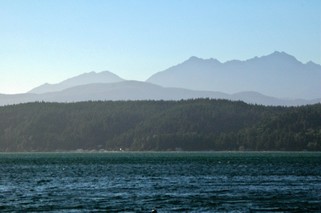 When you look at a map of Washington state you will see Puget Sound dips way down to create the Olympic Peninsula to its west. The Sound itself has a large peninsula coming up into it – the Kitsap. We set up camp at Potlatch State Park on the east side of the Olympic Peninsula looking across the Hood canal at the Kitsap Peninsula. (Hope I've got everyone going looking for their maps to see where we are) The Olympic mountains to our west are quite different from those that we have been seeing for the last few weeks. These are rocky, rugged and much more angular than the tree covered rounded ones of western Oregon and Washington.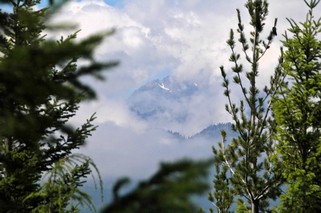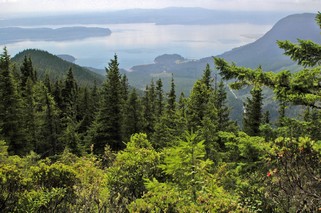 One day we decided to go to Seattle across the Kitsap and then by ferry. On the way up to the Hood Canal bridge we took a side trip up Mt. Walker. It was a 7 km gravel road to the 2,804 foot summit. A lot of the last 3 km was one lane, with pulloffs every so often in case you met someone. Fortunately, we only met one car and we were right at one of the pulloffs. The view was wonderful with panoramic views of Puget Sound, the Olympics and the Cascades. Unfortunately, there were a lot of clouds over the Olympics so we only caught glimpses of them.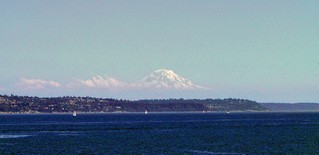 As we travelled east on the ferry toward Seattle, Mt. Rainier towered over the landscape. At 14, 411 feet it is 249 feet higher than Mt. Shasta in California. We were wrong about Mt. Shasta, it is the second highest mountain in the lower United States not North America. Mt. McKinley in Alaska is higher than both Rainier or Shasta. These volcanic mountains are very impressive as they stand alone, high above the other mountains in the area. (It's the white cone on the right, the rest are clouds)
Seattle's historic district has been restored beautifully and Pike's Place Market which opened as a farmer's market in 1907 is now very diverse and interesting. While in the Seattle area, we went out to Redmond WA (a suburb ) to drive around the Microsoft campus. And that is what it looks like – no huge buildings, just lowrise buildings in a setting reminding us of a college campus. Even the parking lots were shaded with lovely trees.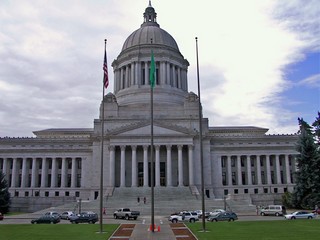 Olympia, at the south end of Puget Sound is the state capital and we took a tour of the legislative buildings. The building was completed in 1928 and the whole of the interior of the ground and first floors have been constructed of black and white Alaska marble. WOW! The Senate and House chambers are European marble which was brought back as ballast on troop ships during World War 1. The lighting fixtures in the whole building as well as the chandelier that hangs in the rotunda were designed by Louis Comfort Tiffany. The building has a 287 ft masonry dome, one of the largest in the world. This is probably the most impressive state capital we have seen – and we now have seen them all except Alaska & Hawaii.
We packed up on Sunday morning, July 24th and headed around Puget Sound expecting the traffic to be relatively light. No such luck – you would have thought that it was a weekday rush hour as we passed Seattle, and we took the bypass.
Our final location in the U.S. was Mt. Vernon just 60 miles north of Seattle and 55 miles south of the border. As you can imagine, when we arrive in an area and turn on the television, we have no idea what station we may be tuning in to. In Mt. Vernon, the first TV station we turned on had a Tim Hortons' commercial. We knew we were close to Canada! It's amazing how different the U.S. commercials are from Canadian. We got so tired of being bombarded by medical commercials with all their "cover your backside" disclaimers. What a pleasure to hear about coffee.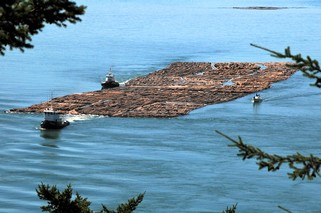 We did go sightseeing to the islands just west of Mt. Vernon. On a huge bridge over Deception Pass (passage)we watched two tugs maneuver a huge log boom through the pass. One tug pulled the boom and the other would push or pull the end of the boom to give it additional direction. We tried to calculate how many logs there might be and later learned there could be as many as 5 to 10 thousand logs (trees) in one log boom.
Standing on the bridge we could look directly west and see land. It was Canada, in the general vicinity of Victoria. Even with binoculars it was too hazy to make out details. On the way back to camp, we went though some wonderful market gardening areas. We also made a quick stop at the Casino – it should have been quicker – to leave our contribution. Well, actually Bernie came out $4.00 ahead.
On Wednesday we will be heading home to Canada. We're glad. It's been a wonderful trip so far and we have met and made friends with some great people. However, it will be nice to be back with familiar stores and products, Canadian money and Tim Hortons.

Ross & Bernie
Posted by Ross at July 30, 2005 06:06 PM
Comments